A Mother's Day Craft and Card
Make a simple Mother's Day craft and card from paper flowers and a few embellishments. attach the magnetic flowers to the free printable cards for a gift that Mom will love.
Do you ever walk through the craft store looking for inspiration? I do. On a recent trip, I was inspired to create this cute Mother's Day craft and card. Let me tell you how you and your kids can make these flower magnets and cards….perfect for Mother's Day.
Supplies Needed for Mother's Day Craft and Card
While browsing the craft store, I found a box of beautiful, bright paper flower petals by the scrapbook embellishments. A box of 65 flowers costs about $4.99 (before coupon), so you can make many of these magnets for a small cost. In addition to the flowers, supplies that I also used included self-adhesive magnets, buttons, rhinestones, craft glue, and glitter glue.
Assemble the Flower Magnets
To begin, attach a self-adhesive magnet to the back of the paper flower. With a bit of pressure, it holds well.
Next, attach smaller flowers, buttons, and/or sequins to the front of the flower with craft glue. Be creative! You can also use little pom-poms or any other cute little scrapbook embellishments that you might find. Want a little more bling on the flowers? You can add some glitter glue. However, I caution you to use the glitter glue for decoration only. I found that it did not do a good job of adhering the pieces on the flower.
Here are some of the finished products on my refrigerator. They will also look good on magnetic boards, filing cabinets, etc…
Make a Mother's Day Card
If you want to present the flowers nicely as a gift on Mother's Day, you can attach them to a card. You can download your printable cards by clicking the link below.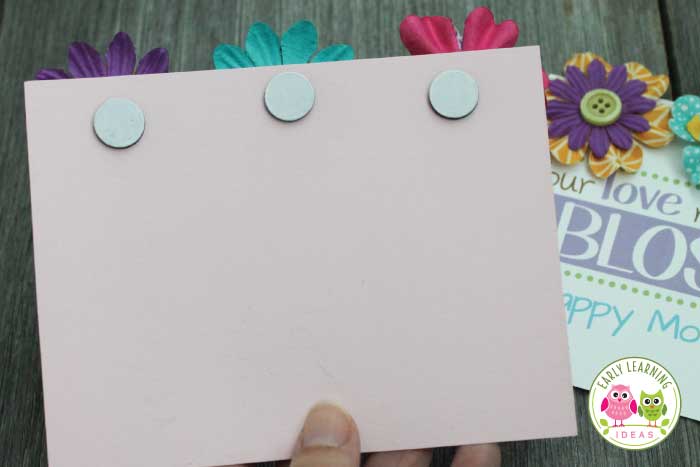 Use extra magnets on the back of the card to hold the flower magnets to the front of the card. Tada! …. a simple, sweet Mother's Day craft and card! Now you have a sweet little gift and card to present to Mom, Grandma, or any special lady.
If you like this Mother's Day craft and card, you may also enjoy the following product in my TPT store: