Do you want to download this ABC Activity Freebie?
Today, I have a free ABC activity for you when you sign up for my newsletter. When you join my newsletter, you will join thousands of early childhood education enthusiasts who enjoy receiving activity ideas delivered directly to their inbox.
Clip cards are one of my favorite learning activities…which is why I would love to send you a set of alphabet clip cards for you to use with your kiddos.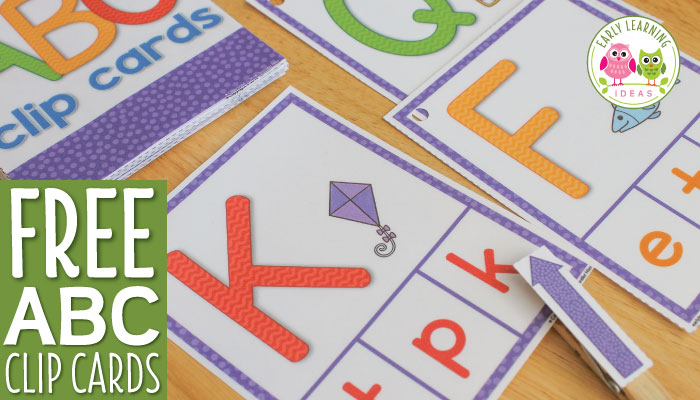 Alphabet Clip Cards for Literacy Learning Centers
Clip cards are fairly small and easy to use for letter activities. Once you print, laminate, and cut out a set, they can be used over and over again.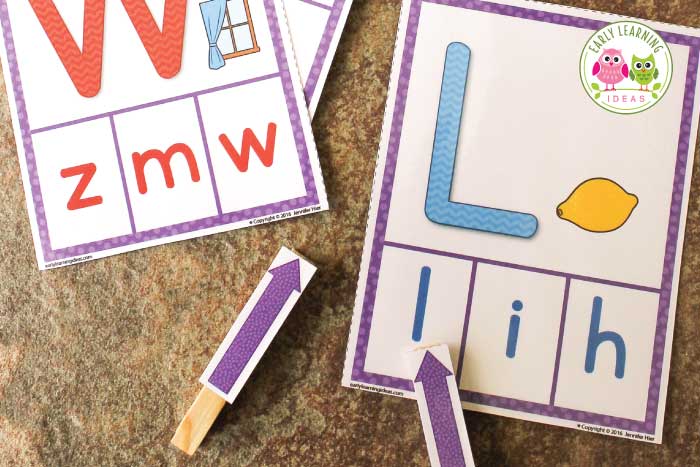 You will need inexpensive wooden clothespin clips to complete the activity. This printable includes printable arrows that can be attached to the clothespin clips. Use the cards individually or bind a set together with a binder ring. Kids enjoy this easy and engaging activity in a classroom center. Place the clip cards in a bag for a take-home activity. Parents also enjoy using them with kids.
Engaging, Multi-sensory Activity
Using clip cards is an engaging, multi-sensory activity that kids really enjoy. There is just something about little clothespin clips :). Young kids can also get a little extra fine motor exercise with the little clips. With this set, kids can match the lowercase to the uppercase letters, finger trace the letters, and practice the letter sounds.
The activity is something that kids can do independently. You can also make the clip cards self-checking. Just add a small dot or sticker behind the correct answer. Then, kids can turn the card over to see if they selected the correct answer.
Get Your Free Printable
From ABC's, counting, rhyming, initial sounds, and syllable segmenting to CVC words, almost any early childhood concept can be practiced using clip cards. Sign up for the Early Learning Ideas newsletter and I will send you a set of ABC activity clip cards. Give them a try. All you have to do is fill out the form below with your name and email address. After submitting the form, look for the download to arrive in your inbox.
Find More Clip Cards in the Store
If you love the ABC clip cards, I have LOTS more clip cards in the store. Click on the images below to check them out.