The Best Art Activities for Kids: How to Paint with Bubbles
Bubble painting is one of the most fun process art activities for kids. You might be blown away by the results.
---
Are you looking for some new art activities for kids? Why not give bubble painting a try? Kids will have a blast blowing bubbles, combining colors, and making beautiful prints.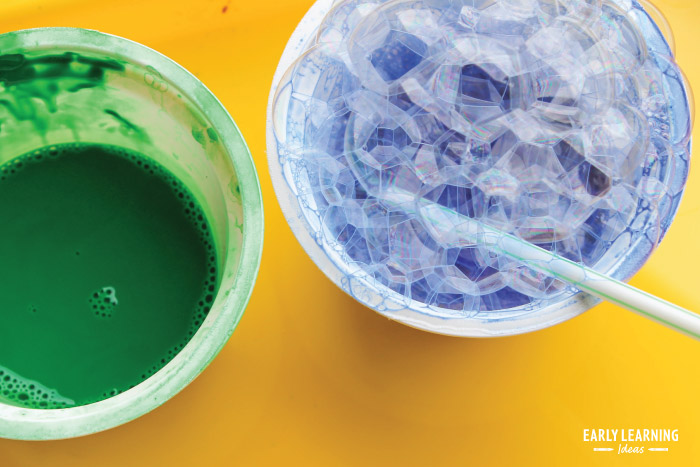 I added several links at the bottom of this post to help you find materials faster. Just an FYI….the links are affiliate links. Here's how it works….I may earn a small portion of your purchase, but you will not be charged an additional fee when you purchase from the link.
Art Supplies
To begin, you will need the following supplies:
small plastic containers to hold the paint mixture
tempera paint in a variety of colors
liquid dish soap
water
straws
a push pin
small pieces of thick paper (construction, card stock, watercolor paper)
You can find links for supplies at the bottom of this post.
When you look at the supply list you may be asking, "Why in the world do I need a push pin?" I like to poke a hole into the straws so that kids can't drink the paint/bubble solution. The hole will still allow them to blow bubbles, but it will be much more difficult for kids to suck up the solution. If the thought of using tempera paint still worries you, you can do the activity with food coloring instead.
To make my paint solution, I added paint to the bottom of a plastic container. I then added a squirt of dish soap and filled the container with a couple of inches of water. You might have to play a little bit to get the best ratio of paint to water to soap. Note…. I found that not all tempera paints are created equal. When I tried this with cheaper paint, I found that it just didn't have as much pigment in it…and the results weren't as nice.
The Painting Process
The solution should be thin enough so that when the kids blow bubbles into the liquid, the bubbles expand over the top of the container. The kids can lightly press a small piece of paper over the bubbles. This leaves an interesting print on the paper. Add a variety of colors of bubbles to one piece of paper. Kids will enjoy looking at how the colors mix together on the paper.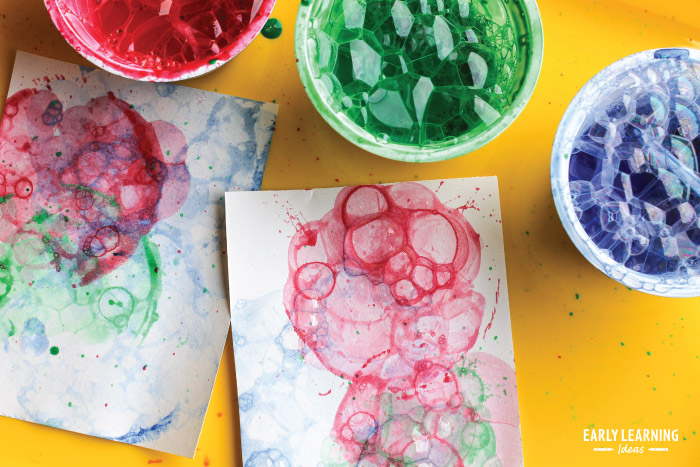 Additional Ideas
Bubble painting is a fun process art activity for preschoolers, but there are also ways that you can explore and experiment with the process and the art produced.
Let kids help you experiment to get the perfect paint/bubble solution
Experiment with an aquarium air pump and plastic tubes/bubblers
Kids can learn about colors by combining different colors to create the paint/bubble solution.
Experiment with different kinds of straws and different types of paper.
Examine dry bubble paintings with a magnifying glass.
Use bubble paintings to create another work of art. Cut shapes out of the paintings to use in collages and projects.
I have used bubble paintings to make special gifts. They look beautiful when framed or made into note cards.
Have you tried bubble painting? I would love to hear any additional tips and tricks that you have. I would also love to hear what your favorite art activities for kids are. Please let me know in the comments below. For even more fun art activities for your kids check out these articles about painting with pool noodles, painting with balls and marbles, combining counting and creating, and making a DIY paintbrush.
---
I listed some items below that you can use for the activities mentioned in this article. The links below are affiliate links. Amazon will not charge you an additional fee if you purchase something from a link, but a small portion of your purchase will be used towards the cost of maintaining this website.