Art for preschoolers can be combined with science when you paint with marbles and balls. Kids will have a blast creating and experimenting as they paint.
---
I love art for preschoolers. I love it even more when art and science can be combined. Painting with marbles and balls is the perfect combination of creativity, experimentation, and exploration for kids.
Marble Painting
To make a marble painting you will need the following supplies:
a shallow box
construction paper or art paper
tempera paint
eye dropper
marbles
misc. plastic containers for paint, marbles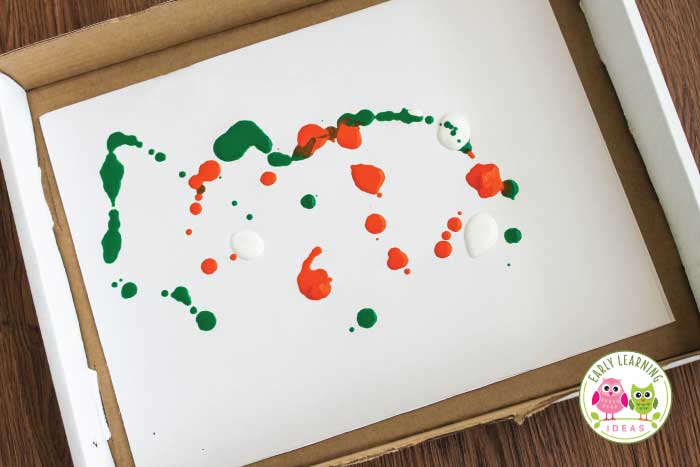 Place a piece of construction paper on the bottom of the box. Add a few drops of paint with an eye dropper.
Then, kids can drop the marbles into the box and roll them around through the paint.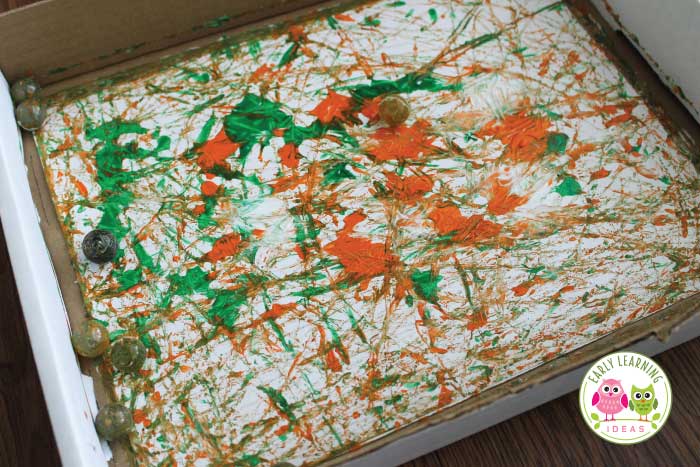 Things to think talk about:
Movement – Hold the box at different angles. Does it change the way the marble moves?
Speed – Does fast rolling marble art look different than the art created by slow rolling marbles?
Color – Kids can look at how the colors blend together. Are new colors created?
Quantity – Make artwork with different quantities of marbles. How are they different?
Time – Kids can roll marbles for different lengths of time (use timers) How is the artwork different?
Other – After the artwork dries, kids can use a magnifying glass to examine the artwork.
Painting with Balls
In addition to marbles, kids can experiment by adding different kinds of balls to the painting box. How does the artwork change? Above, we used a plastic golf ball and it created textured lines.
Then we used some racquetballs. They created lines that were thicker.
You can even add a variety of balls together and kids can watch to see if they roll differently. I would love to see what kind of painting we can make with a small football. I'm going to pick up some novelty/toy footballs the next time I go to the party store so that I can try them out. Here are different kinds of balls that you can use:
golf balls
tennis balls
small novelty footballs
nubby balls
koosh balls
playground balls
ping pong balls
ball pit balls
bouncy balls
water beads
a ball of yarn
Styrofoam balls
Do you have any additional ideas for using balls and marbles to create art? I would love to hear about them in the comments at the end of this article. If you are looking for additional preschool STEAM activities, check out the following resources in my store. Click on the images below to check them out.