15 Surprising Benefits of Crafts for Preschoolers – You Need to Know!
You're probably no stranger to crafting with your little ones. But did you know that crafts are more than just a fun way to pass the time? There are actually MANY benefits of crafts for preschoolers.
How open-minded are you about rethinking the use of crafts with preschoolers?
Some early childhood educators aren't convinced about the benefits of craft for preschoolers, and would rather focus on process art activities. Look….I happen to have a degree in art education, so I'm all for process art. But I'm here to tell you that crafts can also be very valuable for preschoolers. In fact, taking a fresh look at the importance of crafts can help you unlock their full potential in the classroom.
So, let's take a closer look at the unique benefit of craft activities for preschoolers.
What are Crafts?
Before we talk about the benefits of crafts for kids, let's look at what crafts are.
Preschool crafts are typically hands-on, creative, structured activities aimed at achieving a specific goal. When making a craft, kids generally make something. They are given instructions to follow, aiming to create a particular object or outcome, such as an Earth Day recycling truck craft or a bunny craft bag.
While there can be opportunities for unique creative expression, a craft project is usually focused more on the end result. Want to learn more about the art versus craft debate? See this article outlining the difference between art and craft.
Okay, now that we better understand crafts, let's look at how crafts help preschoolers. I know that when you look at all of these benefits, you will understand why craft projects can be important to preschoolers.
Physical Benefits of Crafts for Preschoolers
Crafting offers a range of physical benefits for preschoolers. It's no secret that I love finding ways to encourage kids to build their fine motor skills. Guess what? Crafting is one of the most motivating ways to help your kids improve their fine motor skills!
Unfortunately, today's preschoolers are entering school with lower fine motor skills than in past years, possibly due to less physical playtime and more time spent with screens. THIS is why I am a huge advocate of the benefits of craft for children.
When kids engage in crafting activities, they use their hands and fingers in a precise way that can help develop their dexterity, hand strength, hand-eye coordination, and grip. Whether they're coloring, cutting, or gluing, these activities require a great deal of control and precision that can help fine-tune their motor skills.
These printable fine motor crafts were specifically designed to help kids build fine motor skills.
Fine motor skills are incredibly important for preschoolers, as they play a crucial role in many aspects of their daily lives. From writing and drawing to using utensils and getting dressed, these skills are essential for many activities that children will encounter in school and beyond.
By engaging in crafting activities, kids can develop these skills in a fun and engaging way. Kids often avoid things that are difficult for them. For example, they often avoid the task if they struggle to use scissors. Because kids are motivated to complete the craft project, they have a reason to work on the skill, or in this case, cut out the pieces.
What Fine Motor Skills Can Kids Develop With Crafts?
So how can crafts help your kids fine motor skills? There are LOTS of ways!
Scissor Skills
Crafting is one of the best ways to work on Scissor Skills Development. Many craft activities involve cutting or snipping. You can easily adjust the level of difficulty if needed so your kids find the task just challenging enough for them.
If your kids are beginning to hold scissors correctly, you can prep many of the more difficult pieces for them and let them complete some small straight cuts in a project. When your kids are ready for more advanced cutting practice, challenge them to cut more difficult parts and pieces.
Hand-Eye Coordination
Adding stickers, positioning a hole punch, cutting and pasting, string beads, and gluing embellishments on a craft project is great for working on hand-eye coordination.
Hand Strength
When your kids are tearing paper, using a hole punch, squeezing a glue bottle, and drawing with crayons while making crafts, they are also building strength in their little hands.
Finger Control
Every time your kids use crayons, beads, pencils, markers, and glue sticks, it's valuable practice that will help them build control in their fingers. This finger control will help them as they develop pre-writing skills and eventually learn to write.
Overall, crafting is a wonderful way to support physical development in preschoolers, especially as modern trends can impact their fine motor skills. By encouraging them to engage in activities requiring fine motor control and coordination, you can help them develop the skills they need to thrive in and out of the classroom.
Cognitive Benefits of Crafts for Preschool Students
In addition to the physical benefits, crafting can be an incredibly valuable tool for cognitive development in preschoolers. When children engage in crafting activities, they're using a wide range of cognitive skills that can help them in many areas of their lives. Let's look at how crafts help preschoolers learn.
Develop Problem-Solving, Critical Thinking & Decision-Making Skills
For starters, crafting can improve problem-solving, critical thinking, and decision-making skills. As kids create their projects, they're constantly making decisions about what materials to use, how to put them together, and what the end result will look like. These are all important skills that will serve them well in the future.
Follow Multi-Step Directions
When making crafts, kids are given multi-step instructions to follow. Not only will kids exercise their memory skills as they learn how to follow the more complex multi-step directions, but they will learn the importance of sequencing. For example, you must cut out the pieces of this turtle, snip his feet, trace the dotted lines, and hole punch his shell before you can glue this pond animal theme craft together.
Developing Attention Span & Concentration Skills
Because craft activities have a goal (unlike process art), kids are willing to stick with it to see the project to completion. While you want to make sure that the craft project you choose is appropriate for your little learners, you will find that craft projects are often very engaging for your kids.
Spacial Awareness
In addition, crafting can help develop spatial awareness and geometry skills as kids figure out how to fit different pieces together and create two- dimensional shapes or three-dimensional structures.
Memory Retention
Thematic crafts can support the retention of learning concepts. For example, if your kids are learning about 2-D shapes, a craft that includes 2-D shapes can help them remember how to recognize the difference between a triangle and a square. A flower craft can help your kids remember the different parts of a flower, and a letter craft will help kids learn to recognize the shape of a letter.
Emotional Benefits of Crafts for Preschoolers
Crafting isn't just a fun way to pass the time – it can also offer a range of emotional benefits for preschoolers. In fact, engaging in crafting activities can improve emotional well-being in several ways. For example, crafting can help reduce stress and anxiety, boost self-esteem and confidence, and improve overall mood and happiness.
Build Self Esteem and Self Confidence
Emotional well-being is incredibly important for preschoolers, as it can impact many aspects of their lives. When children feel good about themselves and their abilities, they're more likely to take on challenges and engage in new experiences. On the other hand, when they feel overwhelmed or stressed, they may struggle to cope with difficult situations and may not be as willing to try new things.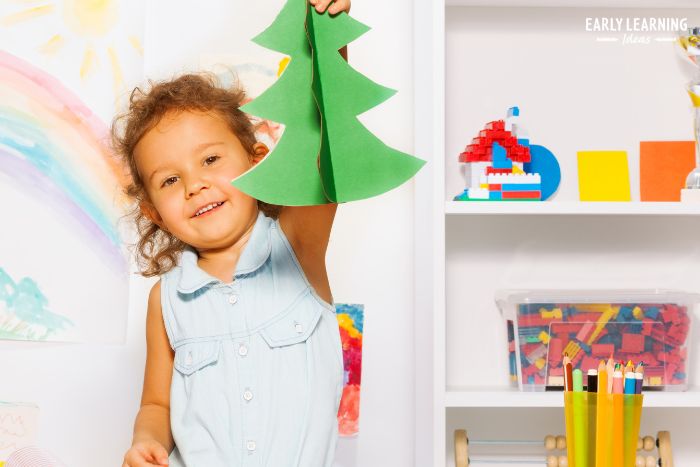 Crafting can be a great way to promote emotional well-being in preschoolers. Whether they're creating a piece of art or working on a project with friends, these activities can be a safe and fun way for kids to express themselves and build their self-confidence.
Think about the pride that you see on your kids' faces when they complete a project and you see the "I did that" smile. That's a mood booster for everyone.
Social Benefits of Crafts for Preschoolers
Crafting isn't just a solo activity – it can also be a great way for preschoolers to connect with others and build their social skills. In fact, crafting can offer a range of social benefits for kids, including improved communication and collaboration skills, increased empathy and understanding, and stronger connections with peers.
Creative Benefits of Crafts for Kids
Crafting is a wonderful way for preschoolers to explore their creativity and express themselves. While craft projects often have a particular outcome, there is still room for kids to experiment with different materials and techniques to create something uniquely their own.
Encourage your preschoolers to be creative while engaging in crafting activities. This will help them develop essential creative thinking skills, including brainstorming, problem-solving, and thinking outside the box.
Crafting Is Beneficial to Preschoolers
While there are definitely differences between art and craft in preschool, I hope you can see the many benefits of crafts for preschoolers. From enhancing cognitive and physical development to improving emotional and social skills, crafting offers a wealth of opportunities for children to learn and grow. By encouraging children to engage in crafting activities, you can help them develop these essential skills in a fun and engaging way.
So if you're looking for a way to support your child's development, why not try incorporating more crafting into your routine? Whether you're painting, drawing, or working with clay, there are endless opportunities to explore, experiment, and create. So go ahead and get crafting – you never know what amazing things your child might create!
Buy Craft Printables in The Store
Now that you see the benefit of crafts for preschool students, I bet you're ready to get started on some fun projects. Click on the images below to check out the printables in my website store.
Purchase Printable Craft Activities on TPT
Do you prefer to shop at Teachers Pay Teachers? You can also purchase the craft printables in my TPT Store.
Find More Craft Ideas and Information on Early Learning Ideas