How to Make a Counting & Color Activity for Your Bird Theme
With a few materials, you can make this bird color sorting and counting activity. Kids will love this hands-on math and fine motor activity.
What can you do with a bag of feathers? I bought a great bag of bright, colorful feathers a couple of months ago at a Lakeshore Learning Store. At the time, I didn't know exactly what I was going to do with them, but I knew that I would come up with a great preschool craft idea or something.
Today I made this bird color sorting, counting activity, and fine motor activity with the feathers. Here is how I did it.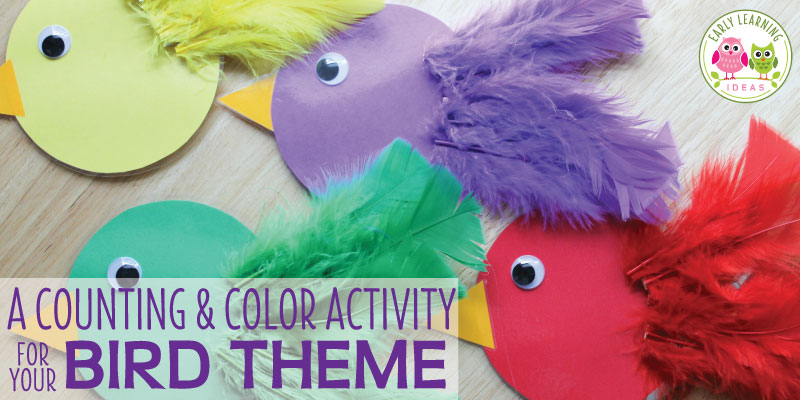 Supplies
Here is what you will need to make your birds:
colorful feathers
small clothespin clips
bright card stock or paper
googly eyes
hot glue gun with glue
laminating film/machine (optional)
Putting it Together
I used an empty yogurt container as a pattern and traced a circle onto my paper.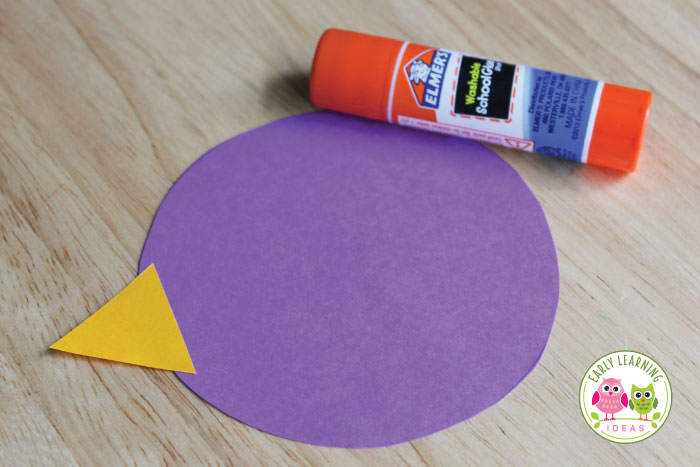 After cutting out the circles, I added a triangle beak. At this point, I laminated my birds. I used regular paper to make my birds, so they were pretty flimsy before laminating. If you make your birds from card stock, you may not need to laminate them. I completed the birds by adding a little googly eye (see pictures below) to the front of the bird.
Next I got out my glue gun, clothespin clips and feathers. I found a variety of sizes and colors of clothespin clips at a craft store. The ones that I used are in between the standard size and the little bitty ones. I liked that they were small enough to be hidden by the feathers.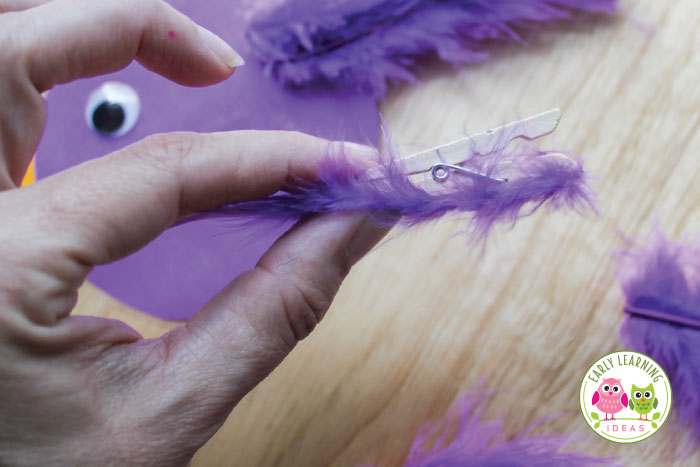 I very carefully hot glued feathers to the top of the clothespin clips. When you are done assembling your birds and feathers, kids can attach feathers to the bird to create a beautiful tail. It's a great fine motor activity!
Video Tutorial
Activity Ideas
Color Sorting:
Kids can use the birds and feathers as a color sorting activity.
Shape Activity:
Instead of making all of your birds from circles, you can make them from different shapes……circles, squares, rectangles, triangles…..
Counting:
The set becomes a hands-on counting activity when kids count each feather as it is attached to the bird.
Pattern Activity:
Children can use more than one color of feather to create patterned tails on the birds.
Composing an Decomposing Numbers:
They can practice composing and decomposing numbers as they explore different ways to create a number. For example, to make a 5 feather tail they can use 4 purple and 1 green feather, 2 purple and 3 green feathers, 3 purple and 2 green feathers, etc.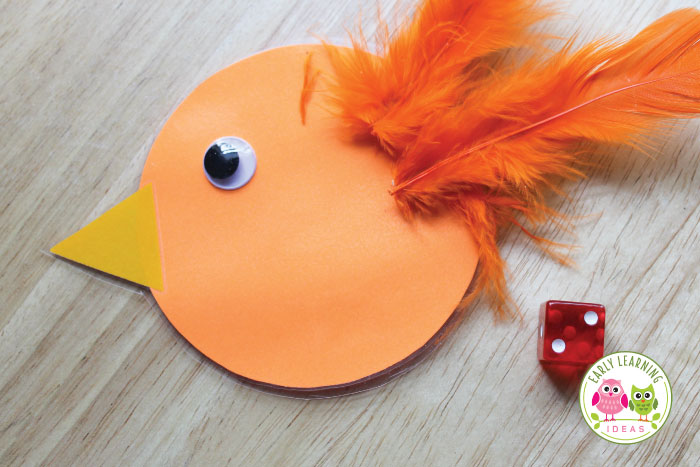 Counting Game:
You can even make a counting dice game with the birds. Prepare 10 feather clips for each bird. Kids can take turns rolling a die or spinning a spinner to determine how many feathers to add to their bird. The first person to attach all feathers to his or her bird is the winner.
I would love to hear how you use this bird color sorting and counting activity with your kids.
---
More Bird-Themed Activities in the Store
If you are interested in additional hands-on learning activities, check out the following resources in my store.