How to Make a Simple Butterfly Playdough Tray That Your Kids Will Love
Here are lots of ideas to create a fun and engaging butterfly-themed playdough tray for your kids. They will not be able to resist this invitation to play.
One of the many great things about living in Texas is that we see butterflies almost year-round. All of the butterflies flying around our yard inspired me to create a butterfly-themed playdough tray.
Here are some ideas to help you put together your own butterfly-themed invitation to play. If your kids can't share supplies, don't worry. You can use the ideas below to create individual playdough kits for your kids.
Brightly Colored Playdough
I started with some pretty pink playdough that I made with my quick playdough recipe. It's not necessary to use the color pink, any bright color will do.
Fill the Butterfly Playdough Tray
Here is what I used to fill this playdough tray:
flowers
sticks
multi-colored melty beads
plastic butterflies
cookie cutters
clear plastic vase fillers (these came from the party aisle at Hobby Lobby)
Additional Material Ideas
Here are some additional ideas for materials that you can add to your butterfly playdough tray:
pom-poms
gems
rocks
pipe cleaners
googly eyes
foam shapes
Stand Back and Let Them Play
Now that you have filled up this amazing invitation, get out of the way and let them play. It's so much fun to see what kind of creations they make.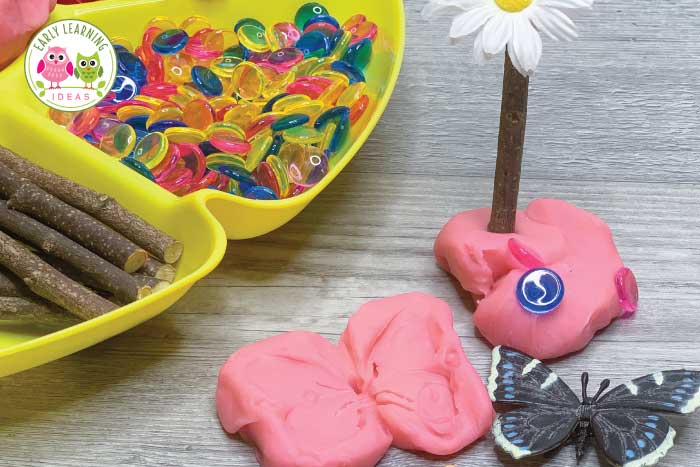 I hope that you and your kids enjoy making a butterfly playdough tray. I would love to hear about the materials that you added to your tray. Please let me know in the comments below.
Additional Insect Theme Activities
Are you looking for additional butterfly or bug-themed activities for your kids? Here are some resources that can be found in my store.