How to Make This Simple Caterpillar Pattern Activity
This cute caterpillar pattern activity combines fine motor, math, and craft. Your kids will enjoy creating patterns and counting as they make caterpillars.
---
My son and I loved finding black swallowtail caterpillars in our garden when we lived in Ohio. We would bring them inside, along with their dill plants, to watch as they changed into beautiful butterflies.
We see lots of butterflies in our new home in Texas, but I miss seeing caterpillars. I am on a mission to plant some host plants this summer. I'm determined to bring the caterpillars back. This post contains affiliate links.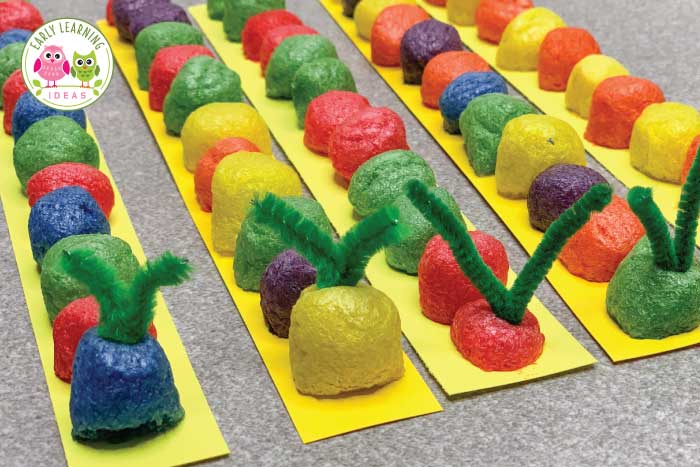 Because I have caterpillars on the brain, I came up with a sweet and simple caterpillar pattern activity that you can create with your kids. The caterpillar craft can be a great fine motor activity, counting activity, and patterning activity.
Caterpillar Pattern Activity Supplies
There is no need to plant any special plants in your garden to attract these cute creatures, but you do need the following supplies for the preschool craft activity.
colorful craft noodles (I cut them in half with a pair of scissors)
1″ strips of thick paper or cardstock
small pieces of pipe cleaners
How to Make a Patterned Caterpillar
The great thing about this activity….it's relatively mess-free. You don't need any glue. Place a damp or slightly wet sponge or paper towel in the bottom of a small cup or bowl. Kids can push the end of a noodle into the sponge. Once the end of the noodle is wet, they can push it down on the paper and it will stick. Easy Peasy!
After filling the strip of paper with a line of craft noodles, kids can push little pipe cleaners into one end to create antennae on the caterpillars head.
Kids can make simple patterns, complex patterns, or they may choose to make no pattern at all.
They can also duplicate the patterns from caterpillar pattern cards.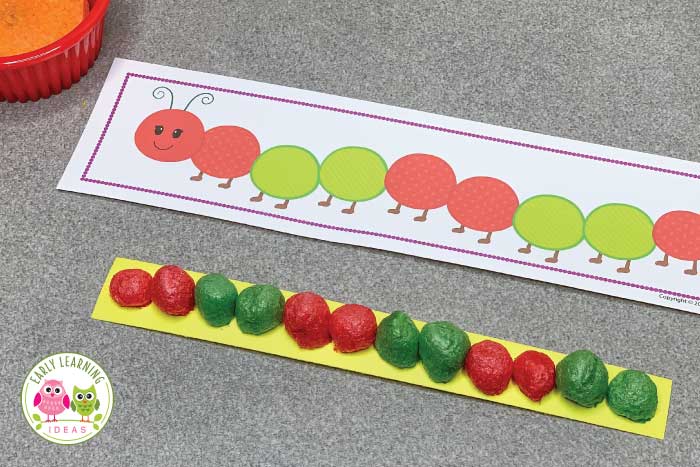 Additional Activity Ideas
In addition to pattern activities, you can work on counting comparing length. Cut strips of different lengths and see how many noodles fit on each strip. Let your kids order their caterpillars from shortest to longest.
Additional Bug and Insect Themed Activities
Here are some additional activities for your bugs and insects theme. Check them out in my store.
I hope that you and your kids enjoy making these cute caterpillar pattern activities. Let me know how they turn out. I'm off to scatter some milkweed seeds on the hill behind our yard. Wish me luck on #missioncaterpillar. I'll let you know how it goes.
---
Below are some items from Amazon that can be used for the activities mentioned in this article. The links below are affiliate links. If you happen to purchase something from a link, there will be no additional cost to you, but a small portion of your purchase will be used towards the cost of maintaining this website
[one-third-first]
[/one-third-first] [one-third]
[/one-third] [one-third]
[/one-third]