Use This Easy Caterpillar Craft for Preschoolers as a Pattern Activity
I can't wait to show you this simple and easy caterpillar craft for preschoolers. I love it when craft activities serve dual purposes, and you are going to love how these cute little critters also work as a fun caterpillar pattern activity for your kids.
Craft activities, fine motor activities, and math activities combined….It doesn't get any better than that!
My son and I loved finding black swallowtail caterpillars in our garden when we lived in Ohio. We would bring them inside, along with their dill plants, to watch as they changed into beautiful butterflies.
We see lots of butterflies in our new home in Texas, but I miss seeing caterpillars. I am on a mission to plant some host plants this summer. I'm determined to bring the caterpillars back. This post contains affiliate links.
Because I have caterpillars on the brain, I came up with a sweet and simple caterpillar pattern activity that you can create with your kids. The caterpillar craft for preschoolers can be a great fine motor, counting, and patterning activity.
What Supplies Do I Need for This Caterpillar Craft?
There is no need to plant special plants in your garden to attract these cute creatures, but you need the following supplies for the preschool craft activity.
colorful craft noodles (I cut them in half with a pair of scissors)
1″ strips of thick paper or cardstock
small pieces of pipe cleaners
How to Make a Patterned Caterpillar Craft Activity
The great thing about this insect activity….it's relatively mess-free. You don't need any glue. Place a damp or slightly wet sponge or paper towel in the bottom of a small cup or bowl. Kids can push the end of a noodle into the sponge. Once the end of the noodle is wet, they can push it down on the paper and it will stick. Easy Peasy!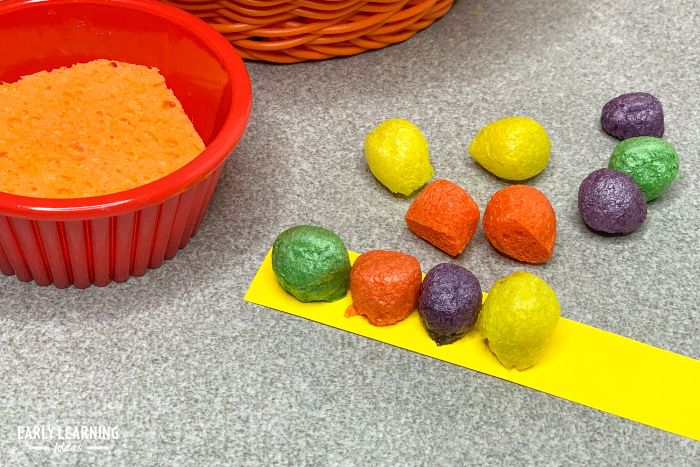 After filling the strip of paper with a line of craft noodles, kids can push little pipe cleaners into one end to create antennae on the caterpillar's head.
Not sure about adding crafts to your curriculum? Check out these benefits of crafts for preschoolers.
What Kinds of Patterns Can Kids Create with This Caterpillar Craft for Preschoolers?
Kids can make simple patterns such as an ABAB pattern. They can create more complex patterns, such as an ABAB or an ABBA pattern.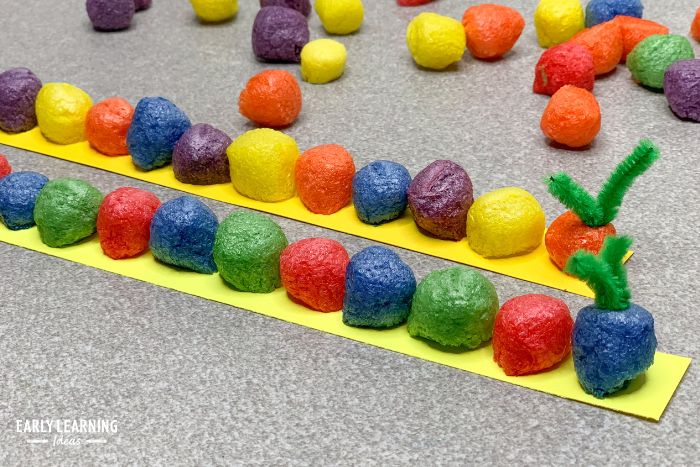 They can also duplicate the patterns from caterpillar pattern cards.
If you don't want to mess around with patterns, and want your kids to just freely create….go for it! The results from this caterpillar craft for preschoolers are absolutely ADORABLE little creatures.
I know your kids will have a blast with this one!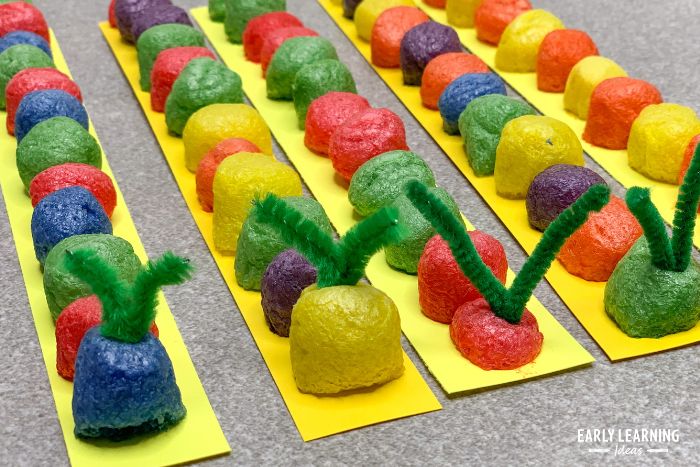 Additional Ways to Use This Easy Caterpillar Craft Activity
This pattern activity and craft is extremely versatile. Let's look at some additional ways that you can use the activity.
The Very Hungry Caterpillar Book Activity
Use the classic insect themed book as a starting point to explore caterpillars and butterflies.
Insect Theme Fine Motor Activity
This caterpillar craft for preschoolers is a great addition to your bug and insect theme unit or lesson plans, PLUS it also serves as a great fine motor activity for your kids. Kids can work on finger control and pincer grasp as they assemble their cute little crawly creatures.
Insect Theme Math Activities
In addition to pattern activities, you can work on counting and comparing length. Cut strips of different lengths and see how many noodles fit on each strip. Let your kids order their caterpillars from shortest to longest.
Caterpillar Color Sorting Activity
Challenge your kids to sort colors as they create single-colored caterpillars.
Additional Bug and Insect Themed Activities in The Store
Are you looking for some fun and engaging activities for your insect and bug themed unit or Spring themed units? Check out these fun and hands-on bug and insect-themed activities in my store.
Purchase the Insect Themed Activities on TPT
Do you prefer to shop at Teachers Pay Teachers? You can also purchase the insect theme printables in my TPT Store.
I hope that you and your kids enjoy making these cute caterpillar pattern activities. Let me know how they turn out. I'm off to scatter some milkweed seeds on the hill behind our yard. Wish me luck on #missioncaterpillar. I'll let you know how it goes.
Caterpillar Craft Supplies
---
Below are some items from Amazon that can be used for the activities mentioned in this article. The links below are affiliate links. If you purchase something from a link, there will be no additional cost to you, but a small portion of your purchase will be used towards maintaining this website.