Christmas Fine Motor Activities that will Make Your Kids Happy
Are you looking for some super fun fine motor activities that are perfect for the holiday season? Check out these great Christmas fine motor activities for preschoolers.
Clip and Count Christmas Style
Add seasonal stickers, erasers, or buttons to the end of clothespin clips, and you have a fun & easy Christmas-themed count and clip cards.
Holiday Scissor Skills Activities
Holiday-themed activities are often very motivating for kids. Here are some activity ideas that will even motive kids who are resistant to using scissors.
Christmas Tree Fine Motor Activity
This Christmas tree activity allows kids to practice scissor skills. They can also build hand strength as they use a hole punch to complete it.
Cutting Practice Material Ideas
Provide cutting practice for preschoolers by adding some fun items to a sensory table or tray.
Here are some ideas. Don't forget to add the scissors.
Holiday wrapping paper
Ribbon or garland
Evergreen branches (be sure that they are fresh and soft, so they don't poke kids' fingers.
Christmas cards or holiday catalogs
Holiday Cutting
These cutting practice activities are part of my Holiday Fine Motor Activity Set. Kids can work on snipping and cutting on a variety of lines.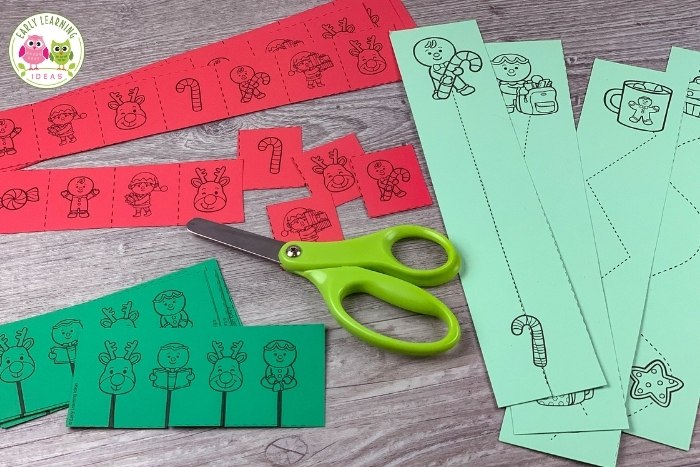 Cutting Practice Mini-Books
Use my free cutting practice mini-book template to help your kids get scissor skills experience. Kids can begin by adding holiday stickers to each page.
They get some meaningful cutting practice as they cut the pages out. Finally, they can staple the pages together and will be proud of their book.
Snowflake Cutting with Templates
Kids are delighted when they can successfully cut snowflakes. Be sure to use snowflake cutting templates to make the task easy for your little learners.
Fine Motor Art Activities for the Holidays
Christmas Tree Spray Bottle Painting
Use washi tape to add a Christmas tree shape to a piece of construction paper. Use a spray bottle filled with paint in holiday colors to spray over the entire paper.
Carefully remove the tape to reveal a Christmas tree outline.
Holiday Playdough Activities
Gingerbread Playdough Tray
Mix up some gingerbread playdough and add some thematic materials to create a fun gingerbread playdough tray or a small, individual playdough kit.
Christmas Tree Playdough Tray
Add beads, bells, and lights and some Christmas tree playdough to create a super invitation to play for your Christmas tree theme.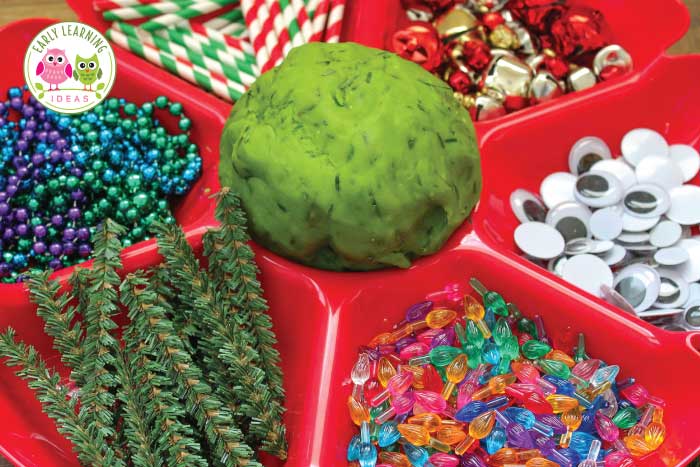 Holiday Playdough Kit
If your kids can't share supplies….don't worry! It's easy to make up some individual playdough kits with a holiday theme.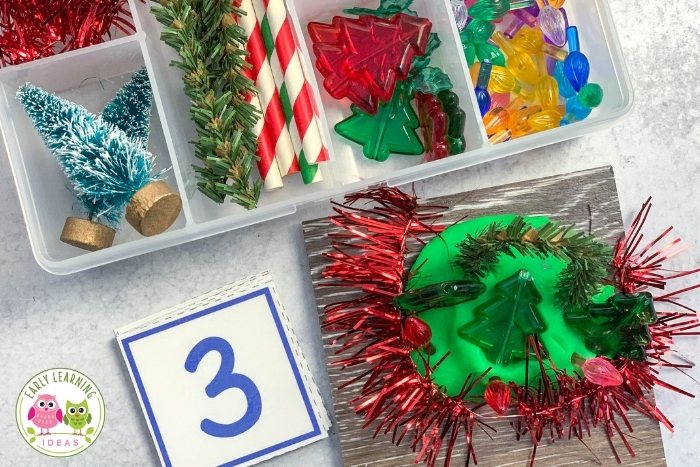 All of the materials in a playdough kit can be contained in an inexpensive container. They also make great gifts for the little ones in your life.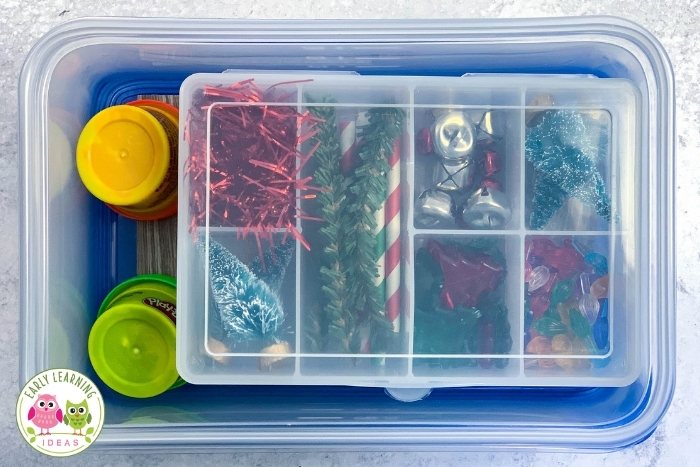 Mini-Playdough Mat Printable
Teachers love using these free mini-playdough mats as a simple gift for kids. The little fine motor activity also makes a great favor for holiday parties.
Holiday Hole Punch & Bead Placement Activities
In addition to the Christmas tree activity above, my Holiday Fine Motor Activity Set includes additional hole punch activities. I LOVE the reindeer hole punch strip!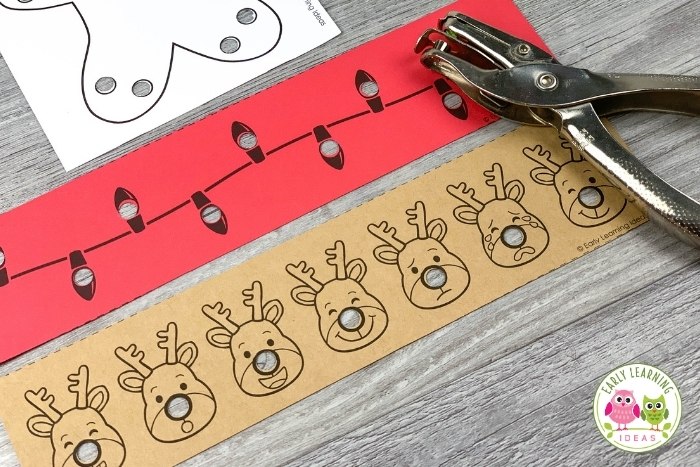 The set also includes these bead placement activities, which allow kids to work on refining their grasp.
Additional Christmas Fine Motor Activity Ideas
Kids can string a bell onto a pipe cleaner and then wrap it around a craft stick to make jingle bell sticks. You can use the musical instrument for a simple science activity too. Be sure to pick up the free printable.
Do your kids need to work on some pre-writing skills? These pre-writing mats and mazes are a fun way to help them out.
Mini erasers are great fine motor tools. Use Christmas themed erasers to turn any of these mini-eraser activities into a Christmas fine motor activity.
Jingle Bell Drop by Stay at Home Educator
Candy Cane Counting and Fine Motor Activity by Fun and Learning for Kids
Yarn Wrapped Christmas Trees by Teaching 2 and 3 Year Olds
I hope that you enjoy trying out some of these fine motor activities for Christmas. If you have additional ideas to build fine motor skills during the holiday season, I would love to hear them.
Purchase the Fine Motor Activity Set
Are you ready to use the easy-to-prep fine motor activity printables in my Holiday Fine Motor Activity set? Click on the image below to pick it up in my store today.