How to Easily Make Amazing Christmas Tree Playdough for Kids
Are you looking to add some extra fun to your playdough activities? Let me show you how to make Christmas tree playdough for kids. It's easy! This festive homemade playdough adds a wonderful sensory experience to your holiday fine motor activities.
I know your kids will LOVE it!
I love the smell of Christmas trees. The amazing smell brings back memories of hiking through the Maine woods with my family. What does the smell make you think about?
Here is a fun way to add an additional sensory experience to simple playdough. Let me show you how to make Christmas tree playdough. It's really easy!
Sensory Christmas Tree Playdough
Start by making my quick play dough recipe. Add green food coloring as you mix it up. For some reason, the green food coloring that I purchased is kind of Shrek colored…but it works.
How to Find Christmas Tree Branches
Before you can add the Christmas tree to the playdough, you need to find some Christmas tree branches. Don't worry you can get them for free. If you use a real Christmas tree in your house, just save some of the branches that you cut off when you put the tree in its stand.
You don't use a real tree at your house? No problem.
Visit a Christmas tree lot on your way home from work. Every tree lot that I have visited has a pile of branches that they trim off the bottom of trees. The employees are happy to give some to you if you ask.
Oh….and if you happen to leave them in your car for a day, your car will smell really good.
I'm not an expert on deciduous trees, so I can't tell you what kind of tree branches I used. I can only tell you that this is the kind of tree that they sell in the Home Depot garden center in Austin, Texas.
If the pine needles feel like… well… needles… don't use them. My branches were fresh, and the needles were soft, so this wasn't a problem.
Complete Your Sensory Christmas Tree Playdough
Now that you have some branches, use scissors to snip the needles into small pieces. You may want your kids to help you with this task. Model it for them. The pine smell was amazing as I snipped.
Helpful Hint: Use lemon oil or rubbing alcohol to clean pine residue from your scissors.
When you have a bunch of needle pieces, just mix them into the play dough. Again, your kids may really enjoy kneading it all together. To get even more pine fragrance you can add a few drops of balsam or cypress or some other type of evergreen essential oil.
Using the Christmas Tree Pladydough
Now, your play dough is ready for play. Store it in an air-tight container when your kids are not using it.
The mixture is fun to use with sparkly baubles or with holiday-themed play dough mats.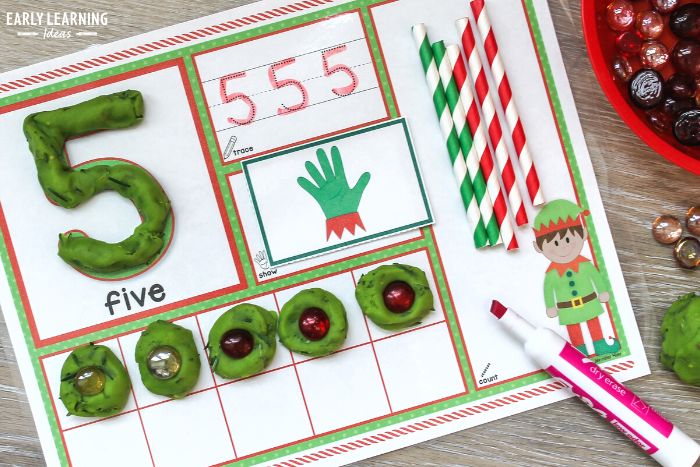 A Christmas Playdough Invitation to Play
It is also fun to add the Christmas tree play dough to an invitation to play. Create a Christmas-themed playdough tray by adding a variety of items to a divided tray. If your kids can't share supplies, don't worry. You can use the ideas below to create individual playdough kits for your kids.
Here are some ideas:
real or imitation pine branches
plastic Christmas lights
googly eyes
beads
red and green straws
jingle bells
pipe cleaners in holiday colors
ribbons
sequins, gems, stars
mini erasers
buttons
I hope that you enjoy making memories with this fun Christmas tree playdough for kids. I would love to hear how you use it with your kids. Check out my Christmas Playdough recipe for another type of playdough for the holiday season.
Purchase the Christmas Number Playdough Mats
The Christmas play dough mats pictured in this post can be purchased in my store. Click on the image below to check them out.
Purchase on TPT
Do you prefer to shop at Teachers Pay Teachers? You can also purchase the Christmas Playdough Mats in my TPT Store.