How to Use a Dinosaur Craft Printable to Develop Fine Motor Skills
Are you concerned about your students' or children's fine motor skills? Do you find it challenging to engage them in activities that promote fine motor skill development? You're not alone. Many teachers and parents are seeing a decline in fine motor skills among young children, and we all know that this can have a significant impact on their ability to perform daily tasks and succeed in school.
But don't worry, I have a solution that's both fun and effective! I started creating fine motor crafts. These printable fine motor craft activities are better than your average craft projects because they are designed to help kids develop and build their fine motor skills in a way that's fun and engaging.
Let's take a look at the dinosaur craft printable activities, and I'll show you how you can use this printable to help your kids develop stronger hands and minds.
The Importance of Developing Fine Motor Skills in Early Childhood
Fine motor skills are essential for young children's growth and development, as they play a critical role in many daily activities. From buttoning a shirt to writing their name, children use their fine motor skills in countless ways throughout their day. Without strong fine motor skills, children may struggle with tasks that require precision, such as gripping a pencil, cutting with scissors, or manipulating small objects. Developing these skills in early childhood is crucial, as it sets the foundation for future academic and life success.
Crafting with Dinosaurs: 3 Printable Activities to Improve Fine Motor Skills
If your kids are dinosaur enthusiasts like my son, then they will love these three dinosaur craft printables that are perfect for developing fine motor skills.
Three Printable Dinosaur Crafts for Kids
The printables feature three different dinosaur designs – a triceratops, a stegosaurus, and a dinosaur that kind of resembles an apatosaurus (although my son insists that its neck and tail are too short!).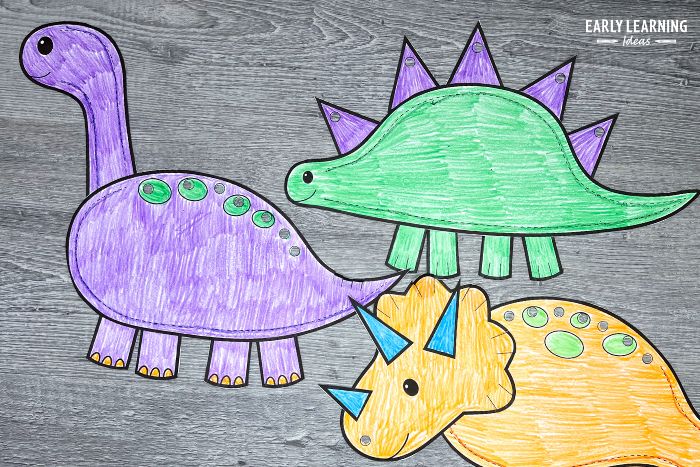 Okay, so I'm definitely not a paleontologist! But I have to say the little dinosaurs are cute! Don't you think? The simplified dino designs make them easy dinosaur crafts for kids.
Before we talk about the fine motor activity details that make this printable craft so unique and beneficial, let me quickly tell you about the printing options.
Two Printing Options
For each dinosaur design, you have two printing options to choose from – the One Page No-Prep Option and the Individual Parts Pages.
The One Page No-Prep Option is perfect for black and white printing, and all the craft pieces are on a single page. Simply print and go – no prep required!
The Individual Parts Pages – In addition to the one-pager, the set also includes the option to print the individual parts on one page. Printing multiple copies of one part on one page makes it easy to print parts on different colored paper. This option also makes it easy to modify the activity for kids at different levels, as you can cut out some of the pieces and let them cut out others. Additionally, this option makes it easy to prep parts for an entire class.
Now, let's take a look at how these fun and easy dinosaur crafts for kids will help them develop fine motor skills.
Scissor Skills for Kids: Using Dinosaur Printables to Master Cutting
If your little ones need help with building scissor skills, the dinosaur craft printables are the perfect solution.
Thick, Dark Cutting Lines for Easy Cutting Practice
Take a look at the printable dinosaur craft pieces. I designed them all with thick dark lines, which make it easy for kids to cut out the shapes.
There are a variety of shapes in each of the dinosaur printables. This gives kids the opportunity to practice cutting different types of lines.
Snipping Practice for Beginning Cutters
Take a close look at some of the dinosaur parts, and you will see small, thin black lines. These are snipping lines that will give beginning cutters an opportunity to practice their skills.
Differentiate the Activity
You can differentiate the activity by cutting out some of the bigger or more complex pieces and letting them work on the pieces they feel most comfortable with. This will help them build the skills they need to work on more complex cuts in the future.
Tracing Shapes And Lines: How Dinosaur Crafts Help With Pre-Writing Skills
Tracing shapes and lines is an essential pre-writing skill that helps children develop hand-eye coordination and muscle memory.
When I designed the printable dinosaur craft, I added dotted lines on some of the shapes. Do you see them?
These lines provide kids with the perfect opportunity to practice tracing with a crayon. By tracing these shapes and lines, kids can improve their ability to control the movement of the crayon, which is an essential skill for handwriting. I know that it's sometimes difficult to get kids to work on these skills, but the fun dinosaur design can make it motivating (especially for those little dinosaur lovers).
Hole Punching for Kids: How to Build Hand Strength Through Crafts
The dinosaur crafts are not only fun but can also help build hand strength through hole punching! If you haven't tried hole punch activities with your kids, you should give them a try. Kids LOVE using a hole punch!
Take a close look at the printable dinosaur parts, and you will see that ome of the shapes have little circles on them. I added these circles to give kids an opportunity to practice their hole-punching skills. It might seem like a small task, but using a hole punch requires significant hand strength and hand-eye coordination. They will have so much fun punching the holes, that they won't even realize that they are building hand strength.
Dinosaur Craft Creativity: How to Add Personal Flair to the Printable Activities
While I think that I outlined many of the benefits of these craft activities, I can understand if you are looking for ways for kids to make the dinosaur craft printable a little bit more creative. Here are some fun ways to add a little creativity to your dino crafting time.
Custom Colors – Print the dinosaurs on white paper and let your kids get creative with coloring their dinosaurs. They can choose their own colors to decorate their dinosaurs. Instead of traditional greens and browns, encourage them to use their imagination and create rainbow or neon-colored dinos.
Print on Different Colors – Print the dinosaur parts on a bunch of different colored paper. Your kids can mix and match their dinosaur parts to create a unique dino creation.
Glitter Galore – Add a little sparkle to your dinosaurs with glitter glue or glitter paint. This is especially fun for those who love all things sparkly.
Dino Habitat – Instead of just creating a standalone dinosaur, make it a part of a larger habitat. Kids can create a prehistoric scene with rocks, trees, and other dinos to create a whole world for their dino.
Creative Cutouts – While our crafts come with specific shapes, encourage kids to get creative and add their own shapes and designs to their dinosaurs. They can cut out hearts, stars, or any other shapes they can think of.
Textured Touch – Experiment with different materials like fabric, felt, or even dried pasta to add some texture to the dinosaurs. Kids can use these materials to create spikes, spots, or any other features they want to add to their dinos.
These ideas are sure to add some extra fun and creativity to your dinosaur crafts! Check out this article to learn more about the difference between art and craft.
Versatile Dinosaur Crafts for Kids: Creative Ways to Use the Printable Activities
Of course, you can use these dinosaur craft printable activities as a thematic fine motor activity or just a fun craft that has the bonus of helping kids. Here are some additional ways that you can use the craft project.
Create a dinosaur mural or bulletin board: Cut out several sets of dinosaur crafts and use them to decorate a classroom bulletin board or wall. You can add some green construction paper to create a jungle background and use paper cutouts of leaves and plants to complete the look.
Use them as party activities: Print out the crafts and let kids assemble them as part of a dinosaur-themed party.
Create puppets: Cut out the dinosaur shapes and glue them to popsicle sticks to make puppets. Kids can use them to act out their own dinosaur stories or put on a puppet show for friends and family.
These are just a few of the many ways you can use our dinosaur crafts to spark creativity and imagination. So go ahead and let your imagination run wild! Are you interested in themes different than dinosaurs? Check out all of my printable fine motor craft activities that are currently available.
Pick Up the Dinosaur Craft Printable Set Today
I'm so glad you stopped by to check out our dinosaur crafts post! If you're excited to get started on some fun and creative projects with your kids, don't forget to pick up our dinosaur fine motor craft printables in our website store.
These printables are perfect for helping little ones build their hand strength and scissor skills, and they'll love getting to create their own dinosaur masterpieces. Head over to our website now and get ready for some dino-mite fun!
Purchase The Dinosaur Craft Printables on TPT
Do you prefer to shop at Teachers Pay Teachers? You can also purchase the dinosaur craft and fine motor activity printables in my TPT Store.