20 Interactive & Fun Dot Sticker Activities for Hands-On Learning
Get ready for hands-on learning that's fun, interactive, and perfect for building fine motor skills. All you need are some dot stickers.
Yes….simple dots! You aren't going to believe all the things you can do with the simple office supply. Let's take a look at all kinds of dot sticker activities for your kids.
So, roll up your sleeves, grab some dot stickers, and dive into the world of creativity and discovery. Many of the dot sticker printables in the photos in this article are available in my store. Check out the links at the end of the article to learn more.
Wanna know which stickers I use? Several links are at the bottom of this post for your shopping convenience. If you purchase something from one of the links, there will be no additional cost to you, but a small portion of your purchase will be used towards the cost of maintaining this website.
Benefits of Dot Sticker Activities
Did you know that engaging your preschoolers in sticker activities can have a positive impact on their fine motor skills?
Peeling and sticking stickers may seem like a simple activity, but it actually has a big impact on developing the pincer grasp of our little learners.
When they use their thumb and index finger to peel off stickers from the sheet and accurately place them onto surfaces, they are honing their pincer grasp—the ability to pinch and hold objects between the thumb and fingertips. This fine motor skill is vital for tasks like writing, buttoning clothes, opening packages, and using utensils. By incorporating sticker activities into our preschool curriculum, you provide valuable practice opportunities for your kids to strengthen their pincer grasp and improve their overall hand control and coordination.
Now that you understand how helpful sticker activities can be, lets take a look at the fun activities.
Simple Dot Sticker Activities
The simple act of using stickers is so much fun for some kids that you can just give them a sheet of stickers, some paper to apply them to, and let them go at it.
Dot Sticker Task Cards
It's also great to give them a target so they know where to put the stickers. That's why dot sticker fine motor task cards are great….and they provide practice for those hand-eye coordination skills. Kids can apply the stickers inside the circles on the printable activity cards.
You can find all kinds of uses for these handy fine motor task cards. Use them for reward cards, read-at-home logs, counting activities, composing numbers, and more.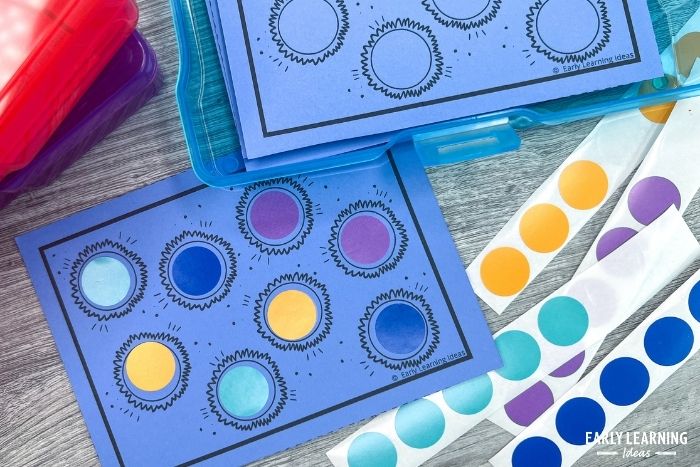 Place Dot Stickers on a Line
Draw a line on a piece of paper. Kids can apply stickers along the line.
Color Sorting & Matching Dot Sticker Activities
Do your kids need help learning and identifying colors? There are many ways that you can use circle stickers for color activities.
Dot Sticker Graphing
Make a graph and add a square of colored paper at the top of each column. Kids can then add the matching dots in the appropriate columns. Want to make this a math activity? Ask kids to use a sticker to represent their favorite color, their favorite color of apple, etc…..
stickers on colored strips
Print dot sticker activity strips in several different colors. Kids can apply matching stickers to the strips.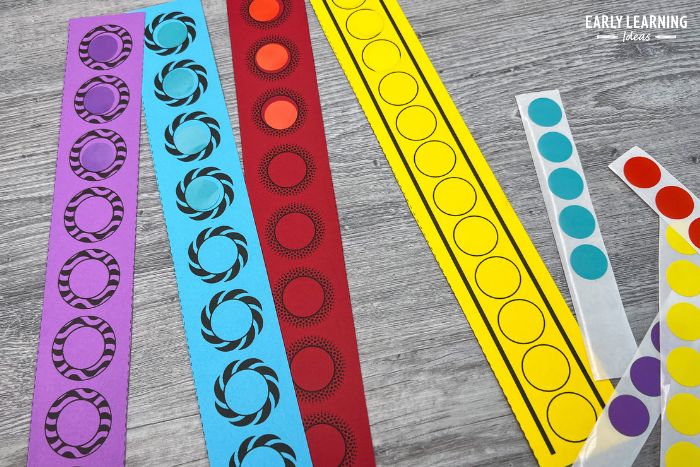 Draw a line between matching Colored Dot Stickers
While kids don't stick the stickers in this activity, they will develop fine motor pre-writing skills as they draw lines between stickers. Place pairs of colored stickers in columns on a piece of paper. Kids can draw a line between the matching stickers.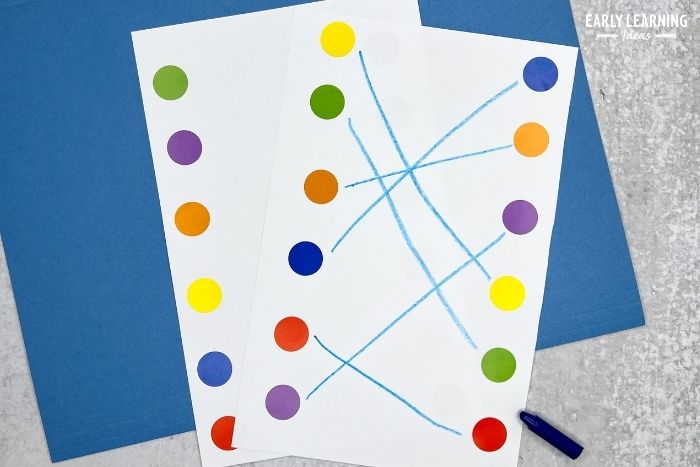 Are your kids ready for more of a challenge? This activity is similar to my simple maze printables. Randomly place a bunch of dot stickers on a piece of paper. Kids can draw lines to connect the matching colored stickers. Challenge them to go around all the other stickers.
Math and Counting Activities with Dot Stickers
From numeral recognition, counting, patterning, and composing numbers. Dot stickers are perfect for hands-on math activities.
Numeral Recognition
Counting and placing dot stickers on numbers to learn numeral recognition
Printable dot sticker counting book
These easy-to-assemble printable dot sticker counting books give kids the opportunity to represent numbers in a hands-on way.
Dot Sticker Pattern Activities
Want to work on patterning activities? Get out multiple colors of dot stickers to use with dot sticker printables. They are the perfect way to create patterns while building fine motor skills.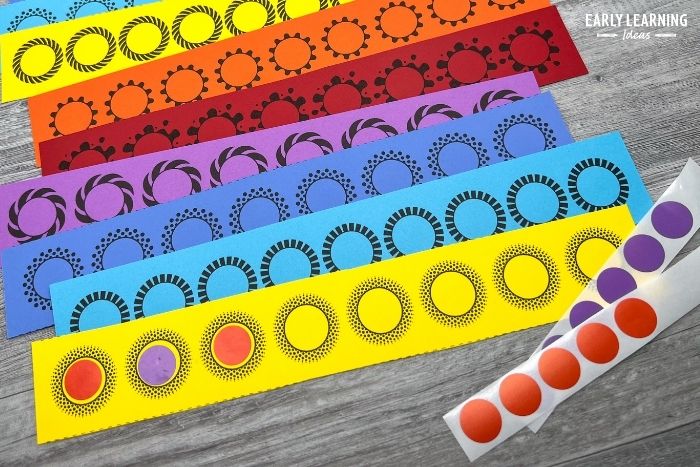 Making Numbers
You can work on composing numbers, simple addition, or subtraction using dot stickers. Here the number 6 is represented with 2 purple dots and 4 green dots. Challenge your kids to see how many different ways they can make a number.
Additional Number Activities with Dot Stickers
Roll and dot graphing activity by Busy Toddler – Write the numbers 1-6 on pieces of paper or a graph. Kids can roll a die and place a sticker under the appropriate number.
Dot sticker Uno math by Happy Toddler Playtime – Kids can select an Uno card and represent the number from the card on a piece of paper.
Sticker ten frames by Days with Grey – Use the dot stickers to represent numbers on ten frames.
Shape Sticker Activities
Do your kids need to work on their shape recognition skills? Here are some ideas to help them out.
Creating shapes using dot stickers
Kids can place stickers around the perimeter of shapes. When they are done, have them trace the shape with their finger so they can feel how the stickers make bumps as they go around it.
Filling in shapes with dot stickers
Draw a shape on a piece of paper, and kids can fill the inside of the shape with dots. Want to build some strength in those little arms and torsos? Place this activity on the floor and encourage kids to do this while lying on their stomachs.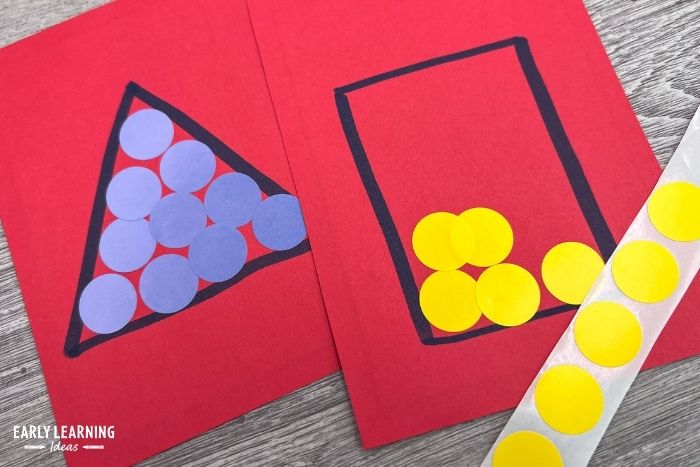 Literacy Dot Sticker Activities for Preschoolers
You can also use the colorful little coding labels for fun, hands-on literacy activities.
Letter Recognition
You can help your kids learn to recognize the shape of letters with these fun alphabet dot pages. Place dot stickers on a letter and then have kids trace it with their fingers when they are done. You can also add a contrasting color of dot sticker to one of the dots to give kids a visual cue for the starting point to help them with proper letter formation.
Letter Sound Activities
You can also use stickers inside large bubble letters for letter and sound activities. Of course, they are perfect for the letter "d", but you can also use them to represent colors….like "r is for red," Y is for yellow, etc.
Dot Sticker Science Activities
Add some dot stickers and swatches of various materials to your science center. Kids can experiment to see if the stickers adhere to some materials better than others. Not sure what materials to use? Here are some ideas:
sandpaper
wax paper
foil
various types of fabric
felt
paper (construction, scrapbook, crumbled)
paper towels
Fine Motor Skill Development
All of the dot sticker activities listed in this article will benefit your kids' fine motor skills. Here is one more idea that will help your kids build hand strength. After kids add dot stickers to a strip of paper, they can use a hole puncher to punch holes into the center of each dot.
If you haven't used hole punch activities with your kids, you have to give them a try. They are a highly motivating way to help kiddos build hand strength.
Art and Crafts Ideas
In addition to number, letter, and patterning activities, here are some fun art activities and craft activities with dot stickers.
Process Art Activities
Add dot stickers to your art center. Kids can combine them with other materials for fun, open-ended art activities.
Dot Sticker Paper Chains
Kids can decorate strips of colored paper with dot stickers, and you can help them connect them to make a big paper chain. Imagine how excited they will be to stretch out and measure their collaborative project daily. You can also use the chains for holiday decor.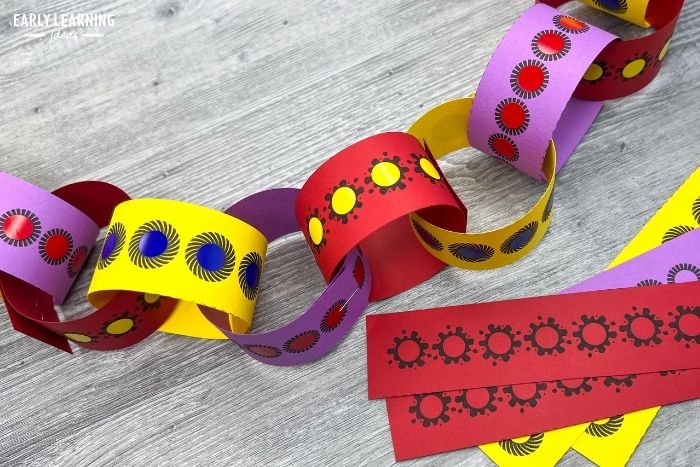 Additional Projects with Dot Stickers
Shaky eggs – Use dot stickers to decorate shaky eggs, and then use those shakers for music and movement activities.
Coloring pages – Use simple coloring pages like these tearing paper pages. Kids can apply colors with stickers to the images.
Where to Buy Printable Dot Sticker Activities
Are you ready to get started with some fun dot sticker activities with your kids? Check out these printables from the store.
Purchase on TPT
Do you prefer to shop at Teachers Pay Teachers? You can also purchase the dot sticker printables in my TPT Store.
More Activities with Dot Stickers
Check out these articles for Early Learning Ideas to fin even more ideas for using dot stickers with your kids.
Dot Sticker Supplies
If you need to stock up on dot stickers for some of these activities, here are some of the stickers I have purchased from Amazon.