Dot Sticker Printables – 20 Simple Fine Motor Activities for Preschoolers
We all recognize the importance of fostering fine motor skills in young kids. It's these skills that pave the way for writing, artistic expression, and even everyday tasks.
Today, I'm excited to show you my new dot sticker printables! Why am I so excited these simple strips? I love finding different ways to use things. Well, let me tell you, these simple printables are SUPER VERSATILE and can be used in SO MANY DIFFERENT WAYS!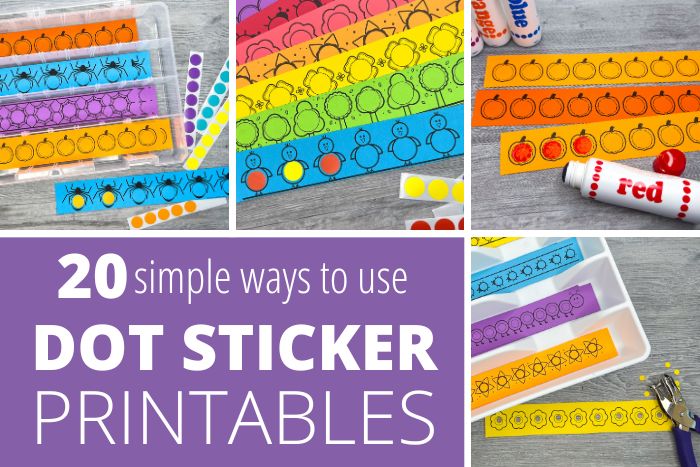 Note: I added several Amazon product links at the bottom of this post to help you find materials faster. Just an FYI….the links are affiliate links. Here's how it works….I may earn a small portion of your purchase, but you will not be charged an additional fee when you purchase from the link.
I think that you will find that your kids will enjoy these fine motor activity ideas. I love it when kids have so much fun doing something that they don't even realize they are building essential skills.
Also, please don't think that these printables are just for dot sticker activities. Be sure to scroll through all the ideas. From hole punching, stamping, and lacing…..you will be thrilled by all the possibilities for simple fine motor activities for preschoolers.
Incorporating this simple resource will not only inject a fresh wave of engagement, but will also provide an exciting way for kids to work on building their fine motor skills.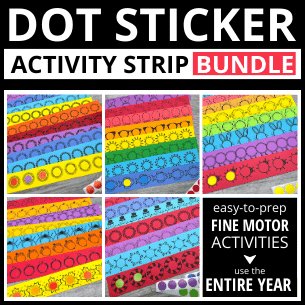 JUST Purchase the Fine motor Dot Sticker Printables
No Time to Read The Whole Article?
Here are the quick links to purchase the dot sticker strips bundle today.
How Do Dot Stickers Help My Kids
Those simple circular stickers really don't seem like they are anything special. But when your kiddos use these stickers, they're creating something cool and giving their fingers an awesome workout.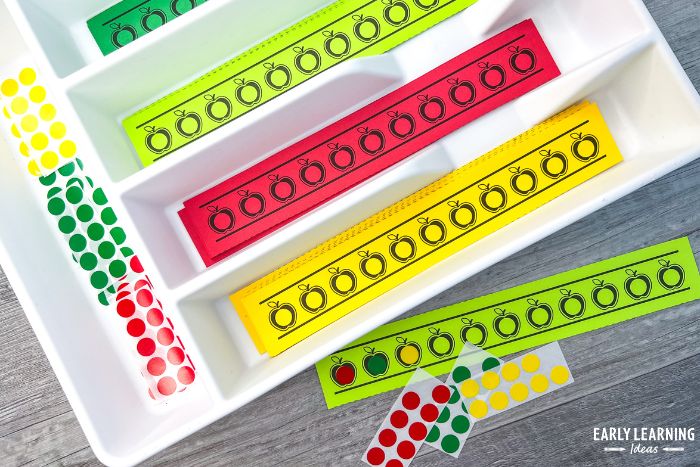 Peeling stickers is a great activity to help young kids work on refining their pincer grasp. When they grab those stickers and place them just right, their fingers are working together. It's like giving those fingers a special strength training session. And guess what that means? Those little fingers will improve at holding crayons, gripping pencils, drawing shapes, and even using scissors.
But wait, there's even more to the story! As your kids busy themselves with sticking dots onto these strips, their brains are also joining in on the adventure. They're building hand-eye coordination and learning to focus, pay attention, and follow instructions – all super important skills for growing minds. These skills will come in handy when they start writing letters, learning to read, and even solving simple puzzles.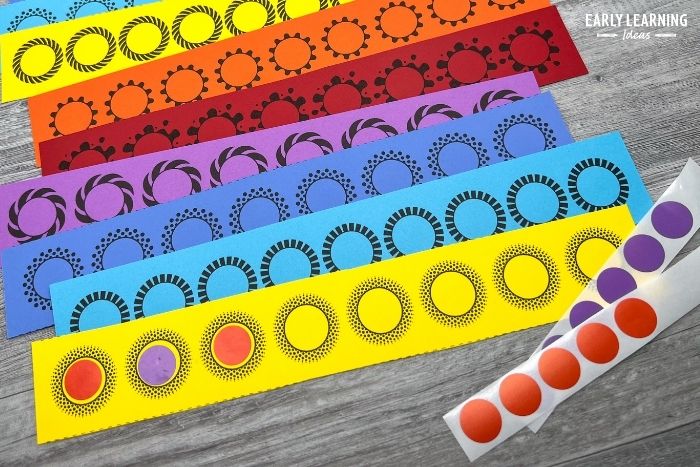 Now that you understand how stickers can help your kids, let's take a closer look at the printable dot sticker strips.
Exploring the Dot Sticker Printables
When teachers and therapists shared that they were on the lookout for fun peeling sticker activities for their young learners, I jumped into action and created these dot sticker strips. The first set I made got incredible feedback, so I decided to take it up a notch and crafted some seasonal sticker strips to keep you and your kids engaged and excited all year round. It's like endless sticker fun!
Easy-to Prep & Simple Fine Motor Activities
The fine motor activity strips are super easy to prep and look really great when you print them on brightly colored paper. All you have to do is cut them apart, and you are good to go. Put them in a plastic container, and you have a super simple and engaging fine motor bin ready for your kids.
The Printables Have Two Sizes of Dots
Guess what? I've got you covered with not one but two kinds of dot sticker strips in each set – one for those bigger dot stickers and another for the smaller ones. Need help tracking down the perfect dot stickers? No worries at all! Just keep scrolling, and you'll find links that'll lead you to the dot stickers I got from Amazon. It's all neatly tucked away at the end of this article.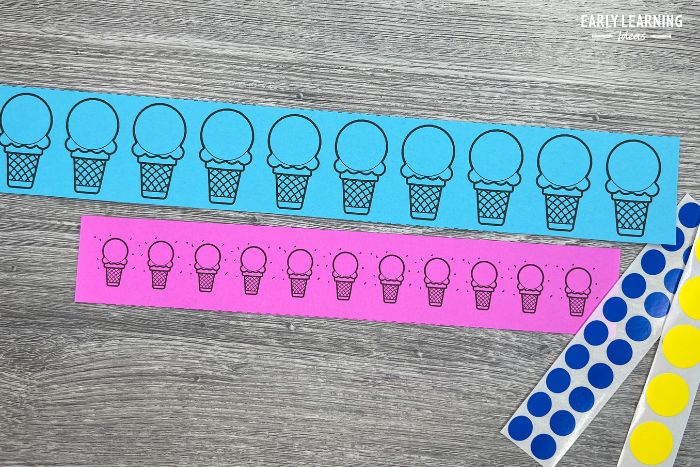 But hold up – don't think for a second that these printables are only meant for circle stickers. Keep reading, and you'll be in for a treat because I'm dishing out more cool ideas on making the most out of these printables.
How Many Stickers can I add to Each Dot Sticker Strip?
The design of each strip varies, so there aren't a set number of sticking opportunities on each fine motor strip. The small dot strips have between 9-12 dots on them, and the large dot strips have between 5-7 dots on them.
Now, let's take a look at how you can use the strips.
A Simple Dot Sticker Activity
Prep some dot sticker strips for your kids and provide some stickers. Let them add a sticker to each of the circles on the strips. It can't get any easier than that, right? The great part is that your kids will have so much fun placing the stickers that they won't realize that they are developing their pincer grasp and fine motor skills.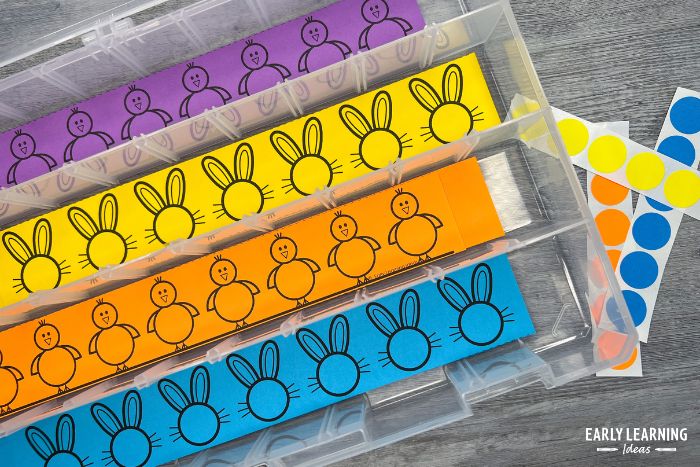 Do your kids need more of a challenge? Give them the small dot strips. The smaller stickers are a little bit more difficult to manipulate.
Color Matching Activities
Print the dot sticker activity strips on different colors of paper. Provide stickers in matching colors so your kids can match the colors on each dot sticker printables.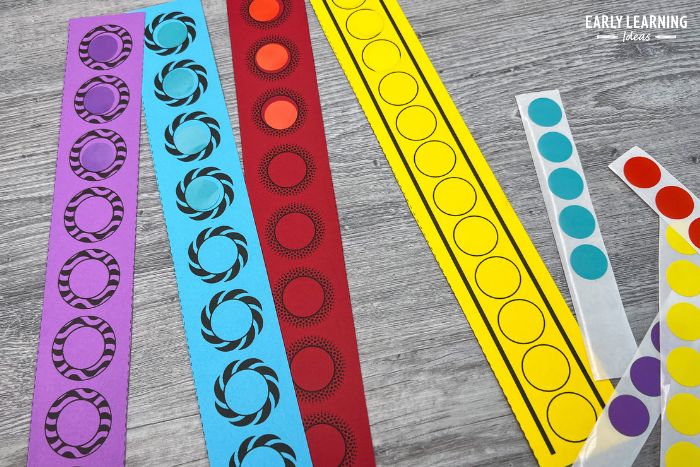 Use The Dot Sticker Printables For Counting Activities
Take this simple fine motor activity and turn it into a fine motor math activity. Ask kids to count the dot stickers as they place them on the strip.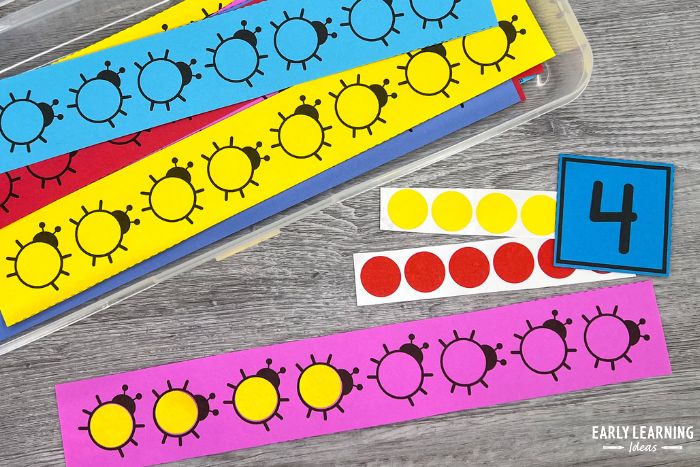 Ask your kids to compare the number of dots on one strip to the number of dots on another. Which has more? Which has fewer?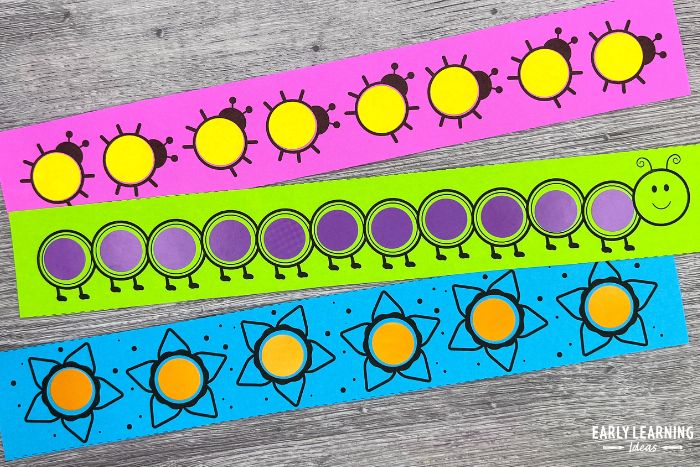 You can also ask kids to cover a certain number of circles on the strip. How many circles don't have dot stickers on them?
Patterning Activities with Dot Sticker Printables
Provide multiple sticker colors so your kids can create patterns on the dot sticker printables. They can practice ABAB, ABC, or more.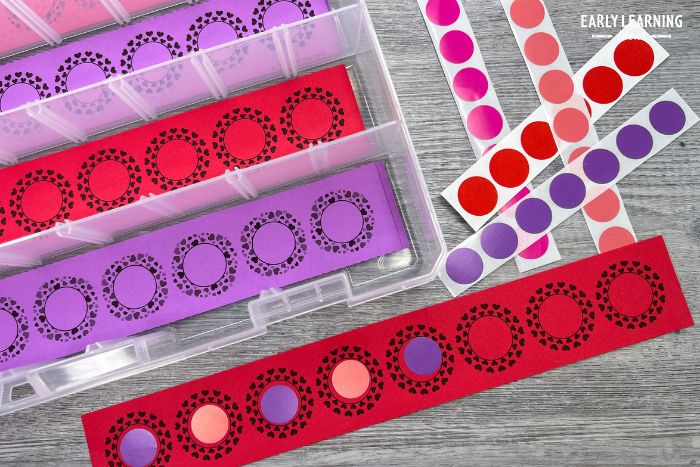 A Fine Motor Game or Scorecard
GIve two kids a dot sticker strip, some stickers, and a die. They can take turns rolling the die and adding the number of stickers to their strip. The child who fills their strip with stickers first is the winner.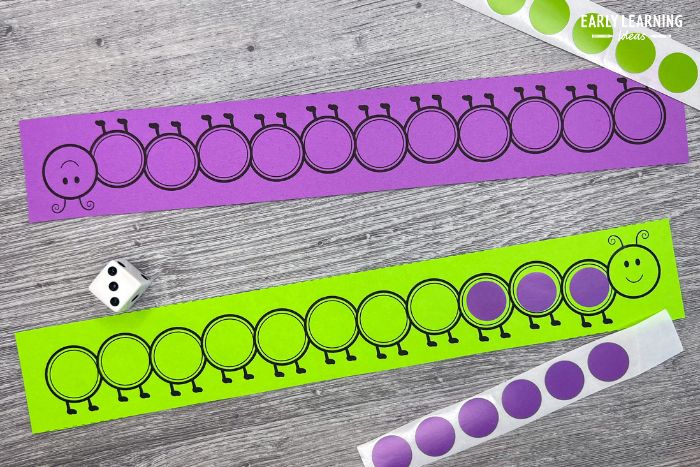 How to Make Headbands and Bracelets
Are you looking for a fine motor craft activity? After adding stickers to the strips, you can help your kids make some fancy accessories. The small dot stirps will make a nice bracelet, and two of the large strips can be connected to make some pretty cool headbands.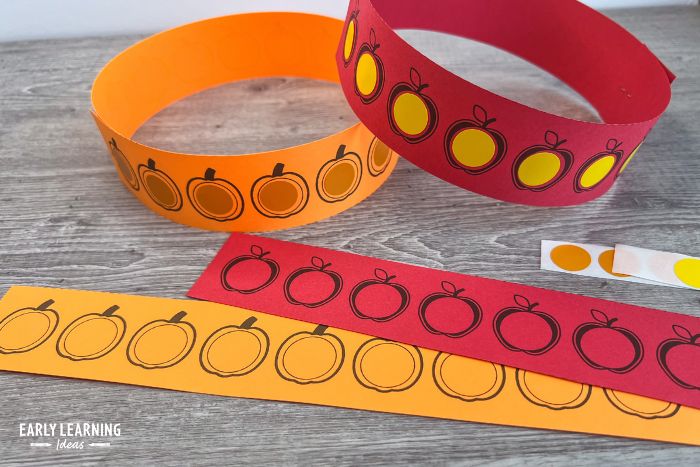 Make Paper Chains with the Printables
Here's another fine motor craft activity idea. Tape or staple the small strips together to make paper chains.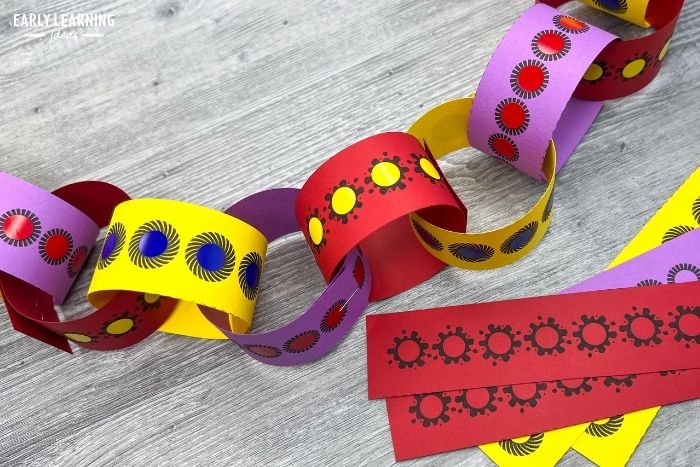 Additional Ways to Use The Fine Motor Printables
While dot sticker activities are fun and beneficial for your kids, there are many additional ways to use the dot sticker printables for simple fine motor activities for preschoolers.
Hole Punch Activities
Get out the hole punches and kids can add holes to the circles instead of stickers. Hole punching is a great way to build hand strength…AND…kids love the activity!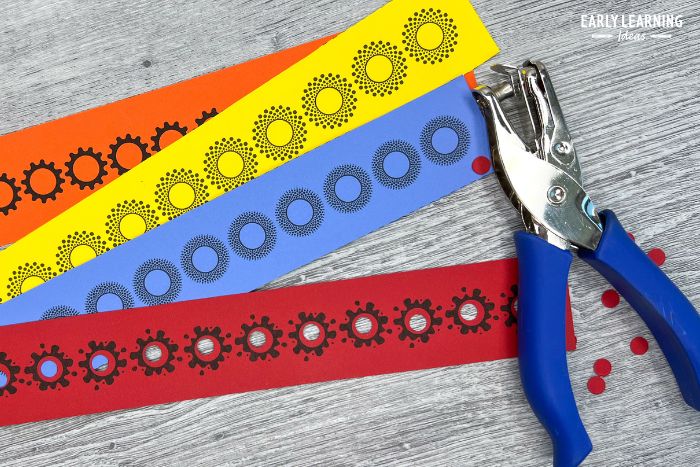 You can use both the large and small dot printables as a hole punch activity. The large ones give kids a little bit more forgiveness in regards to aiming the hole puncher.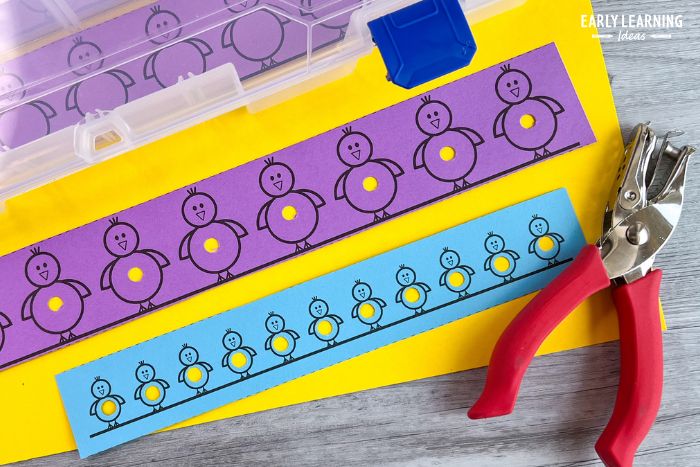 Lacing Activities
Want to take it up another step? After they punch holes in the printable, kids can lace yarn or ribbon through the strips.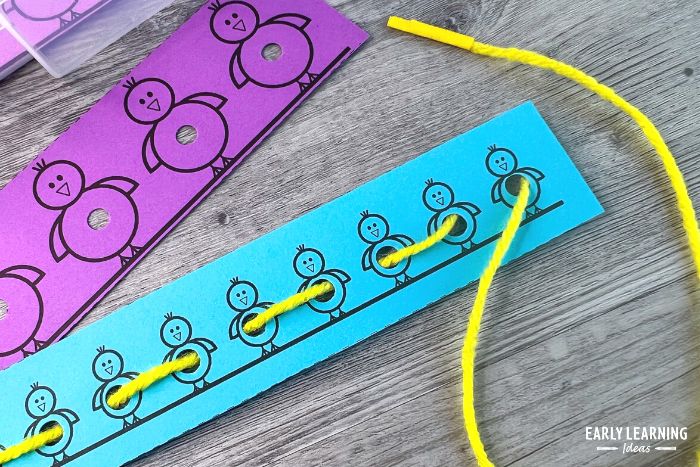 Bingo Dauber Activities
The large dot printables were designed to be the perfect size for …well….obviously, large dot stickers. But guess what? They are also perfectly sized for bingo markers. So look above at the dot sticker activities (patterning, games, math activities) and replace the stickers for bingo dauber dots.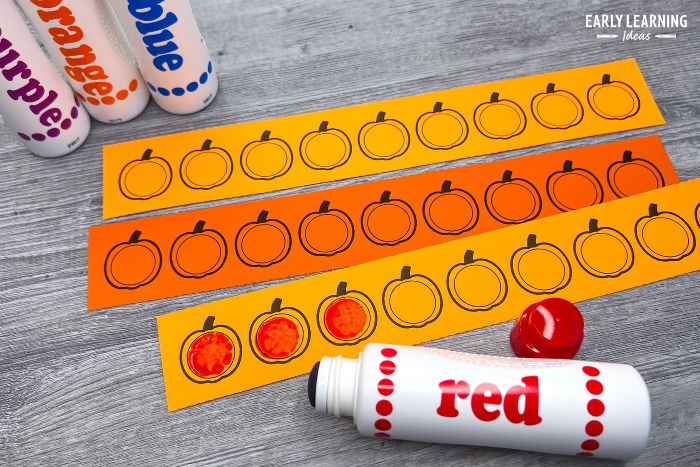 Glue Dots
Use the strips to help your kids learn how to use liquid glue. Show them how to place a dab of glue inside each dot. Let them dry, and kids will enjoy feeling the bumps along the strip.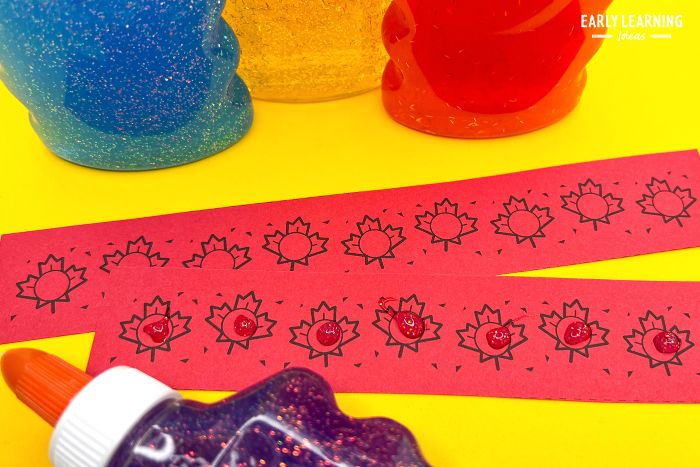 Gluing Buttons, Baubles, Pom-poms
Dig through your supply closet, and I'm sure you'll find lots of things that they can glue in the circles. Here are some ideas:
sequins
pom poms
pebbles
beads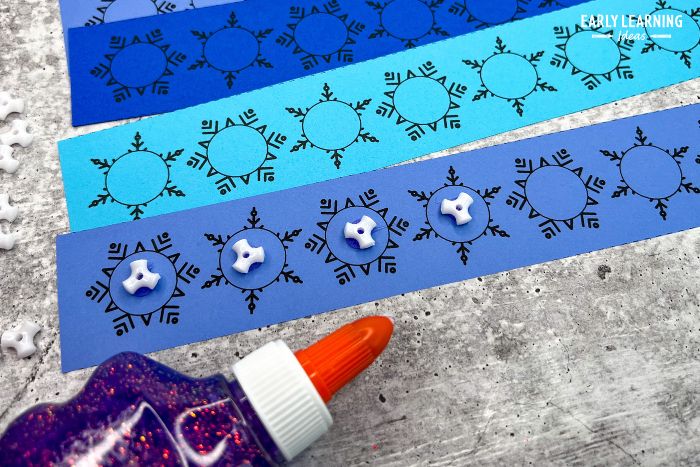 Q-tip painting with the Printables
Ready to do a fine motor painting activity? The small strips are perfect for Q-tip painting.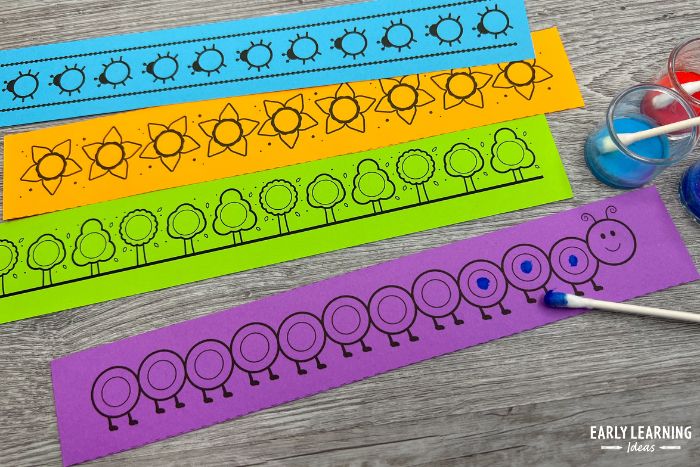 Stamping with the Fine Motor Printables
Here are several stamping ideas using the dot sticker printable.
pencil eraser
A pencil eraser makes a perfect little circle stamp that fits into the small dot sticker strips.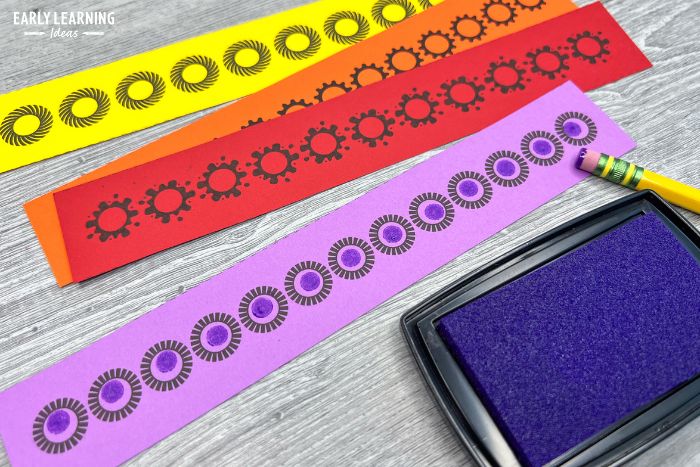 letter stamper
These small letter stamps fit in the large dot sticker strips. You can use them as an alphabet activity to help reinforce letter and sounds with your kids.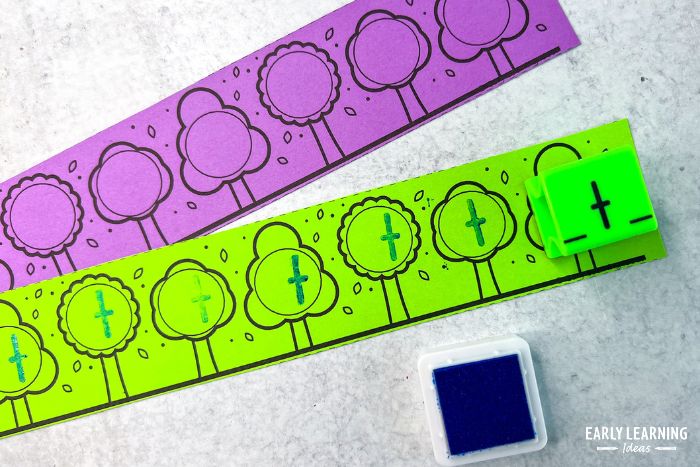 DIY stamper
Your kids can also use small stamps in the large circles. Don't have any stamps? No problem! You can easily make your own. Just attach something like a foam sticker or a velcro dot to the back of a bottle cap or to an empty glue stick.
fingerprints
Provide paint or a stamp pad; your kids can add their fingerprints to the strips.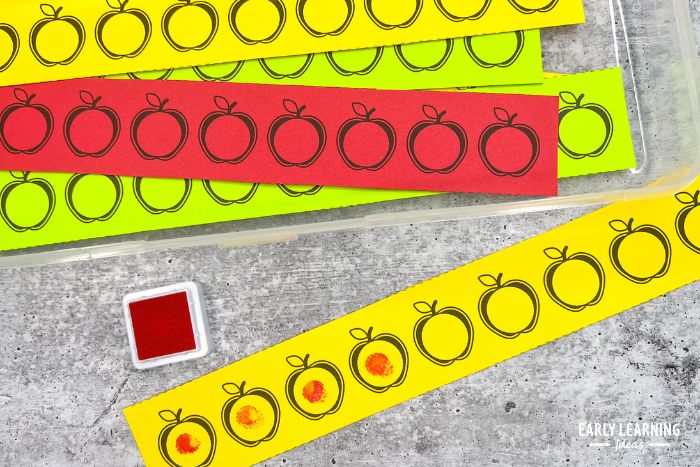 I hope that all of these ideas sparked your imagination. Do you have additional ways to use these dot sticker printables for simple activities for preschoolers? I would love to hear all about them so that I can add them to my list.
Purchase The Printables Today
Are you ready to get started with some sticker strip activities? You can purchase Dot Sticker Strip Activities in the store. Click on the picture below to purchase the fun Dot Sticker Sticker Printables Today.
Purchase on TPT
Do you prefer to shop at Teachers Pay Teachers? You can also purchase the Dot Sticker Strip Bundle in my TPT Store.
Where to Find Dot Stickers
You can often find dot stickers at office supply stores or in the office supply area in Wall-Mart and Target. Here are some dot stickers that I purchased from Amazon.
More Activities with Dot Stickers
Check out these articles for Early Learning Ideas to find even more ideas for using dot stickers with your kids.
Find More Simple Fine Motor Activities for Preschoolers