Easter Crafts for Preschoolers: Fun & Easy Easter Bunny Craft Ideas
I have several fun ideas to share. if you want fun and easy Easter-themed preschool craft ideas,
From a paper bag Easter bunny craft to some fun Easter craft printables that will help them build fine motor skills. I know that you and your kids are going to love these Easter crafts for preschoolers
How to Make An Easter Bunny Bag
The first craft is a cute Easter bunny bag. A few years ago, I worked at a preschool where making these Easter bunny bags was a spring tradition.
Making bunny bags is one of my favorite Easter crafts for preschoolers. Let me show you how easy it is to transform a simple white paper lunch bag into an adorable Easter bunny craft for preschoolers.
The things that I love about this cute bunny craft for preschoolers are
They are super easy to make.
Once complete, the paper bag bunny can be used for an egg hunt or it can be filled with treats.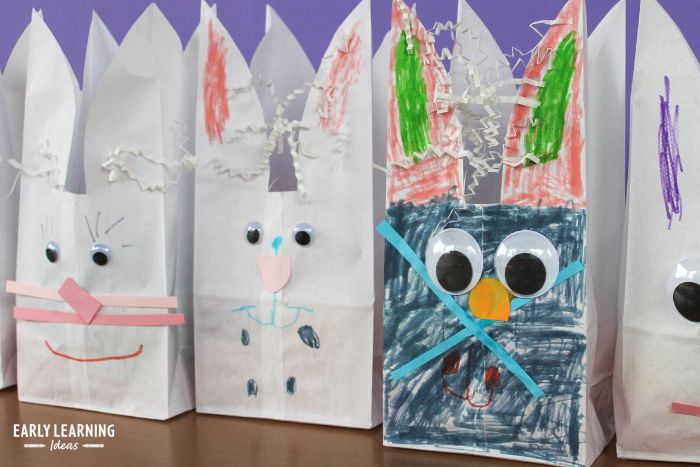 Easter Bunny Craft Supplies
To begin, you will need the following supplies to complete your Easter bunny craft:
paper lunch bags (I used white paper bags…but brown bunnies are cute too)
cotton balls
glue
markers/crayons
In addition to the basic supplies listed above, you can add all kinds of materials so that kids can really get creative. Here are just a few ideas:
shredded paper
googly eyes
scrap paper
yarn
small flowers
glitter glue/glitter
stamps
fabric scraps
cotton swabs
sequins
buttons
How to Prep the Easter Bunny Craft
To prepare the bags for kids, you need to cut out the bunny's ears. Don't worry! If you would like a pattern to help you with this, I have created a free printable bunny craft template.
Get the Bunny Craft Printable
To get the bunny craft printable, all you have to do is fill out the form below, and then I'll send it directly to your inbox.
Cut out the pattern on the dotted lines. Line the top of the pattern with the top of the bag and trace the ears onto the bag. Then, cut out the ears.
Better yet, let your kids cut on the line so they can get some scissor skills practice.
Decorate the Easter Bunny Craft
Now that the bunny bags have ears, set out supplies and let kids get creative.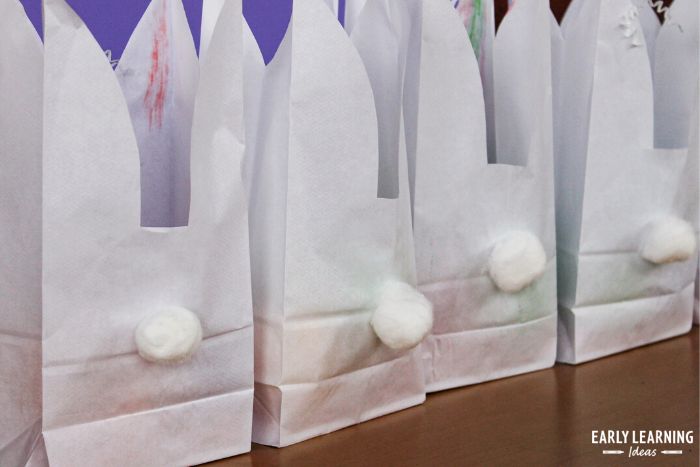 Don't forget the most important part of the bunny….the TAIL! You may need to show them how the bag opens up so that they don't put the tail on the bottom of the bag. But, if the tail ends up on the bottom of the bag or if the bunnies have multiple tails…it's all good. I personally love the bunnies with five eyes 🙂
How to Use the Easter Bunny Craft
The little bags work well as party favors or goody bags. I added some grass/filler to the bottom of the bag and placed a few filled eggs on top of that. There you have it….a cute Easter craft for preschoolers.
Easter Bunny Craft Supplies
Below are some items from Amazon that can be used for the activities mentioned in this article. The links below are affiliate links. If you happen to purchase something from a link, there will be no additional cost, but a small portion of your purchase will be used towards maintaining this website.
Additional Easter Crafts for Preschoolers
If you like the cute Easter bunny bag craft, then I know you will love these additional Easter crafts for preschoolers.
This set of printable Easter crafts is available in my store. The set includes three different crafts…an Easter Bunny craft printable, an Easter basket craft printable, and an adorable chick craft printable.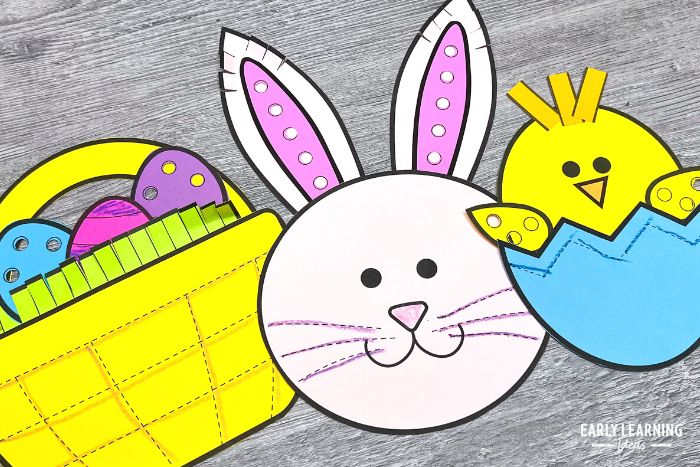 Crafts provide many benefits to preschoolers, and these adorable printable fine motor crafts were designed to create a fun and motivating way for kids to work on developing their fine motor skills. Each spring-themed craft includes cutting, snipping, tracing, pasting, coloring, and hole-punching opportunities.
This Easter Printable Craft Has 2 Printing Options
My fine motor craft printables come with 2 different printable options. You can print the piece for the crafts on separate pages. This allows you to print them on different colors of paper. Plus, you can easily modify the craft to meet the needs of your kids.
For example, if your kids aren't ready to cut out the larger pieces, you can prep those for them and give kids the opportunity to cut the smaller pieces.
The second printing option is a no-prep page. This is option is SUPER EASY to get ready for your kids. All you have to do is print and go!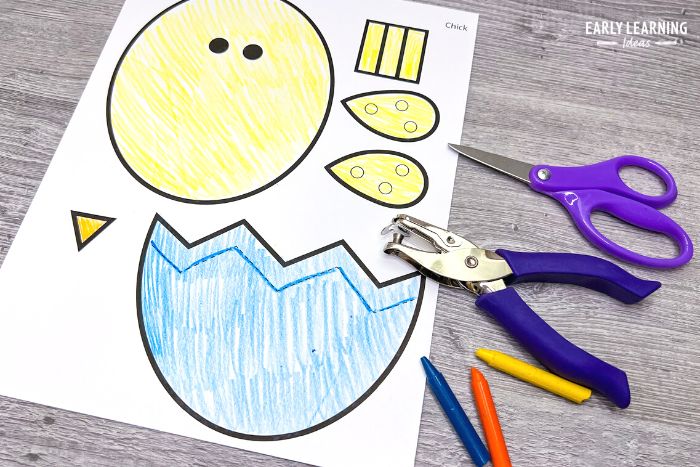 Then, your kids can color, cut out the pieces, punch the holes, and paste everything together.
Purchase The Printables Today
Are you ready to help your kids work on some fun Easter crafts? You can purchase Easter Fine Motor Crafts set in the store. Click on the picture below to purchase the printable crafts today.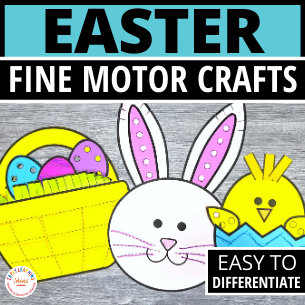 Purchase The Easter Craft Printables on TPT
Do you prefer to shop at Teachers Pay Teachers? You can also purchase the Easter Craft Printables in my TPT Store.
---
Additional Easter and Bunny-Themed Activities for Your Kids
Are you looking for additional Easter Bunny activities? Check out the following resources in my TPT store.