How to Make Bunny Bags: Easter Crafts for Preschoolers
Making bunny bags is one of my favorite Easter crafts for preschoolers. Transform a simple lunch bag into an adorable bunny work of art.
---
If you are looking for Easter-themed preschool craft ideas? I have a cute one to share with you. I worked at a preschool a few years ago where making bunny bags was a spring tradition. The bags can be used for an egg hunt or activity or can be filled with treats and goodies.
Supplies
To begin, you will need the following supplies:
paper lunch bags (I used white…but brown bunnies are cute too)
cotton balls
glue
markers/crayons
In addition to the basic supplies listed above, you can add all kinds of materials so that kids can really get creative. Here are a just a few ideas:
shredded paper
googly eyes
scrap paper
yarn
small flowers
glitter glue/glitter
stamps
fabric scraps
cotton swabs
sequins
buttons
Prep
To prepare the bags for kids, you will need to cut out ears. If you would like a pattern to help you out with this, I have created one for you.
Download the Bunny Bag Pattern
Cut out the pattern on the dotted lines. Line the top of the pattern with the top of the bag and trace the ears onto the bag. Then, cut out the ears. Or….if your kids have pretty good scissor skills, they may be able to cut out the ears themselves.
Create
Now that the bunny bags have ears, set out supplies and let kids get creative. You may need to show them how the bag opens up so that they don't put the tail on the bottom of the bag. But, if the tail ends up on the bottom of the bag or if the bunnies have multiple tails…it's all good. I personally love the bunnies with five eyes 🙂
Fill the Bunny Bags
The little bags work well as party favors or goody bags. I added some grass/filler to the bottom of the bag and placed a few filled eggs on top of that. There you have it….a cute Easter craft for preschoolers.
---
Below are some items from Amazon that can be used for the activities mentioned in this article. The links below are affiliate links. If you happen to purchase something from link, there will be no additional cost to you, but a small portion of your purchase will be used towards the cost of maintaining this website.
---
Are you looking for additional Easter Bunny activities? Check out the following resources in my TPT store.
[one-half-first]
[/one-half-first]
[one-half]
[/one-half] [one-half-first]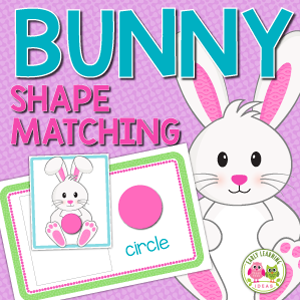 [/one-half-first]
[one-half]
[/one-half]