Engaging Farm Crafts for Preschoolers – Kids LOVE These barnyard Animals
Imagine spending a fun-filled afternoon creating adorable farm animals. From the gentle cow to the fluffy sheep and the oink-tastic pig, let me show you the perfect printable cut-and-paste crafts that will bring these barnyard favorites to life.
But hold on, there's more to it than just crafting. There are some great benefits to crafts. In fact, these farm crafts for preschoolers are secretly disguised as a sneaky way to work on those essential fine motor skills!
Each craft is a great fine motor activity so your kids will get a workout for their little fingers. They can get cutting practice as they cut out shapes on the bold dark lines. Each printable fine motor craft includes opportunities for pre-writing practice, as there are dotted lines for tracing,. But, I think their favorite part will be that they can use a hole punch as they create each cute animal. You haven't tried hole punching activities yet? Well, they are a SUPER MOTIVATING way to build hand strength.
So, making these adorable farm animal crafts is a fantastic opportunity for them to hone their fine motor skills while having an absolute blast. Trust me; they won't even realize they're learning and growing while creating these simple farm crafts for preschoolers.
All of these printable fine motor craft activities are included in my Farm Fine Motor Craft set. Let's take a look at all the animals included in the set.
Cow Craft
Moo-ve over because this adorable cow craft that will have your little ones udderly delighted! The adorable cow craft is perfect a simple cutting and pasting activity for preschoolers who love farm animals.
Your kids can color the cow, or you can print it on colored paper. Take a look at the opportunities for tracing and hole punching.
I made a Jersey cow by printing its face and ears on brown paper. I thought that her pink nose is cute, but afterward, I met a beautiful real-life Jersey cow at an educational event and realized that I should have made the nose brown.
Sheep Craft
Ewe won't believe the cuteness of this sheep craft! I couldn't resist that…sorry. Kids will have a blast cutting out the head, face, and ears.
If you want to take this craft one step further, your kids can paste cotton balls to the fleece to make it extra fluffy.
Pig Craft
The final craft in the set brings me back to my childhood growing up on a pig farm. The baby pigs were always soooo cute. I cannot say the same thing about them when they grew up.
The printable pig craft will have your kids squealling with delight. Kids can cut out the head, snout and ears and paste them together.
How to Use the Farm Crafts
So how can you use these cut farm crafts for preschoolers? Obviously, you can make crafts for craft sake in your arts and crafts center or as a fine motor activity. Here are some additional ideas:
Farm animal headbands – Young kids LOVE headbands. You can help your kids attach the farm animal heads to a headband made from a sentence strip or a few long strips of construction paper.
Farm-theme classroom door decor
Farm-theme bulletin board
Get the Printable Farm Crafts for Preschoolers
I hope that you love these easy farm animal crafts as much as I do. Are you ready to get your kids crafting and building fine motor skills? You can purchase the farm animal craft set in my store today. Click on the image below to check it out.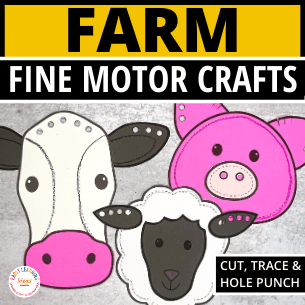 Purchase The Farm Crafts on TPT
Do you prefer to shop at Teachers Pay Teachers? You can also purchase the Farm Fine Motor Crafts in my TPT Store.
More Craft Ideas for Your Kids