25 Fun Ways to Use Fine Motor Task Cards with Your Kids
I bet you have some simple dot stickers hanging out in your supply closet. Get ready to see those simple sticky circles in a new light. Today I'm going to show you some great fine motor task cards that are like a treasure trove of possibilities.
The fine motor task cards are not only a great dot sticker activity, but there are LOTS of different ways to use them for fun fine motor activities with your kids. Think bingo daubers, fingerprints, and even Q-tip painting. Yep, the creativity options are endless with these printable task cards.
I added several Amazon product links at the bottom of this post to help you find materials faster. Just an FYI….the links are affiliate links. Here's how it works….I may earn a small portion of your purchase, but you will not be charged an additional fee when you purchase from the link.
The Benefits of Using Dot Stickers
Now, let's talk about the magic of peeling stickers.
It might sound simple, but peeling stickers offer some great benefits to kids. As kids peel those dot stickers and carefully place them on the circles on each task card, they're having fun AND honing their hand-eye coordination skills.
You know that pincer grasp everyone talks about? Well, it's getting a workout with every single sticker peel. A strong pincer grasp will help your kids with self-help skills (like opening packages and buttoning a shirt) and help them with school readiness skills (like controlling a pencil).
And do you know the best part about dot sticker activities? Kids have so much fun that they won't even realize how much they're learning.
Exploring the Dot Sticker Fine Motor Task Cards
I created these dot sticker task cards when teachers and therapists told me they wanted some peeling sticker activities for their kids. My first set of printable task cards for preschoolers and kindergarteners received rave reviews, so I added some seasonal cards so that you and your kids will never get bored.
Easy-to Prep
The fine motor activity cards are super easy to prep. They print 4 per page; all you have to do is cut them apart, and you are good to go.
The cards look great when you print them on brightly colored paper and fit perfectly in a little plastic photo storage box. Tada…..super-simple fine motor task box!
Two Sizes of Dots
I designed cards for large dot stickers and cards for small dot stickers. Need help finding dot stickers? Scroll down to the bottom of this article and I have some links for some stickers I have purchased from Amazon.
While I'm starting out talking all about dots, don't limit yourself to just using these fun printables with just circle stickers! Be sure to school through this entire article to learn additional ways to use them.
How Many Stickers can I add to Each Task Card?
The cards' designs vary, so there aren't a set number of sticking opportunities on each fine motor card. The large dot cards have between 5-8 circles on them, and the small dot cards have between 11-16 circles on them.
Now, let's take a look at how you can use the cards.
A Simple Sticker Fine Motor Task Box Activity
Print off some task cards, add them to a plastic box, provide some stickers, and have one super-simple, engaging, and satisfying fine motor task box activity. Kids will have fun just adding the stickers to each circle on a card.
Use the small dot sticker cards if your kids need an extra challenge, as it's more difficult to manipulate the small circle stickers.
Use these task boxes for morning work bins, as an early finisher activity, in a fine motor center, as a special party activity, or as a take-home activity.
Dot Sticker Math Activities
It's pretty easy to turn these little cards into a fine motor math activity.
Counting and Number Recognition Activities
Choose a task card with a theme that resonates with your kids – whether it's cute teddy bears or seasonal delights. Challenge your kids to count each sticker as they add it to the card, and tell you how many total stickers they added. Add some number cards and you can also challenge your kids to work on number recognition as they pick out a number card that matches the number of stickers.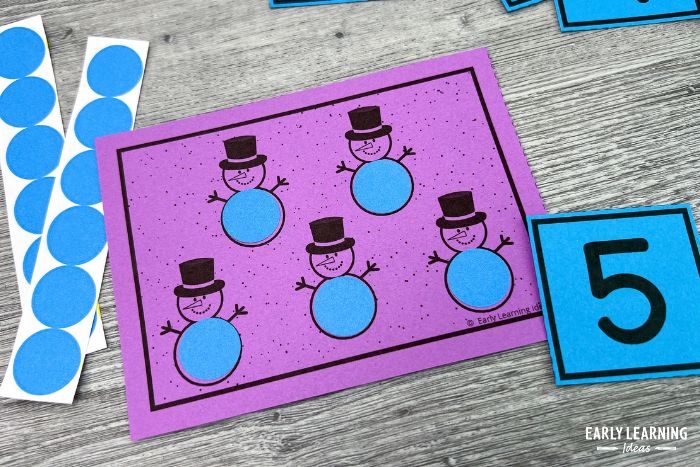 You can also start by asking your kids to add a sticker to a particular number of circles on the card. For example, "Stick 4 dot stickers on the card." This will then give you lots of opportunities to talk about numbers. You can ask follow-up questions like, "How many teddy bears don't have stickers on them?" and "If you add stickers to the rest of the teddy bears, how many stickers will be on the card?"
Composing and Decomposing Numbers Activity

Prepare a selection of task cards featuring large dots, and make sure you have two distinct colors of stickers ready for this counting activity. Begin by inviting your kids to choose a task card and count the images on it. For instance, this card has 5 spiders. Next, have them place one color dot on a portion of the spiders and the other color dot on the remaining ones.
Encourage kids to describe the unique combinations they've made. You might find some kids proudly displaying three green spiders and two orange spiders on their cards, while others could go for one green spider and four orange spiders.
Now, here comes the fun challenge: ask each child to pick a different card and create a new arrangement with their color dots. Kids will have fun trying to find different combinations. Ask them to count all the spiders to make sure that they still have 5 total spiders on the card so that they can see that different combinations can equal 5.
A Dot Sticker Dice Game
Use a small dot task card and a die for this activity. Kids can roll the die to learn how many stickers they should add to their task cards. They can continue rolling and adding stickers until the card is complete. Challenge them to roll the exact quantity at the end to complete the card.
A Beginning Letter and Sound Activity
The task card bundle includes a wide variety of seasonal designs. You can use them for fun hands-on alphabet and letter sound fine motor activities. A turkey card is perfect for a letter T activity. You can write a letter t on the dot stickers, and kids can make the t sound as they place the stickers on each turkey.
A Sticker Reward Chart
While I'm not a supporter of individual sticker charts that are displayed publically in a classroom, there are some times when sticker charts are appropriate and effective for kids. And you can use these task cards as a simple reward chart for the whole class or at home.
Catch your kids exhibiting good behavior, like lining up after recess, using their inside voices, or helping at clean-up time. When you catch the class exhibiting good behavior, recognize it and ask a student to add a sticker to a reward task card. Then, when the task card is filled, the kids can all earn a special reward like a dance party, a hallway parade, or some extra time on the playground.
Homework or Take-Home Activity
It's super easy to prep and send these cards home with kids. You can send them home for a fun homework activity.
A Reading Log
I love to encourage parents to read to their children. You can send a task card and stickers home with your kids. Each time they read a book with their parents, children can add a sticker to their cards. When the card is filled, they can bring it back to school for a small reward.
Game Scorecards
Wanna add some fine motor fun to gross motor games? You can use these task cards as scorecards.
Let's say your kids are throwing balls into a basketball hoop. Each time they make a basket, they can add a sticker to their "scorecard." You can encourage them to add a sticker to their card to count their laps as they run around the playground.
For A Scavenger Hunt Activity
Do you want to know how to create a fun and easy scavenger hunt for your kids? Hide some objects around the room and ask the kids to find them. Each time they find one of the objects, they can add a sticker to their task card.
Additional Ways to Use the Printable Fine Motor Task Cards
So, above I told you that the task cards can also be used for more than dot sticker activities. Let's take a look at alllll the ways you can use these fine motor task cards.
Bingo Dauber Activity
Get out your bingo markers because the large dot cards work perfectly with them.
Finger Print Activity
Get out the stamp pads, and your kids can place fingerprints inside the circles on each task card.
Stamping Activity
Speaking of stamp pads, you can use small stamps to create images inside the large dots.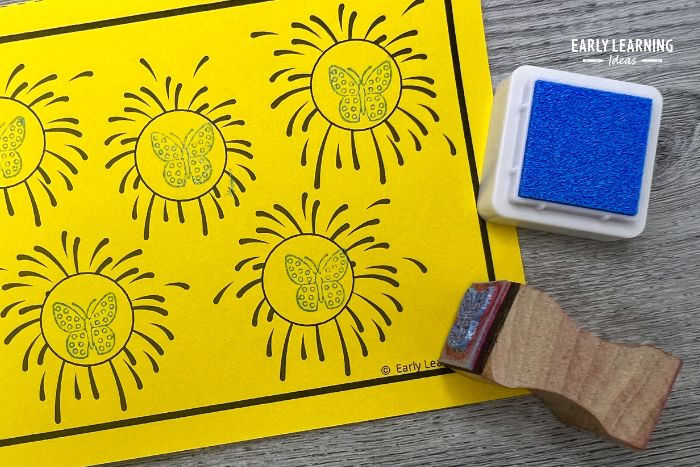 A pencil eraser makes a perfect little stamp that fits perfectly inside the small circles.
You can also use alphabet stamps to add letters inside the images.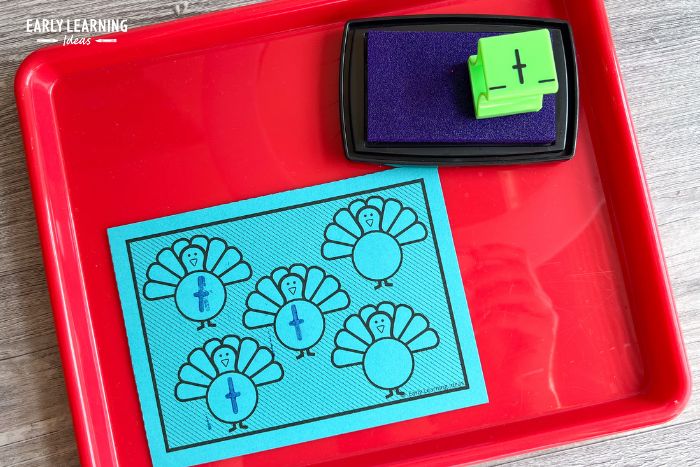 Q-tip Painting Activity
I love finding fun fine motor painting activities. Q-tip painting is a great way to work on finger control. The small dot fine motor task cards work perfectly for q-tip painting.
Mini Playdough Mats
Laminate the large dot task cards and use them as mini-playdough mats. Encourage kids to roll up a small ball of playdough and then smash it on each circle on the card. Isn't that a super simple playdough activity?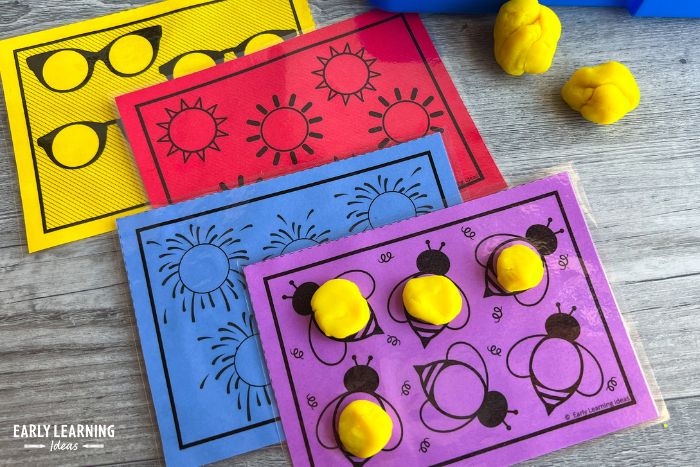 Pom-poms and Tweezers
Get out the large plastic tweezers or tongs and some pom-poms. Kids can use the tweezers or tongs to place the pom-pom on the large dot task cards. Be sure to take a look at all the math activities above because you can do them with pom-poms instead of dot stickers.
Buttons, Beads, and Baubles
Look through your supply closet, and I bet you can find all kinds of things to use with the cards. Here are some ideas:
buttons
coins
baubles
pebbles
Be creative and have fun!
Dots of Glue
You can use the small dot cards to help kids learn how to squeeze glue from a bottle. Show them that "just a dab will do" as you demonstrate adding a dot to each circle on the card. By the way, squeezing a glue bottle is a great way to build hand strength.
Sequins and Rhinestones and More
While the simple act of adding a glue dot to the cards can motivate and satisfy kids, they can also add a sequin, rhinestone, small pebble, bead, or pom-pom on top of each glue dot.
Make a Birthday Card
Do you need to make a card for a special occasion? After decorating a task card, you can help your kids paste it to the front of a piece of folded paper – TADA! – an instant greeting card.
Well, I hope you found some fun fine motor activity ideas that you will use. Do you use the fine motor task cards in a different way? I would love to hear all about it.
Purchase The Printable Fine Motor Task Cards Today
Are you ready to help your kids work on their fine motor skills? You can purchase Dot Sticker Task Cards in the store. Click on the picture below to check them out.
Purchase on TPT
Do you prefer to shop at Teachers Pay Teachers? You can also purchase the Dot Sticker Task Cards in my TPT Store.
Where to Buy Dot Stickers
You can often find dot stickers at office supply stores or in the office supply area in Wall-Mart and Target. Here are some dot stickers that I purchased from Amazon.
More Activities with Dot Stickers
Check out these articles for Early Learning Ideas to find even more ideas for using dot stickers with your kids.
Find More Fine Motor Activities for Your Kids