Flower Activities for Kids: Flower Fine Motor Fun
Make fun flower activities for kids with dollar store silk flowers. In addition to matching colors, making patterns, and a flower shop dramatic play these activities are great for working on fine motor skills.
One of my favorite things about living in Texas is seeing all of the spring wildflowers. This spring, my new state has inspired a load of ideas for flower activities. My latest idea is a flower color matching activity, …which also happens to be a great fine motor activity.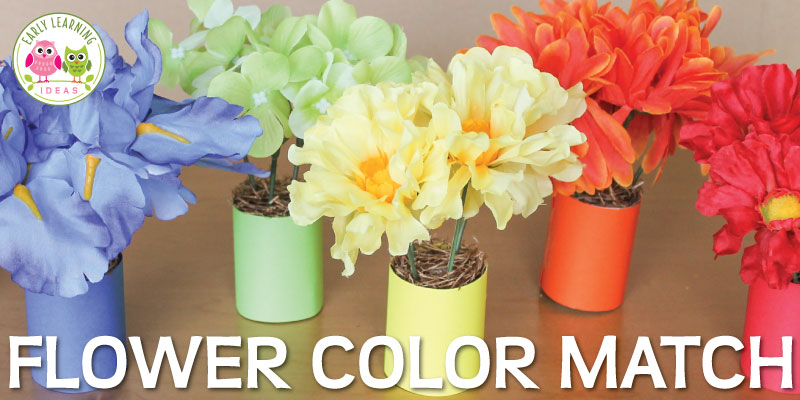 Prepare Flowers
I picked up a bunch of flowers at the dollar store. I was impressed that I was able to find flowers in every color of the rainbow. With heavy-duty kitchen shears, I cut the individual flowers from the large stem. That's all it takes to prepare the flowers.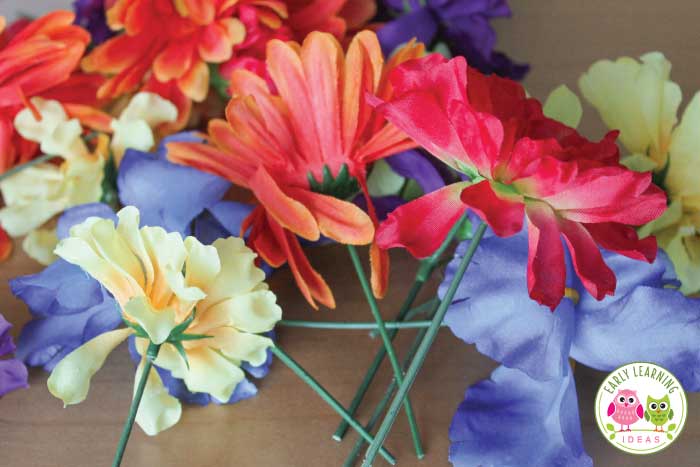 Make a Flower Pot
Make colored flower pots in several different ways. You can paint small clay pots or plastic containers. You can also use little metal buckets or drink cups in colors that will coordinate with your flowers. I made my flower pots from paper towel rolls because they are really easy to wrap with colored paper. I cut the cardboard paper towel rolls into small pieces. Next, you will need some kind of foam to fill your flower pot. You can use florist's green foam or you can use pieces of foam that you find in packaging. The recycled packing foam will work fine for this project, but I will warn you that cutting it to fit will create a huge mess. I happened to find some long foam tubes at the craft store and found it really easy to cut these tubes to the correct length.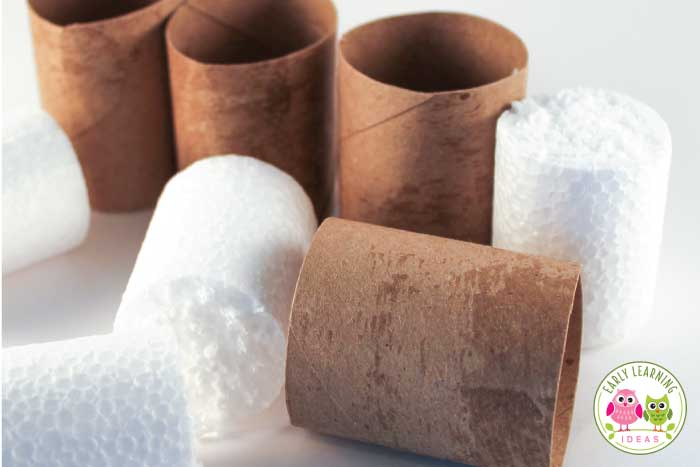 I placed the piece of foam inside the paper towel roll. The foam was a little loose, so I folded up a piece of scrap paper and wedged it beside the foam so that it would fit better. Then, I applied hot glue around the perimeter to hold the foam, paper, and tube together.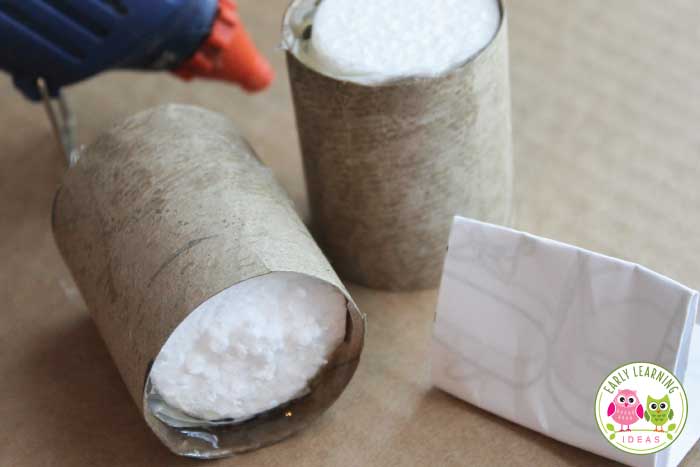 Next, I cut strips of colorful paper to the same size as the sections of paper towel rolls. Finally, I wrapped the paper around the cardboard tube and taped it into place.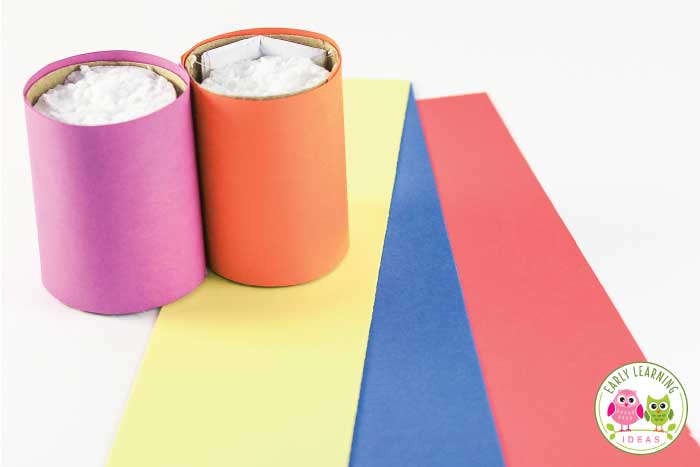 To hide the foam and paper, I applied some moss to the top of the flower pots with hot glue. I burned myself a few times, so be very careful if you try this. I applied most of the hot glue close to the edge of the flower pot. When the glue cooled, I trimmed the moss to clean it up a little bit. You can see in the picture below that the flower pots in the back have not been trimmed yet.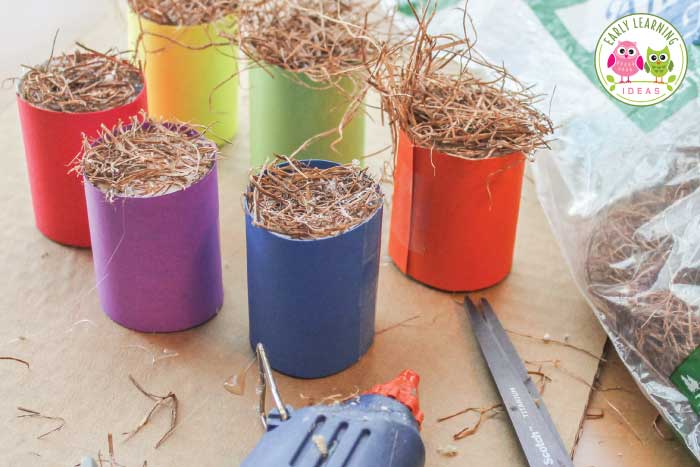 If you don't have moss, you can probably use a little bit of raffia or a small piece of burlap. You just have to make sure that kids will be able to poke flower stems through the material that you choose.
Color Matching Flowers
Once you have flower pots ready, kids can pull flowers from a large container and push them into a matching flower pot.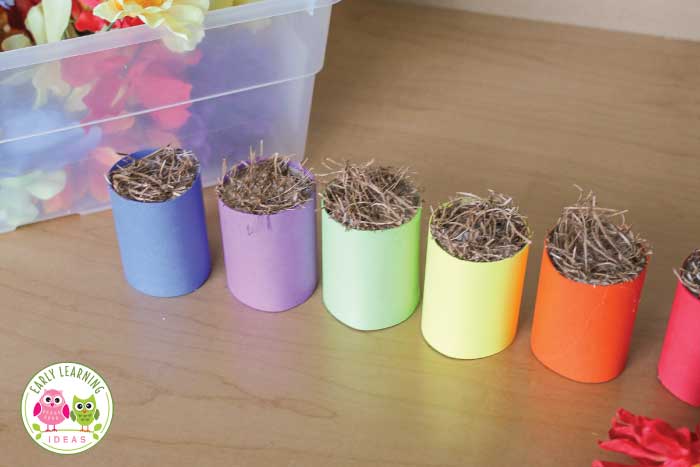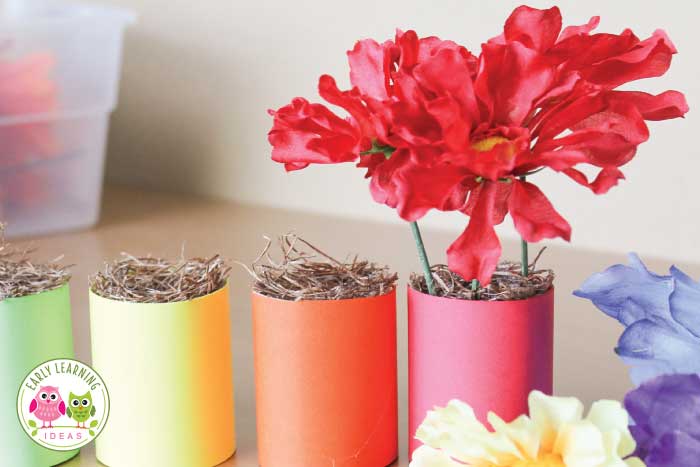 Fine Motor and Counting Activity
It takes a little bit of hand strength to push the stems into the foam, so this is also a great fine motor activity. You can also use the activity for a counting activity. Kids can roll a die and place the correct number of flowers in the flower pot.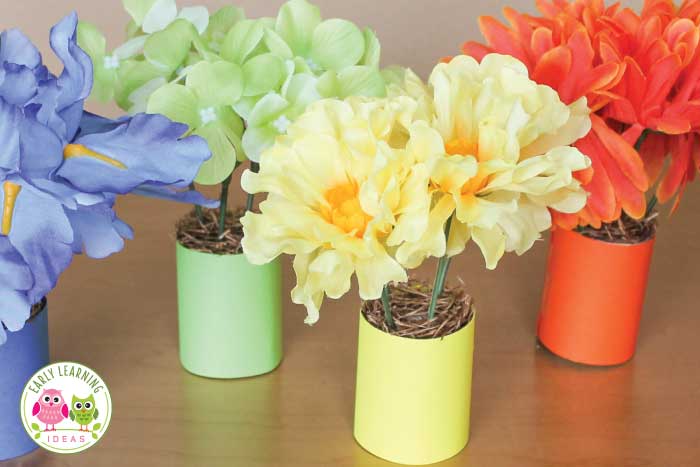 Dramatic Play Flower Shop
You can use this idea to create flower pots for flower shop in your dramatic play area or playroom. Kids have a blast making flower arrangements and delivering them to friends.
Additional Flower Activities
If you don't have time to make color flower pots, just set out a big piece of foam. Kids will have a blast sticking flowers into the foam to create a beautiful floral display. Again, this is a great fine motor exercise. You can also use this idea to work on counting and patterning.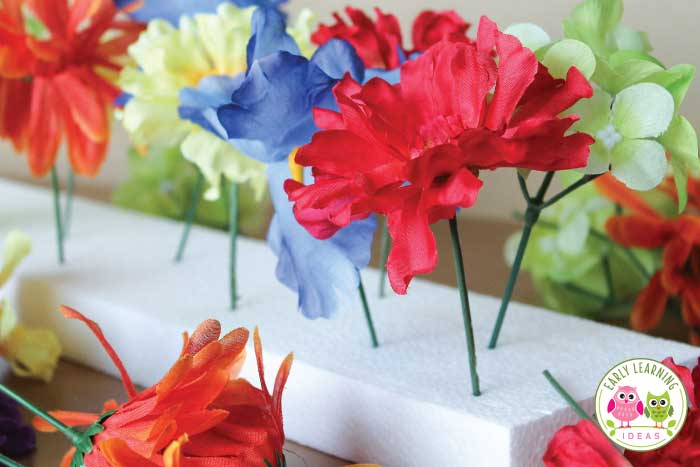 I hope that you enjoy these flower activities for kids. Do you have a different idea for using silk flowers with your kiddos? I would love to hear about them in the comments below.
Additional Flower Activities in the Store
If you are looking for more flower activities, check out the following resources in my store: