How to Easily Assemble a Fun Flower Play Dough Tray
Create an engaging flower playdough tray for your kids with these unique material ideas. Your kids will love this open-ended, flower-themed activity.
I live in the Texas Hill Country and during the spring, the roadsides and hills are filled with the most gorgeous display of wildflowers. This brightly colored flower playdough tray reminds me of all the colors that I see on my springtime drives.
Want to create a flower-themed playdough tray? Here are some ideas to inspire you. Your kids will love this invitation to play. If your kids can't share supplies, don't worry. You can use the ideas below to create individual playdough kits for your kids.
There are several links at the bottom of this post for your shopping convenience. If you purchase something from one of the links, there will be no additional cost to you, but a small portion of your purchase will be used towards the cost of maintaining this website.
Playdough
A good playdough tray needs some good playdough. I like to use my quick playdough recipe to create my dough. Add brightly colored food coloring to compliment the flower theme. Pink, lilac, or blue (just like Texas bluebonnets) will be great. You can also use a dirt-colored playdough to inspire kids to plant flowers.
Fill Your Tray with Materials
I love looking around for materials to add to a divided playdough tray. This time, I added some strips of metallic green mesh tube ribbon, some pretty buttons, and a variety of silk flowers. I picked up the ribbon and the silk flowers at my local Dollar Tree.
You can leave the stems attached to the flowers, but I like to take the stems off. Kids can stick the flowers into pipe cleaners or pieces of wire. It's a good fine motor activity.
I added washers and colorful brads to one section of the tray. Green pipe cleaners and wires will make great stems and leaves. Finally, I took a lei (also from Dollar Tree) apart and added the small flowers to the last compartment.
Additional Material Ideas
Get creative when you gather materials to fill your tray. That is the fun part. Here are some additional ideas:
sticks or twigs
small rocks or pebbles
buttons
wood cookies
brightly colored beads
pieces of moss
small flower pots
colorful gems
toothpicks
Open Ended Creative Play
Now that you have assembled the materials you can stand back and let your kids create. They can poke wire or brads through the silk lei flowers. If they struggle with this, you can help them out by sticking a toothpick through the middle of the flower to make a visible hole.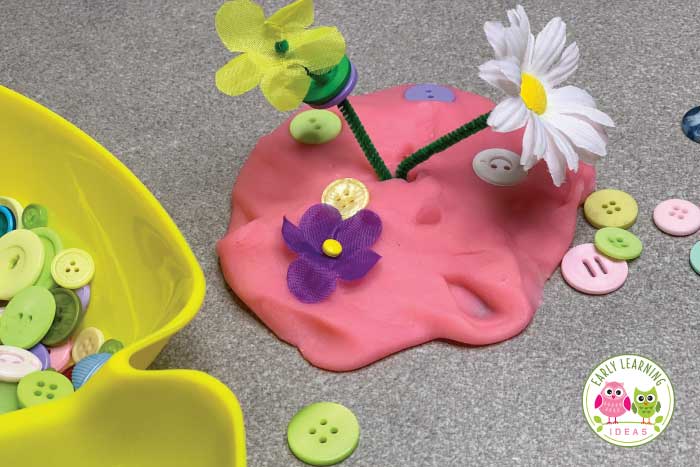 The coil tube ribbon is a fun material to work with. Kids can stick pipe cleaners through the mesh. They can also put pipe cleaners or wire through the hole in the mesh tube.
You can also add pieces of foam along with or instead of the playdough. Kids will enjoy sticking flowers into the foam.
Literacy and Math Learning Opportunites
Provide some alphabet playdough mats in addition to the playdough tray. Your kids can use loose parts and/or playdough to work on letter formation and letter recognition.
Encourage kids to work on counting by adding number playdough mats or number cards.
I hope that I have inspired you with some ideas to assemble your own fun flower themed playdough tray. I know that you and your kids are going to have fun playing.
Are you looking for more flower-themed resources for your kids? Check out the following activities available in the store:
---
Below are some items from Amazon that can be used for the activities mentioned in this article. The links below are affiliate links. If you happen to purchase something from a link, there will be no additional cost to you, but a small portion of your purchase will be used towards the cost of maintaining this website.