Use this free fruit and vegetable printable as part of a healthy foods unit, a grocery store scavenger hunt, in your writing or dramatic play center, plus more!
---
Today I made a fruit and vegetable printable for you. You can use the free printable as part of a food/healthy food or grocery unit in a classroom or tot school. I bet that you can also think of many ways to use it at home as well.
I love to think of different ways that resources can be used. Here are several ways that you can use this black and white printable.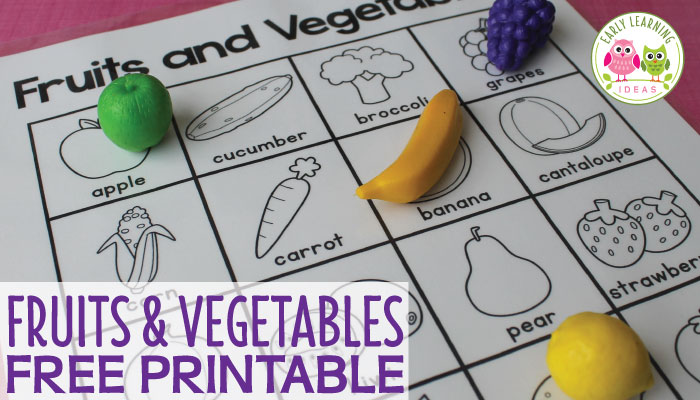 Writing Center
Place laminated fruit and vegetable printable list in your writing center. Kids can practice writing the names of the foods.
Matching Game
Make two copies of the printable and laminate them for durability. Cut out one set of food squares and place them in a pile. Kids can select a square from the pile, name the food on the square, and place the square on the fruit or vegetable on the printable sheet. Cut out both sets of squares and kids can play a memory match game.
Beginning Sound Matching
Print one of the printables and cut out the fruit and vegetable squares. Ask kids to find the foods that start with the same letters or find foods that start with the first letter of their name.
Syllable Counting
Select a square, read the name of the fruit or vegetable on the square, and then count and clap the syllables. For example pear = 1 clap, pine-app-le = 3 claps, and po-ta-to = 3 claps.
Dramatic Play
Add a laminated fruit and vegetable printable to your dramatic play kitchen. Kids can select a toy food from the play kitchen and check to see if it is on the grid. Kids can also use the printable to create a shopping list.
Grocery Store Scavenger Hunt
Place the printable list of fruits and vegetables on a clipboard. Take it, along with a pencil or crayon, to the grocery store. Your kiddo can hunt for the fruits and vegetables on the list and place an X on the foods as they are found at the grocery store. How many can he or she find? Which foods have he or she tasted?
Motivation to Try New Foods
Look through the list with your child. How many of the foods has he or she tried? Ask your child to select a new fruit or vegetable from the list to try. Your kiddo can even write a grocery list.
Download the Fruit and Vegetable Printable
To get your free fruit and vegetable printable, click on the link below.
---
Below are some items from Amazon that can be used for these fruit and vegetable activities. The links below are affiliate links. If you happen to purchase something from link, there will be no additional cost to you, but I may earn a small portion of the sale and will use it to maintain this website.