Fun & Easy spring Crafts for Preschoolers
With springtime in full swing, it's the perfect season to help your little ones develop their fine motor skills with some engaging and fun and easy spring crafts for preschoolers.
Whether you're a parent or a teacher, you know that at this age, it's crucial to help kids build hand strength, scissor skills, and hand-eye coordination… and these spring crafts for preschoolers and beyond will provide a fun and motivating way to work on fine motor skills. With all the different themes that come with the spring season – think insects, flowers, Earth Day, Easter, butterflies, and St. Patrick's Day – you'll have no shortage of inspiration to choose from.
So, let's take a look at all these fun and educational printable craft ideas and activities that will help your children blossom into confident and capable learners.
The simple printable spring craft projects that are featured in this post are part of the new Spring Fine Motor Crafts Bundle in my store. You can also purchase each thematic set separately.
Benefits of Printable Spring Crafts For Preschoolers & Kindergarteners
These spring crafts for preschoolers and beyond can provide numerous benefits beyond just having fun. These printable crafts were specifically designed to help your kiddos build their fine motor skills. Here are some of the benefits.
Develop Fine Motor Skills: These cute spring crafty projects are an excellent way to develop your child's fine motor skills. Your kids will have opportunities to work on snipping and cutting on a variety of lines. Each craft also has opportunities for kids to trace lines so that they can work on developing their pencil grip and build pre-writing skills.
Increase Hand Strength: All of the printable crafts that I am sharing include opportunities for hole punching. Some of the parts in each craft include small circles that kids can punch out with a hole punch. As you probably know, using a hole punch is fun, motivating, and a GREAT way to build hand strength. Kids LOVE to use hole punches!
Enhance Hand-Eye Coordination: Like any good cutting and pasting activity, these easy spring crafts for preschoolers will put kids to work coordinating their hands with their eyes. This skill is important for many sports, writing, drawing activities, and life skills.
Practice Following Directions: The crafts in this bundle require children to follow specific directions. Practicing following directions is essential for building listening and comprehension skills.
Now, let's take a look at some fun craft activities for all kinds of springtime themes.
Pond Animal Craft Activities for Kids
Studying pond animals is a popular spring theme. Why not create a cute frog, duck, or turtle craft to supplement your spring-themed study?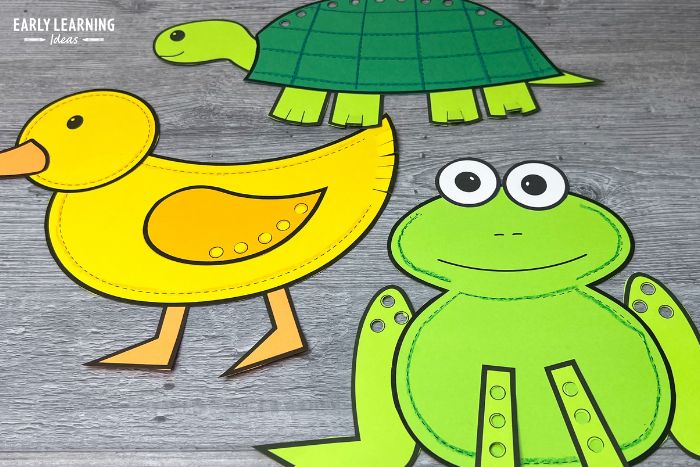 Making these pond crafts is a fun way to learn about the animals that live in ponds….and of course, they are also a great spring fine motor activity.
Take a look at this adorable frog, complete with hole-punched spots. Isn't he cute?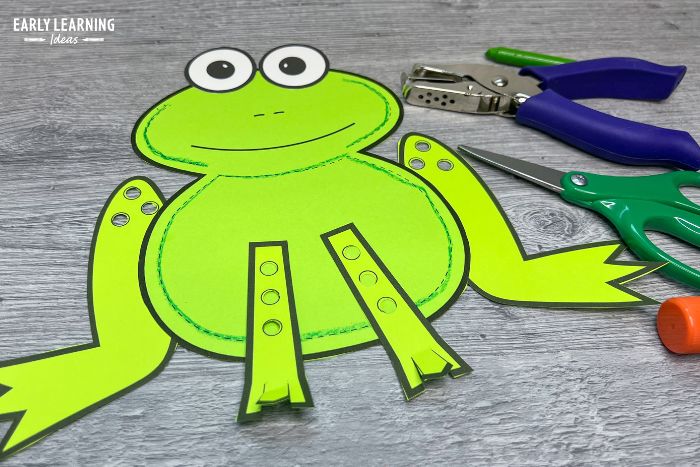 Spring Flower Arts & Crafts for kids
Flowers are my favorite part of spring, so these flower crafts are perfect for celebrating the arrival of spring with your kids. Print the flower part templates on brightly colored paper for the best results.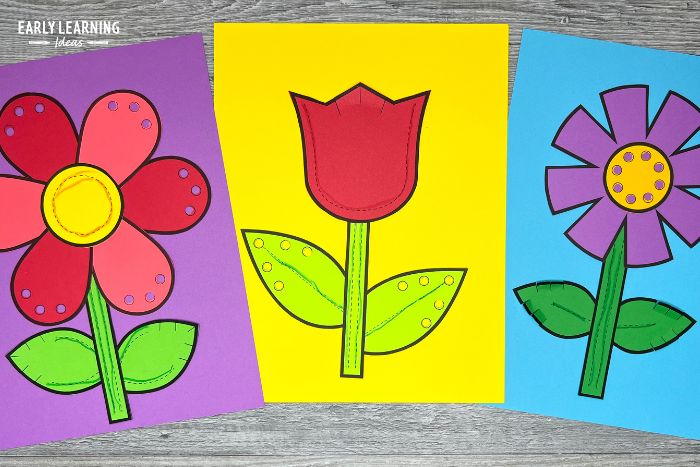 Not only are they fun and colorful, but you can use them to help kids learn the different parts of flowers. Kids can practice their scissor skills while cutting out petals and leaves.
Are your kids struggling to hold scissors correctly. You can use this activity to help them refine this skill. There are snipping lines so beginning cutters can work on scissor skills development, dotted lines for pre-writing practice, and hole-punching opportunities so that they can build hand strength.
Want to get a sample of the printable? You can get part of the printable flower craft here.
Insect Crafts for Kids
Are you looking for insect activity ideas? The insect theme crafts in this set are my absolute favorite because they are adorable! They are perfect for springtime, don't you think?
Kids can choose from a beautiful butterfly, a buzzing bumblebee, and a lovely ladybug, and of course, each insect craft provides multiple opportunities for developing fine motor skills.
Your little ones can practice cutting out the different insect shapes with their scissors, and they can work on hole punching to build hand strength. In addition, there are tracing lines to help children develop pre-writing skills and improve pencil grip.
These cute insect craft activities are not only great for fine motor skills, but they can also be used to teach kids about the different insects that they may see in the spring and summer months.
Earth Day Crafts
Earth Day is a special day to celebrate our planet and learn ways to protect it. These Earth Day crafts provide a fun and creative way to teach kids about the importance of taking care of our environment.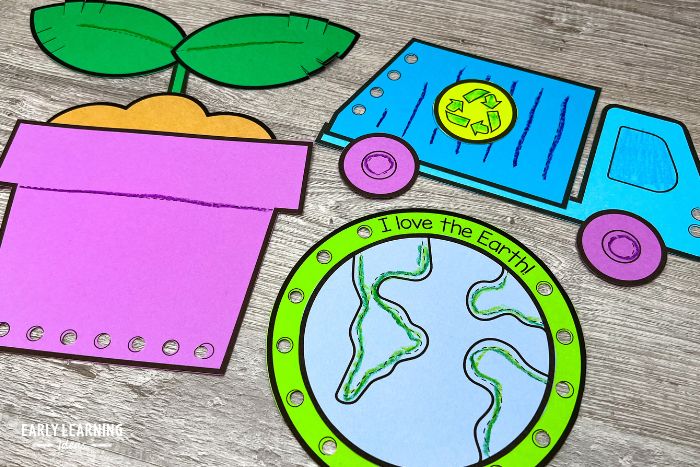 Each craft features a unique aspect of nature, from recycling to planting trees, and can be customized to fit your child's skill level.
They are not only educational but also encourage children to think about their impact on the planet and inspire them to make a positive difference. My favorite craft in the Earth Day set is this recycling truck.
St. Patrick's Day Crafts
These St. Patrick's Day crafts are perfect for celebrating the holiday with your kids. The set includes a rainbow, a shamrock, and a leprechaun hat.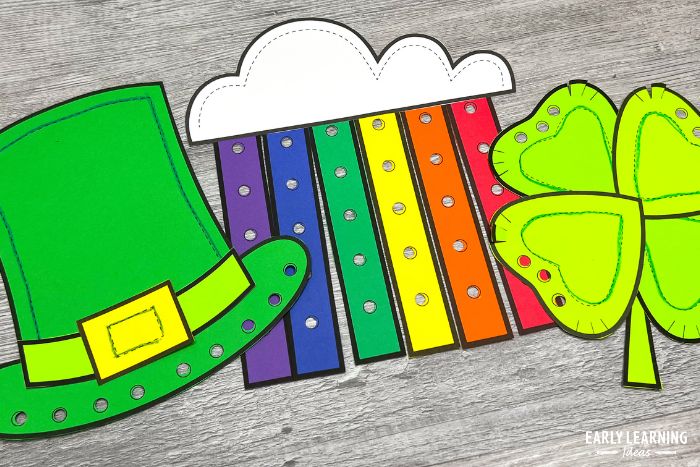 Kids can work on their scissor skills while cutting out the pieces, and the crafts also provide opportunities to practice tracing and coloring. The finished products are cute and colorful, making them perfect for decorating your home or classroom.
The rainbow can also serve double duty as you study weather with your kids.
Easter Crafts for Kids
Bunnies, chicks, and baskets OH MY! Get ready to celebrate Easter with these adorable Easter crafts! Your kids will have a blast creating a bunny, a chick, and a basket of eggs.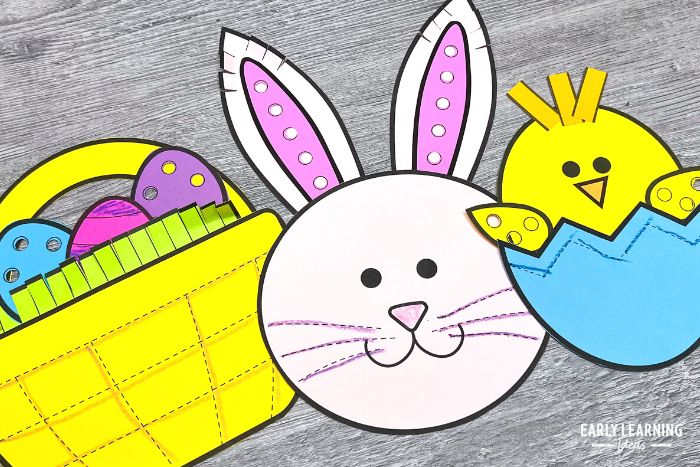 If you you are in a classroom where you can't celebrate Easter, no worries. Bunny activities and chick activities are always an appropriate spring theme. You can always add flowers to the Eater basket in place of the eggs.
Just like the other printable spring crafts for kids that I have shared, these Easty theme crafts are perfect for practicing scissor skills and building hand strength while creating festive decorations for the holiday. Plus, they're so cute you'll want to display them all season long!
Get the Spring Craft Activity Printables Today
There are so many benefits to crafting with kids and I hope that all of these spring craft ideas have really inspired you. You can get started on your spring craft projects right now. Be sure to visit my store to pick up the spring fine motor craft bundle today.
Purchase Spring Craft Printables on TPT
Do you prefer to shop at Teachers Pay Teachers? You can also purchase the Spring FIne Motor Craft Bundle in my TPT Store.
Additional Spring Craft Activity Ideas