Fun Fine Motor Hole Punch Activities for the Whole Year
Kids love these hole punch activities. Use the printables to build fine motor skills, hand strength, and hand-eye coordination in a fun and exciting way.
When you let kids use a hole punch, they not only have fun. They also build hand strength and finger control ….. which are skills that will help them as they learn to use scissors and grasp pencils.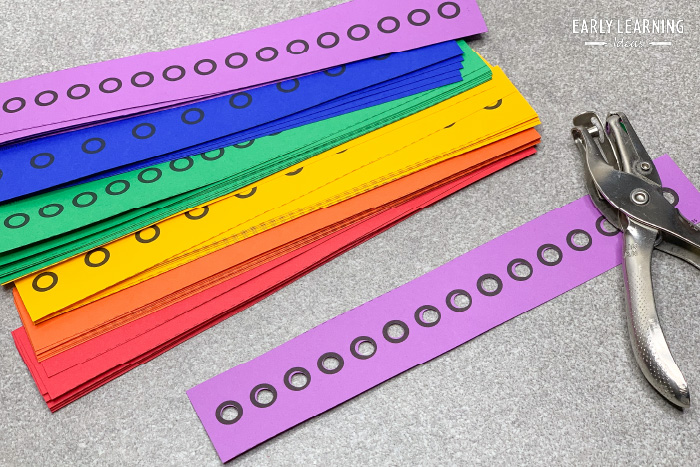 Hole punch activities are fine motor activities that are very motivating because kids love using hole punches. The printable hole punch activities featured in this post are included in my new Fine Motor Hole Punch Activity set in my store.
Hole Punch Strips
It's fun to just give kids paper and a hole punch and let them create freely. You can also give them printables to provide extra motivation. Punching holes in the circles of the printables is also great for hand-eye coordination.
One of my favorite hole punch activities is also one of the simplest activities.
Kids can punch holes in the rows of circles in these strips of paper. The printable includes two options for different skill levels. If you don't have the printables, you can easily make rows of circles on stips of paper with a marker or with dot stickers.
Use different colors of paper for more open-ended creative fun. There are many ways to use the strips.
Staple a strip to make a bracelet.
Attach multiple strips together to make a headband
Combine strips to make necklaces.
Use the stips as a counting activity (count the holes).
Provide some ribbon for and make a lacing activity.
Do you need some decorations for your room? Put them to work creating paper chains.
Hole Punch Shapes
Draw shapes on brightly colored paper and let kids punch holes along the shapes. This is a great hands-on way to learn shapes.
Fine Motor Activities for All Seasons
In addition to the hole punch strips and shape printables, the fine motor activity set includes a variety of pages to use throughout the year.
From spring and summer…..
Your kids will enjoy these fine motor activities throughout the year.
Fine Motor Activities for Many Themes
From construction and transportation to space and oceans, you will find many different thematic fine motor printables in the set.
Add tape or staplers to your activity set-up and kids can combine strips together……
….. or make them three dimensional.
Make Fine Motor Activity Boxes
Fill a photo storage box or plastic pencil box with a hole punch and some printables. Tada….you have a fun fine motor activity kit.
Do you have some kids who could use some extra fine motor practice? Send a kit home with them for the weekend.
Add a Contrasting Background
I love to add contrasting colored paper behind the hole punched image.
Provide glue sticks, paper, crayons, etc. Your kids will have so much fun creating that they won't even know they are building muscles.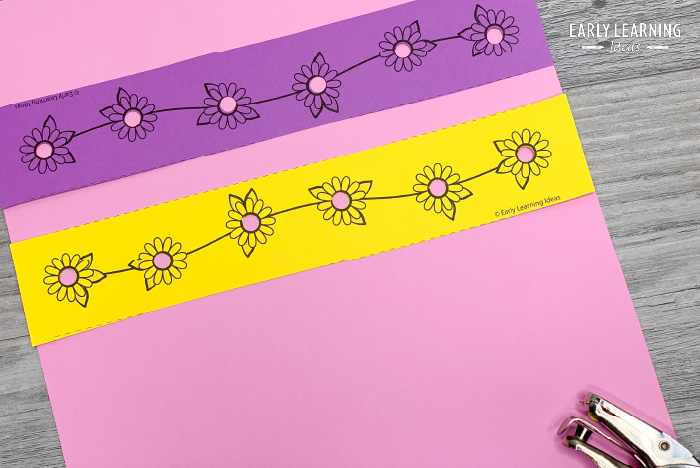 Purchase the Printables Today
Are you ready to help your kids build hand strength? You can purchase the Fine Motor Hole Punch Activity Set individually or as part of the Fine Motor Activity Bundle. Click on the below to purchase the printables now.
Alphabet Hole Punch Activities
I bet your kids will also enjoy these alphabet hole punch activities. Your kids can work on building hand strength while working on letter recognition, letter formation, and letter sounds. Click on the image to purchase them in the store.
What are Teachers Saying About Our Hole Punch Resources?
"I could definitely see an increase in their hand strength after they had been out for some time."

Jenna D.
" Wonderful fine motor resource and it's an activity the children in my classroom can't wait to go to, they love the different pictures to hole punch. I am happy it helps with their fine motor skills. Big hit in our room, thank you. "

Sandy D.
" This was a hit during our fun Friday activities. It seems like a game, but is actually working on fine motor skills. The older students in my class (3,4,5) all wanted a turn with these activities, so it ended up working for everyone in our class. Who knew paper punching could be so rewarding!"

Linda E.
My Prek homeschoolers have been loving hope punching activities lately. I love that these are super low prep, just print on plain or colored paper if you choose, and cut into strips! There is such a variety that it's been easy to match them up with our thematic units!

Scot E.