8 Hands-on and Fun Ways To Teach The Alphabet
Are you looking for some fun and hands-on ways to teach the alphabet to your little ones? Look no further! I've put together a list of 8 of my favorite activities that are sure to make learning the alphabet an enjoyable experience for both you and your students.
The Benefits of Hands-On Alphabet Activities
Hands-on activities are a great way to teach preschoolers because they
increase engagement
increase motivation
improve retention of information.
When kids get to participate in literacy activities that use their senses and get them moving, they're more likely to have fun and remember what they've learned. That's why I developed all the hands-on letter activities in my Alphabet Activity Bundle
These activities will help preschoolers learn letter identification, letter sounds & names in a fun and memorable way.
The Best Hands-on Alphabet Activities
I know that your kids will be so excited about these fun ways to teach the alphabet. Let's check the out.
Alphabet Paper Tearing Activity
Teachers always tell me how much their kids enjoy my tearing paper activities. Here are some paper tearing activities with a twist….the images feature letters and sounds.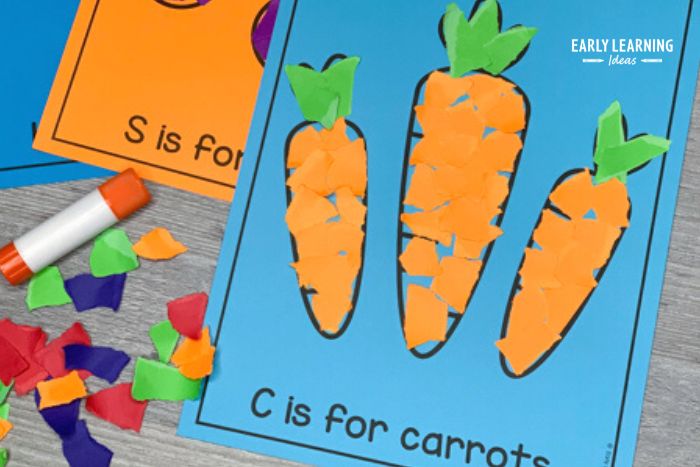 Your kids will build hand strength while learning letters and beginning sounds. With this activity, they'll have so much fun tearing paper that they won't even realize they're building those fine motor skills.
Alphabet Hole Punch Activity
This hole punch letter activity is my favorite printable activity in the set, and it's sure to be a hit with your kids too! They'll love using a hole punch printable to learn letter recognition and letter sounds.
And don't worry, the fine motor practice they'll get from punching the holes is just a bonus!
Alphabet Fine Motor Cutting Practice Books
Similar to my cutting practice mini-books, these little ABC books are a great way for kids to work on scissor skills and straight-line cutting while also learning letter identification, letter sounds and names. Plus, your kids can get practice in letter formation.
This activity will give your kids an opportunity to build scissor skills, plus using a stapler is an exciting way to build hand strength.
The activity is super easy to prep for you. Just cut the books apart for your kids.
Then, your kids can cut the pages apart on the dotted line. The books are small, so it's just the right amount of cutting for little hands.
Finally, comes the FUN part. Get out a little stapler for your kids and let them staple the pages together. A stapler is almost as fun to use as a hole punch AND it is also a great tool for building hand strength.
Alphabet Letter Clip Cards
This activity is easily differentiated and hands-on, making it perfect for kids of all skill levels. They'll get to listen for beginning sounds at the beginning of words and practice their fine motor skills with the clothespin clip. You can also purchase the Alphabet & Beginning Sound Clip Cards separately.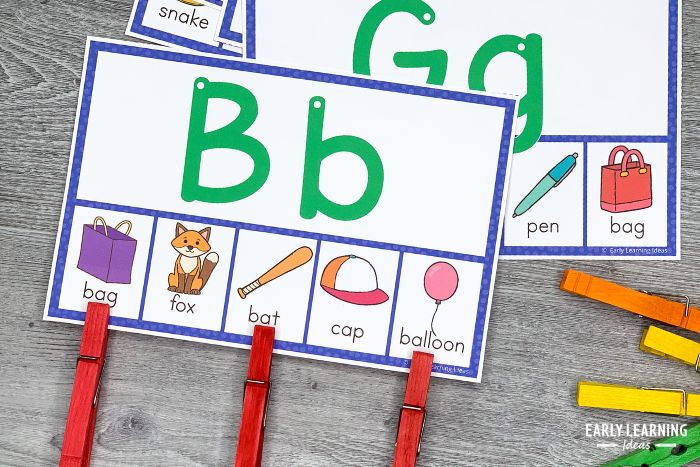 Alphabet Multi-Sensory Letter Cards
These versatile letter cards can be used for a variety of activities that will engage your kids' senses.
Use them for alphabet flashcards or for sensory and fine motor activities like finger-tracing, rainbow writing, playdough, stickers, paint, bingo markers, etc. Want to get ideas for using the tracing cards? Check out this article about using the alphabet cards for letter formation activities.
Alphabet Puzzles
These puzzles are a fun way for kids to match uppercase and lowercase letters while also learning letter sounds. They'll love the bright images, too!
A fun way to use the learning puzzles for preschoolers is to add them to a sensory bin.
Alphabet Sound Sorting Activity
This activity is great for sorting pictures of objects and/or letters onto letter cards. Your kids will love the hands-on aspect of this activity, and you'll love how it helps them learn their letter sounds.
The sorting activity also includes a variety of letter cards and is a great letter recognition activity you can do with your kids.
Alphabet Playdough and Tracing Mats
This multi-sensory alphabet activity is the best of both worlds! Your kids will get to work on their fine motor skills while also learning their letters. They can form letters with coils of playdough or use them for tracing practice.
Take a look at each letter in the photographs above. Do you see the green dot on them? Those dots serve as visual cues to help your kids know where to start when forming each letter.
Bonus: you can even make alphabet books with the included cover pages.
Try out the 8 Fun Ways To Teach The Alphabet
So there you have it! Eight fun and hands-on ways to teach the alphabet. I hope these activities make learning the alphabet an enjoyable experience for your kids. Don't forget to check out my Hands-on Alphabet Activity Bundle in my store!
If you are not quite ready to get the bundle, I have created a sampler of the letter A activities. Once you try them out with your kids, you'll be ready to get the activities for the remaining letters in the Hands-on Alphabet Bundle. Just click on the button below, fill out the form, and I will send the Letter A sampler to your inbox.
What Teachers are saying About this Alphabet Bundle:
Teachers who have used this resource are raving about it! Here is what they had to say after using it in their classroom:
Purchase The Hands-On Alphabet Bundle Today
Are you ready to get started with these 8 fun ways to teach all the letters of the alphabet? You can purchase Hands-on Alphabet Activity Bundle in the store. Click on the picture below to purchase the fun Alphabet Activity Bundle today.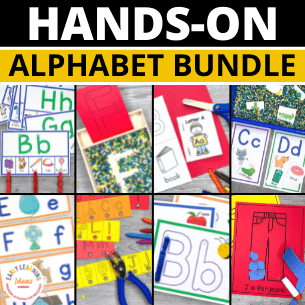 Purchase on TPT
Do you prefer to shop at Teachers Pay Teachers? You can also purchase the Hands-on Alphabet Activity Bundle in my TPT Store.