How to Make a Gingerbread Playdough Tray for your Kids
Find lots of ideas to help you easily make a gingerbread play dough tray. Your kids will love using the materials to make fun gingerbread-themed creations.
I love making gingerbread cookies at Christmas time. The only problem is that I have no self-control when it comes to homemade cookies. I end up eating WAY TOO MANY cookies.
This playdough tray will be a fun treat for your kids. But beware….If you are anything like me, you will become hungry for sweet gingerbread treats.
If your kids can't share supplies, don't worry. You can use the ideas below to create individual playdough kits for your kids.
Gingerbread Playdough
If you are making a gingerbread playdough tray, you probably want to add some gingerbread playdough. I recommend using my quick playdough recipe and adding a couple of teaspoons of cinnamon and a teaspoon or so of ginger, cloves, and nutmeg……or you can add some pumpkin pie spice. There really isn't a magic recipe.
You can use the spices that you have on hand and mix them in enough so that the playdough is fragrant and brown in color. Mine smelled up the WHOLE room….in a very GOOD way.
Assemble a Playdough Tray
Now that you have playdough, you just have to find a tray to hold several different materials. Use any kind of divided tray to store the materials. I often find divided trays at the Dollar Store.
Finally, you can gather materials to fill the tray. This is the fun part!
I cut green and red striped paper straws. They look like candy canes without the sticky mess. You can also use candy cane pipe cleaners or candy cane ornaments.
To give the tray a Christmasy feel, add some evergreen branches. I found these at the Dollar Store and cut them into smaller segments. You can also use decorative evergreen or holly craft picks, cut pieces of garland, or even the real deal….evergreen branches.
I added some plastic candy ornaments to my tray. These are little tiny ornaments that are used to decorate small table-top trees. I found them at the craft store. Be on the look after Christmas for some holiday clearance bargains.
Don't have these little ornaments? No problem. Here are a few additional ideas:
buttons
beads/baubles
gems
real peppermint candy
I happened to have a bunch of old rick rack from my mom's old sewing boxes. I chose several pretty colors and cut them into small pieces. You can cut some foam pieces into zig-zag strips or you can use yarn or ribbon.
Finally, I added beads and jingle bells to my playdough tray. Have fun gathering materials for your tray. Here are some additional items that you can use.
pieces of thin garland
small flowers
fabric scraps
googly eyes
cinnamon sticks
Additional Materials
Remember when I said that I love making gingerbread cookies? Well, I also have gingerbread cookie cutters in a variety of sizes. I added a small rolling pin. If you don't have cookie cutters, kids can just make a gingerbread man without them.
You can also add dull plastic knives, spatulas, and small cookie sheets if you like.
Open-Ended Play
Now that you have playdough and a variety of materials, you can stand back and watch your kids create. They might make gingerbread men or gingerbread houses.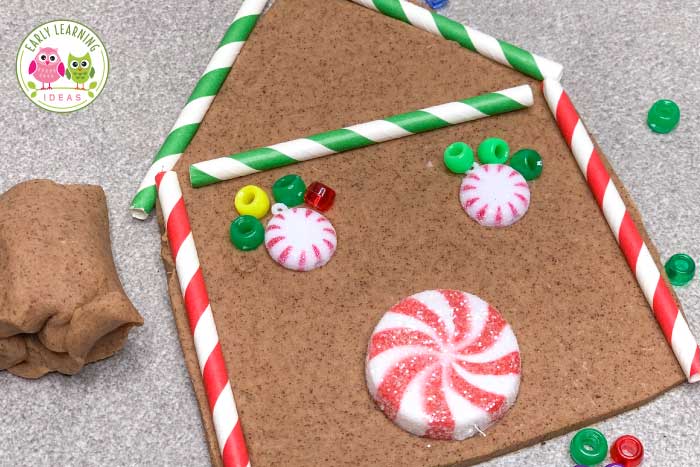 Or they might just have fun exploring all of the supplies and being creative.
Math and Literacy Learning
Add gingerbread number cards to the playdough tray so that kids can work on number concepts.
You can also add playdough mats. This is a fun, hands-on way to work on counting.
I hope that you enjoy putting together a gingerbread playdough tray for your kids. Did you find some fun materials to add? Please share in the comments below.
Ok….I can't handle the delicious smell anymore. I'm off to make some gingerbread cookies.
Get Gingerbread Resources From the Store