How to Improve Cutting Skills with a Free Flower Craft for Preschoolers
Do your kids need some help to improve cutting skills? This cute and easy flower craft for preschoolers is the PERFECT activity to practice and improve cutting skills.
This free printable flower craft for preschoolers is part of my Flower Fine Motor Craft activity set. My fine motor craft activities are designed to give kids motivating & meaningful opportunities to improve their fine motor skills.
Crafts provide many benefits for preschoolers, and one of the biggest benefits is that they can provide an extremely motivating way for kids to build fine motor skills. This free flower craft printable will give you a taste of what my fine motor crafts are all about.
This easy flower craft for preschoolers is the perfect fine motor craft activity to help kids improve their scissor skills, hand-eye coordination, and more. Plus, the easy spring craft for preschoolers is so easy to prep!
Continue reading to learn more about improving cutting skills, and download your free flower printable activity at the bottom of this article!
What are cutting skills?
Using scissors is an important skill for children to master. Cutting with scissors is a fine motor skill and a useful life skill that is required to complete certain projects at school or home. As kids move from preschool to kindergarten, they will find that they often need to cut out shapes as part of learning activities, craft activities, and other art projects.
How do Kids Develop Cutting Skills?
Kids develop the skills necessary to use scissors as they grow and mature. In general, kids follow these developmental stages as they develop scissor skills:
Snipping
Snips are short, quick cuts. Kids begin with little control by cutting random snips in paper. As they gain more control, kids can begin snipping on a line.
Cutting
Cutting begins when kids are able to move the scissors forward on the paper as they snip. Kids learn to hold the paper with one hand as they cut with the other.
As they become comfortable with moving the scissor forward as they cut, kids can begin cutting on (or near) straight lines. With practice, they can begin to cut curves, zig-zags, simple shapes, then more complex shapes.
How To Improve Cutting Skills?
The best way to improve cutting skills is with practice. The problem is that many kids resit things that they struggle with. So, the trick is to find motivating ways to improve cutting skills.
There are many ways to help your kids get cutting practice to improve their skills. Here are a few simple ideas for cutting practice for your preschoolers:
Add wrapping paper, magazine pages, toy catalog pages, etc. to a sensory bin
snip straws, ribbons, etc. for craft projects
add scissors to your playdough trays
Now, let's look specifically at how you can use this flower craft for kids to build and improve cutting skills.
A Scissor Skills Printable & Flower Craft for Preschoolers
Another way to help kids practice cutting skills is to plan engaging crafts like this spring fine motor craft activity.
This fun flower craft reminds me of the fields of Texas wildflowers, so its a great spring fine motor craft for your kids. PLUS, the fine motor activity is a fun way for your kids to work on their fine scissor skills.
I recently updated this spring flower craft printable, and I know that you are going to love the improvements.
What Supplies Do You Need for This Flower Craft for Kids
I love printing the flower templates on brightly colored paper or cardstock, but you can also print them on white paper so that kids can color the flowers with crayons or markers.
Obviously, you will need some scissors for your kids. If you need some advice, check out this article about how to select the best scissors for kids.
Here are some additional supplies that you may also want to use for this fun and easy flower craft for preschoolers:
glue
glitter glue
sequins, glitter
buttons
pom-poms
crayons, markers, or colored pencils
stickers
How to Differentiate This Flower Craft & Cutting Activity
The flower craft printable includes a page with two flower templates on it. The flowers have bold, thick black lines that are easy for your kids to cut.
The easiest process is first to cut the circle around the entire flower and then snip out the triangles between the flower petals. Demonstrate this to your kids so that they understand this process.
Your kids may not be ready to cut out the circle around a flower, and that's okay. To help them out, cut out the circle for them and ask them to snip the lines to form the petals.
The flowers look amazing when printed on brightly colored paper, but you can also print them on inexpensive white paper and add color with crayons or markers.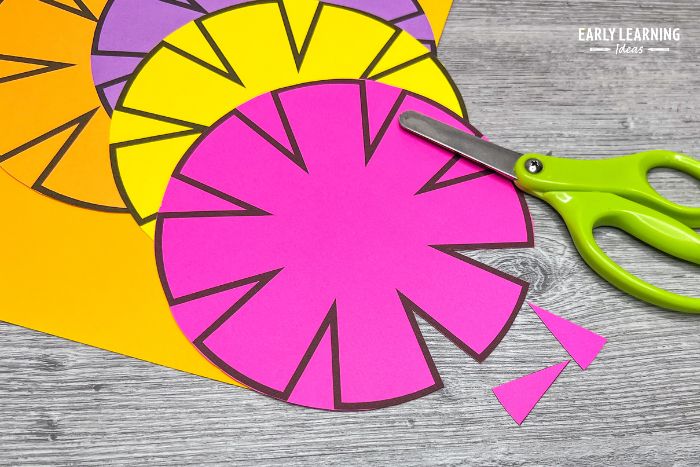 Encouraging Open-Ended Creation
Kids need to learn how to cut on lines, and this activity will provide them with an opportunity to practice this skill. You can also use the template as the starting point for a beautiful work of art. or a fun cutting and pasting activity. It's easy to encourage open-ended creation while making flowers. Here are a bunch of ideas.
Cut Petals in Unique Ways
clip off the corners of each petal
create rounded corners on the petals
snip fringe on the petals
trim the petals to make them shorter
Make 3-D Flowers
Fold the petals toward the center to raise them.
Curl the petals
Stack flowers on top of one another
Here, we have folded each petal toward the flower's center. You can see that the petals are raised off the background paper to create a 3D effect.
Here are some flowers that have been folded and stacked and glued on top of a flat flower of a different color.
Use Additional Materials With The Flower Craft
Give kids some blank sheets of paper, glue, and a variety of creative materials so that they can make an open-ended collage. Here are some fun material ideas:
crayons, marker
hole punches
dot, shape, or bug stickers
buttons
pom-poms
glitter glue
sequins
pipe cleaners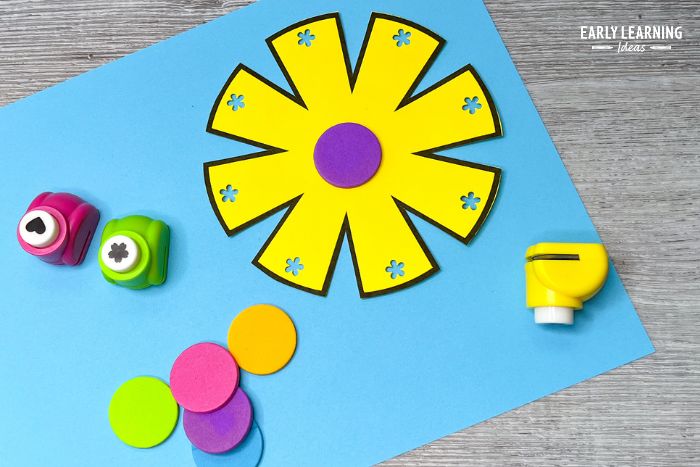 More Flower Crafts to Improve Cutting Skills
You can also use the flowers on bulletin boards and on blank books. I hope that your kids enjoy using these flower templates to improve their cutting skills. Hopefully, they bring a little bit of spring you into your life. I can't wait to hear how you use the free printable.
If you want additional flower themed cutting and craft activities, be sure to check out the Flower FIne Motor Craft Set in my store. The set provides lots of opportunities for fine motor practice. The printable flower crafts include:
Bold, thick lines – for differentiated cutting practice and snipping
Dotted lines – for pre-writing practice and pencil grasp development
Small circles – to build hand strength with hole punching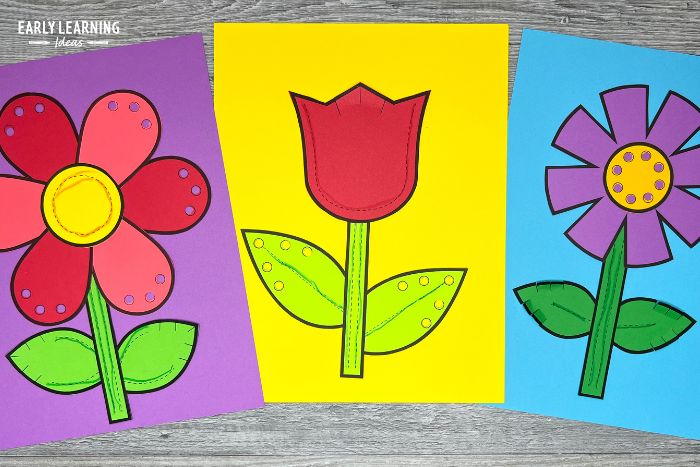 Download Your Free Printable Flower Craft for Preschoolers
The flowers look amazing when printed on brightly colored paper. They have me longing to see fields of Texas wildflowers…..Come on spring! Click on the link below, fill in the quick form, and I will send the cutting templates directly to your inbox.
Find More Activities to Improve Cutting Skills In The Store
Are you looking for more fine motor and scissor skills activities for your kids? Check out these fun resources in the store.
Purchase Cutting Skills Activities on TPT
Do you prefer to shop on TPT? You can also purchase the scissor skills activities in my TPT store.
Additional Activities to Practice Cutting Skills
You can also find more articles, including cutting practice activity ideas on Early Learning Ideas.