How to Make a Spring Weight Station with a Balance Scale
Get out your balance scale and set up a spring-themed weigh station in your science center! Here are lots of spring and summer-themed material ideas you can use in your weighing station.
I have been having so much fun coming up with seasonal weigh stations this year. Weigh stations make a perfect math activity or a perfect science activity for your kids.
I just completed some Spring & Summer Weigh Station Printables for my store. Even if you don't use the printables, you will find lots of ideas to use the balance scale in your classroom to create a fun spring and summer measurement activity for your kids.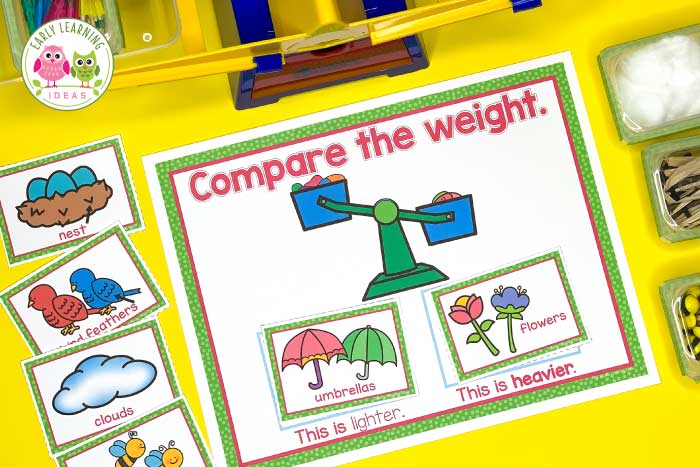 Now that I'm living in the great state of Texas, spring happens to be my FAVORITE season. There are so many fun springtime themes that you can use in the preschool classroom. Of course, there are Easter, bunnies, and egg themes. Gardening themes such as plants, seeds, and flowers are a favorite. But don't forget about weather and insect themes!
Do you want to create a weigh station for a different season? Here are ideas for Christmas, winter, and Valentine's Day.
Spring-Themed Materials to Weigh
Like in all of my other weigh station articles, I suggest that you use small containers that are the same size. They should fit nicely into the bucket of your balance scale.
The fun part is trying to find a variety of thematic materials to fill the containers. Here are some spring-themed weigh station material ideas:
ants – plastic toys
flowers – small silk flowers
bees – mini erasers, game pieces, or plastic toys
leaves real or silk leaves
fish – small plastic toys, mini erasers, counters
butterflies – plastic toys
seeds – sunflower seeds, grass seed, beans, etc.
clouds – white cotton balls (pulled apart), white batting
umbrellas – drink umbrellas (I snipped off the end of the toothpick to make them fit in the container)
soil – potting soil
mud – real mud or brown playdough
worms – plastic toys or fishing lures
ladybugs – plastic toys or mini erasers
frogs – small toy frogs
birdseed
bird nest – small nest from the craft store or nesting materials (twigs, strings, raffia)
eggs – small eggs from the craft store, speckled egg candy
bird feathers – craft feathers
caterpillars – small toys
plants – real, silk, or plastic
Easter-Themed Materials
Here are some ideas to create an Eastery weighing station for your kids.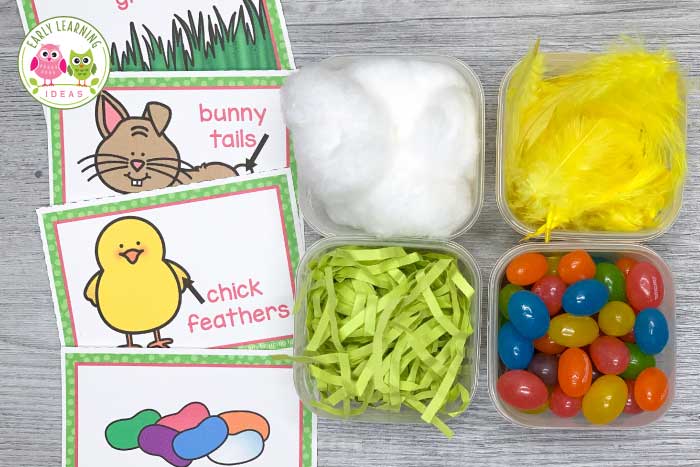 bunny tails – cotton balls or pom-poms
lambswool – white fleece or cotton
Easter eggs – small plastic eggs or speckled egg candy
jellybeans
chick feathers – yellow feathers
Summer-Themed Materials to Weigh
Do you prefer to create a summer-themed weighing station with your balance scale? Here are some material ideas for you:
sidewalk chalk – small pieces of colored chalk
cotton candy – pink cotton balls or pom-poms
popcorn
bubbles – small containers of bubbles
ice-cubes – plastic ice cubes
balls – small bouncy balls
sand
seashells
fish – small plastic toys
boats – small toys or counters
Get Out Your Balance Scale
I suggest that you start with about 5 filled containers. Tape them closed so that kids will not spill the contents or taste the contents….hello jellybeans 🙂
Get out your balance scale and let kids compare the weights of the containers. Can they determine which is heaviest or lightest? You can even work through the scientific method with them as they work in the weighing station. Check out my original measurement activities post for all of the details.
Purchase the Printables
If you purchase the Spring and Summer Edition of my Comparing Weight Activity in my store, you will get a weight comparison mat and 45 spring and summer-themed printable material cards to use in your weighing station.
To purchase the printables today, click on the image below. Note….the Spring & Summer Edition is also part of the Comparing Weight Bundle.