You Have to Try These Insect Activities for Preschoolers
I know you are going to love these insect activities for preschoolers. These activities are perfect for your insect & bug learning centers.
Are you scared of bugs? Guess what? Insects don't have to be scary and gross. Make the study of insects and bugs exciting with this collection of fun & engaging insect activities for preschoolers.
Insect Craft Activities for Preschoolers
There are many benefits of crafts for preschoolers. From caterpillars, bumble bees, butterflies, and ladybugs, your kids are going to love these fun insect craft activities.
Caterpillar Pattern Craft Activity
Combine math, craft, and fine motor skills activities while making these simple caterpillar pattern activities.
Easy Bumble Bee Craft
This preschool bumble bee craft is also a great fine motor activity for spring. The printable craft has dark thick lines for scissors skill practice as well as opportunities for tracing and hole punching.
Ladybug Crafts for Preschoolers
This printable ladybug craft from my Insect Theme Fine Motor Craft set will help your kids work on their scissor skills as they cut out all the parts. Kids will build finger control as they trace on the dotted lines and build hand strength as they punch holes in this fun spring-themed craft activity.
Butterfly Craft for Preschoolers
Here is another printable craft activity that will be an extremely motivating way to help your kids work on fine motor skills. This butterfly craft will allow your kids to work on cutting practice, hole punching to build hand strength and pre-writing activities.
The printable insect fine motor crafts are very popular, and you can check out additional printable fine motor crafts here. There are LOTS of different themes!
Bug & Insect Playdough Activities
Playdough is a great tool for hands-on learning and fine motor activities. Here are a few bug and insect playdough activities to try with your kiddos.
Bug Theme Playdough Tray
Gather a variety of materials into a divided tray. Add playdough. Then stand back and watch kids create playdough insects with this fun bug and insect theme playdough tray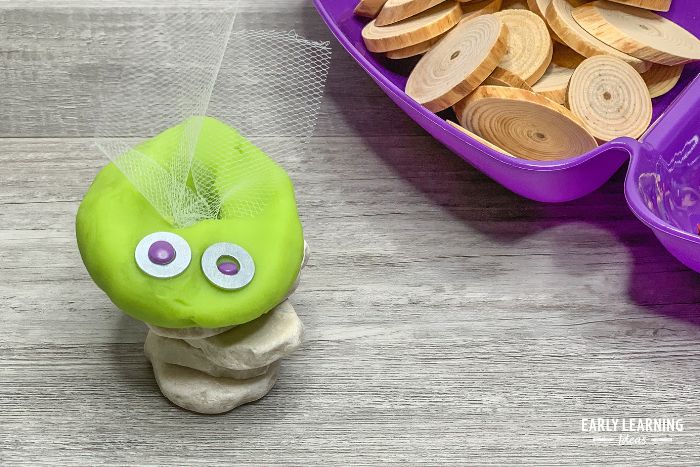 Insect Math Activities
Do you need some hands-on math activities for your bug and insect theme? Check out these ideas.
Counting Bugs for Preschoolers
You can use this Bug & Insect Number resource from my store in many different ways.
Sort the cute fireflies by color
Use number cards for number recognition and counting activities
Work on simple addition
You can even use them as playdough mats with your bug playdough tray.
Butterfly Matching Puzzles
Here is another butterfly symmetry activity. Kids can match butterfly halves with this butterfly matching activity that is found in my store, and It's a great visual discrimination activity.
Bug & Insect Literacy Activities
Of course, you can also use bug and insect theme activities to work on early literacy skills with your kids.
Insect Theme Books
Are you looking for new books about creepy crawlies? Here is a nice list of bug and insect books for kids.
Caterpillar Name Puzzles
Use these printable caterpillar name puzzles to work on name recognition. You can also use them to work on sight words, numbers, and rhyming activities.
Insect Research Lab Dramatic Play
If you like the idea of play-based learning, you are going to love this science-based dramatic play center.
Create an insect research lab dramatic play area and it will be the most popular area in your classroom. Kids can collect insect specimens, measure them and observe them. Don't forget to provide opportunities to record their data. Your little scientists will have so much fun when you transform your dramatic play area into an entomology lab.
Additional Insect Activities for Preschoolers
If you haven't seen enough already, here are some additional bug-theme activity ideas.
Bug Collection
I found this inexpensive divided box with the fishing gear at my local Walmart. I think it's a great bug sorting tool.
Design an Insect Habitat
Gather a variety of materials from silk flowers to colored beads. Let your kids design a habitat for plastic insects. They can then pretend to conduct research as they observe the creepy crawly creatures and record the data.
Bug & Insect Sensory Bin
Let your kids catch insects in the sensory bin. Use Easter grass, plastic insects, tweezers, and clear containers. Check out this sensory materials ideas list to get even more ideas for your sensory bin.
Bug & Insect Art Activity
Want to add a buggy twist to an art activity? Purchase some flyswatters at the dollar store, and your kids can use them for an insect art activity.
Here are a few additional ideas from around the web.
I hope that you and your kids have fun with these insect activities for preschoolers. Do you have additional ideas for activities for a bug theme? I would love to hear about them!
Additional Insect Activities in the Store
Are you looking for additional bug-themed activities for your kids? Check out the following resources in my store.
Purchase The Insect Themed Activities On TPT
Do you prefer to shop at Teachers Pay Teachers? You can also purchase the bug theme printables in my TPT Store.