This is the Best Way to Make a Simple Paper Snowflake for kids
You will love this trick for making a simple paper snowflake for kids. Guess what? Your kids will love it too! Before you know it, they will decorate your whole classroom or house with their beautiful wintery creations.
The secret to making a paper snowflake for kids is to use snowflake cutting templates or patterns.
Do you want to know the best part? This is a fun and engaging activity….. and the PERFECT way to work on scissors skills.
---
JUST Purchase the PRINTABLES
No Time to Read The Whole Article?
Here are the quick links to purchase the printable snowflake cutting templates today.
DIY Paper Snowflakes for Young Kids
I love making paper snowflakes with kids during the winter.
When young kids try to cut snowflakes, however, they often struggle to cut them correctly. There is a solution that helps kids in preschool and kindergarten learn to cut out snowflakes.
Making paper snowflakes can be a great way to help children practice cutting with scissors. Unfortunately, If you don't use this method, your kids may become frustrated when they try to make their first snowflakes. Imagine your kids being so excited to unfold their paper, only to see their creations fall apart in their hands because they cut in the wrong places.
When you use snowflake cutting templates or snowflake patterns, you can help ensure that young kids experience success with their snowflake creations. The templates also provide a great way to motivate kids to practice scissor skills.
Why Kids Have a Hard Time Cutting Snowflakes From Paper
Do you remember making snowflakes when you were a kid? I loved making them…and I made LOTS of them!
But, it took me a while to master the art of cutting snowflakes when I first began. In fact, most children struggle at first. Folding the paper properly causes some confusion, and then kids fail to understand where to cut on the folded paper.
I have seen some patterns out there, but they are usually too complex for beginning cutters. These complex patterns require too many folds making it too difficult for youngsters who need more practice with cutting with scissors.
The Best Tips to Help when making a Simple Paper Snowflake For Kids
I have two tips to help children learn to cut out paper snowflakes.
Simple is Better: Fold the paper in a simple way. Young kids can make beautiful snowflakes with a piece of paper folded into fourths.
Use a Template or Pattern: Show kids where to cut the paper by using a simple snowflake cutting template. You can print them or create your own.
How to Use a Snowflake Cutting Template
You can help kiddos experience success in creating a beautiful wintery creation by providing them with a snowflake cutting template or pattern.
This method of cutting a simple paper snowflake for kids is also a great way to motivate kids to practice their scissor skills. The picture above shows a printable template, but you can make your own too.
To create a pattern, fold a sheet of paper into fourths and draw a simple snowflake design on one of the sections. Simple is the keyword here.
Unfold your design and photocopy it, you can make a whole bundle of templates. Use color or patterned paper to create more interest.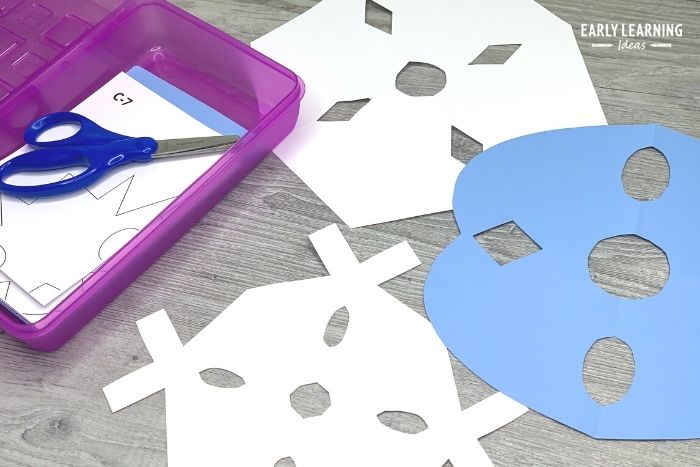 Create a Snowflake Cutting Center
You can create a snow-themed cutting center by placing a bunch of templates in a caddy along with some scissors. TADA…. you suddenly have an extremely motivating winter fine motor activity.
You can also ask your children to help you fold the sheet in fourths….folding a great fine motor activity too.
Once they understand how to make a paper snowflake with a cutting template, they might be able to make their own design soon.
Teachers tell me repeatedly that their kids LOVE using these templates. They find that it's a very motivating arts and crafts project and kids often use the templates to FILL their classrooms with snowy decor.
"I usually just use a blank sheet of paper or a coffee filter to make snowflakes in class. Yet, this resource was PERFECT and so much easier for my students. They were so excited with the end results!"
Check out this paper snowflake tutorial. The video will show you how to use the snowflake patterns.
Get Creative with Paper Snowflakes
Your fine motor activity can become an open-ended creative project. Some of you might argue that using templates will not provide an opportunity for creative expression. No problem! Add some pencils and hole punches to the center so that children can customize their templates.
You can add crayons, stickers, crayons, background paper, and glitter too. Check out this article about making snowflakes and taking them to the next level (making them all fancy). This is also a perfect snow day project for kiddos at home. Parents have told me over and over again that kids LOVE making beautiful snowflakes with templates.
Purchase the Snowflake Cutting Templates
To get my printable snowflake templates, visit my store.
Purchase On TPT
Do you prefer to shop at Teachers Pay Teachers? You can also purchase the Snowflake Cutting Template in my TPT Store.