Make Name Activities for Kids from a Pool Noodle
Use a simple pool noodle to make fun name activities for kids. This is a great hands-on way to help kids recognize and spell their names. Directions for assembly and ideas for additional literacy activities are included.
---
Pool noodles are pretty inexpensive and they are VERY versatile. You can use the foam tubes for all kinds of activities……outside of the swimming pool. Let me show how to make name activities for preschool kids from pool noodles.
Supplies:
I picked up some pool noodles at the dollar store. For this activity, I just used one color of noodle, but you can use as many colors as you want. I also used a serrated knife and a black permanent marker to create the activity. To play, you will also need a cardboard box or plastic container.
Create:
I used a large serrated knife to cut my pool noodles into small sections. I cut through the backside of each of the sections. Check out the photo above so that you can see what I'm talking about. This cut will enable kids to attach the noodle section to the edge of a plastic container or a cardboard box. Finally, I wrote a letter on the front of each section with a permanent marker.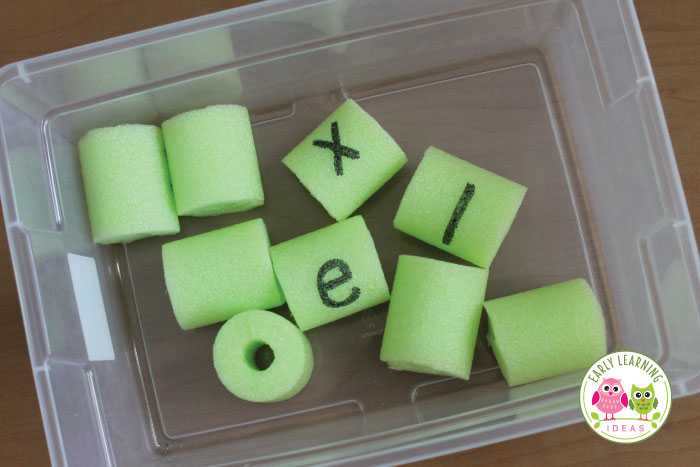 Play:
When all of the letter sections are prepared, kids can practice spelling their names as they attach each letter to the edge of a cardboard box or plastic container.
Additional Ideas:
Name Recognition: If kids are not ready to spell names yet, you can make a name recognition exercise. Name recognition is an important step for kids to eventually write their names. To do this, cut the pool noodles into larger sections and print an entire name on each section. Add several sections/names to a container and ask a child to find his or her name.
Alphabet Activities: Prepare noodle sections for all letters of the alphabet. Place the letters in a large container. Ask kids to identify the letter and/or the sound as they pull out each letter and attach it to the side of the container.
Word Family Activities: Prepare noodles with consonants and word endings for CVC words. For example….Prepare a section with "at" written on it. Then prepare several smaller sections…each with the letters "c", "h", "p", "s" on them. Attach "at" the container and kids can place a beginning letter at the beginning to create different words.
I hope that you enjoy making this name activity. Want more pool noodle ideas? You can use them in soooo many ways for art projects too. Check out these pool noodle painting ideas.
More Name Activities in the Store
Looking for additional name activities for kids? My Name Activities Bundle is packed with hands-on, engaging name activities for your kids.