Name Activity Ideas for Your Preschoolers
Here are a bunch of name activity ideas that you can use with your kids. Kids love themselves and they love their name. That's why using name activities is a super way to help kids learn about early literacy concepts in a meaningful way.
These name activities will help kids learn to recognize and spell their names. They also provide a great way to help kids learn about letters, sounds, and even rhymes in meaningful ways.
Let's face it….young kids LOVE themselves. That's why name activities in preschool are always a hit. Here is a big list of name activity ideas for you.
Bottle Cap Name Puzzles
Get out the Sharpie and add letters to bottle caps. Kids can spell their names with the bottle cap letters. Store each individual name puzzles in a small container or bag.
Letter Rocks
Incorporate a name activity in a pond or frog-themed sensory table. Use these letter rocks, along with water beads and plastic frogs….so much fun.
Pool Noodle Names
Cut up some pool noodles to make pool noodle name activities.
Names on Word Wall
If you have a word wall in your classroom, why not add name cards to the word wall. Find a tutorial and template HERE.
Sorting Magnetic Letters with Name Cards
Kids can learn to recognize the letters in their names by sorting magnetic letters. Use the same name card template as above to make your own name cards.
Name Matching Game
Make a name matching game. Kids can match up their friends' pictures and names. They can also sort names by beginning letter, number of letters, etc.
Picture Books
Insert kids' pictures with names into a small photo album to create a simple picture book.
Name Activity Books
Kids can practice recognizing and writing their names in many different ways with these custom name-writing activity books.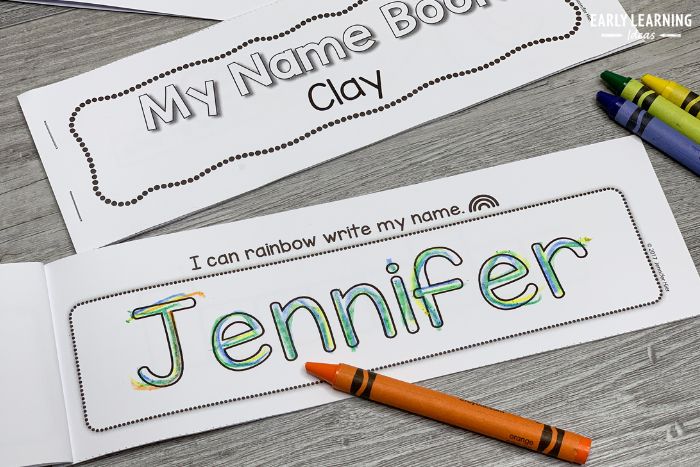 Picture Name Puzzles
Make a name picture puzzle. Here is one by Tot Schooling.
ABC Lift-the-Flap Name Book
An ABC Lift-the-Flap Book will help kids focus on the beginning sound/letter in names.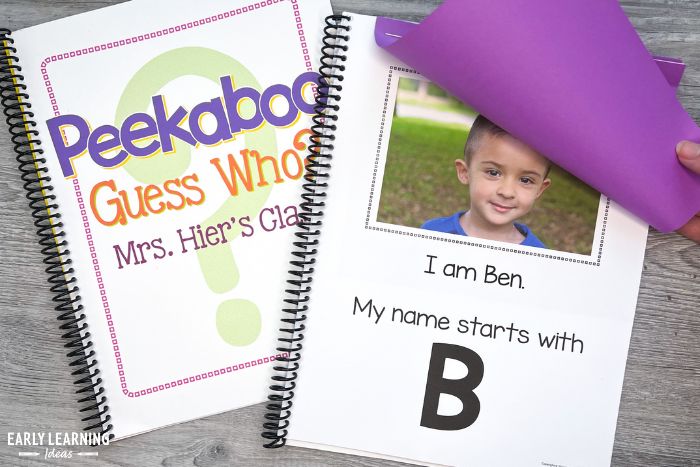 Name Parking Lot
Frugal Fun for Boys added letters to matchbox cars and created a cardboard name parking lot.
Name Activity Mats
https://earlylearningideas.com/name-practice-activity-mats/Kids can use playdough, dry erase markers, and letter squares to practice their names with these name practice activity mats.
Name Cards in the Writing Center
Kids often enjoy writing when they can write about something that is interesting to them. What…or rather, who is more interesting than their friends? Add some blank books and name cards to your writing center.
Name Tracing
Here is printable name worksheet by Powerful Mother that you can customize. Add some excitement by providing different types of writing instruments.
Name Puzzles
Kids enjoy putting together name puzzles. Custom name puzzles are a perfect activity to work on letter recognition. These bright, colorful name puzzles are such a hit that I have added many versions to my store.
My favorite are these crayon name puzzles that will be a hit with your kids.
Or, your animal lovers will love these wiener dog name puzzles.
These school bus name puzzles are perfect for the beginning of the school year during a transportation theme unit.
This train name puzzle is another activity that is perfect for a transportation theme. You can also use it to support a book study of Freight Train or The Little Engine That Could.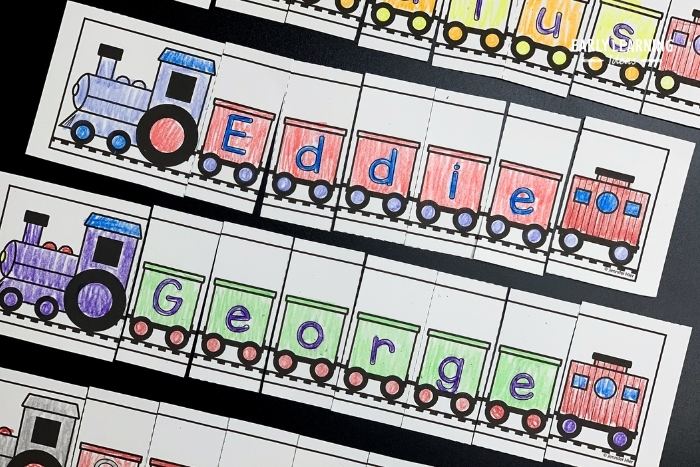 Willoughby Wallaby Woo
This is a classic song by Raffi. Not only is it a fun way to learn names, but it is a GREAT way to introduce the concept of rhyming to kids.
Name Rhymes
Similar to the Willoughby Wallaby rhyme above, you can create a name rhyme with different sounds and animals.
The Name Song
This song helps children hear the sounds and syllables in each individual name.
Hickety Pickety Bumblebee
You might find several variations of this song/rhyme. It will help kids learn everyone's name and will help kids learn to hear the sounds and syllables in each name.
The Name Game
This is another name song that will help with rhyming. My kiddo loved singing this song on road trips….for every single person we knew.
I hope that you enjoy trying some of these ideas with your kids. Do you have some great name activity ideas that you would like to share? I would love to hear about them in the comments below.
Purchase Name Activities from the Store
These name activities are available in the store. Click to purchase and download today.