21 Exciting Paper Chain Activities that Your Kids Will Love
Let's talk about a timeless classic that always brings joy to our homes and classrooms. I'm talking about paper chain activities!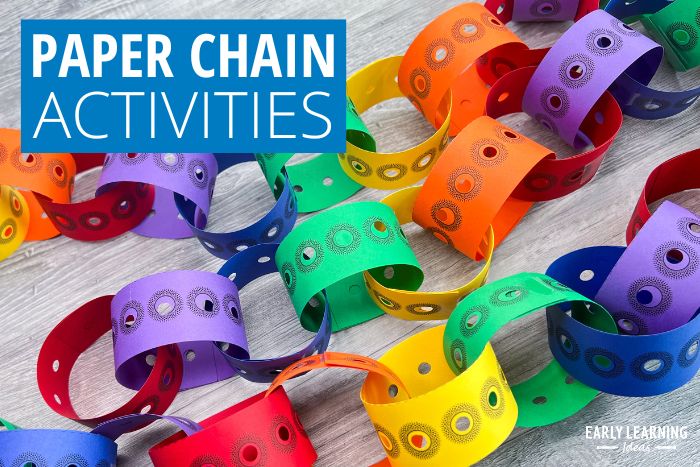 Think about the magic that simple strips of paper can hold in capturing the creativity and imagination of little learners.
Paper chains are an awesome tool to use with kids. Whether you're looking for a quick and engaging craft to fill those rainy afternoons or are seeking a versatile tool for teaching colors, patterns, and teamwork, paper chain activities are your golden ticket.
Let's dive into a treasure trove of ideas for using paper chain activities with your kids.
The Basics of Paper Chains
If you are creatively challenged, don't worry. This is about as easy as it gets. Let's start with the basics of paper chains.
What is a Paper Chain?
A paper chain is a simple craft created by linking cut paper strips to form a chain. The activity can be adapted for various themes and educational purposes.
What Supplies Do I Need to Make a Paper Chain?
Paper chain crafts are great because you don't need much to make them. To make a chain you'll need colored paper, scissors, and something to adhere the paper links together (glue, tape, or stapler). That's it!
This is a great way to use up some of your scrap paper!
What Size Should My Paper Chain Strips Be?
Below, I will share some fancy printable strips that make your strip cutting a breeze. But, if you are making a chain with a simple construction paper link, I recommend making strips about 1.5 inches wide.
So, if you use a 9″ x 12″ piece of construction paper, cut your strips so they are 1.5″ x 9″ If you use an 8.5″ x 11″ piece of cardstock, cut your strips so they are 1.5″ x 8.5″
How to Make a Paper Chain
After you cut your strips, crafting a paper chain is a snap! Here's what you need to do:
Create a loop by gluing, stapling, or taping the ends of a strip together.
Stick the next strip through the first loop so that the second loop is connected to the first.
Continue connecting and making loops one by one to build your paper chain.
Your kids may need a little modeling before they understand, but once they get it they will be delighted.
Traditional Paper Chain Ideas
Okay, now that you get the idea, let's take a look at what you can do with your paper chains.
Holiday or Seasonal Chain for Classroom
I love using paper chains as seasonal garlands of decoration. Use green and red paper to make a simple Christmas paper chain, switch it up with black and orange to make Halloween paper chain decor, or pastel colors for an Easter garland.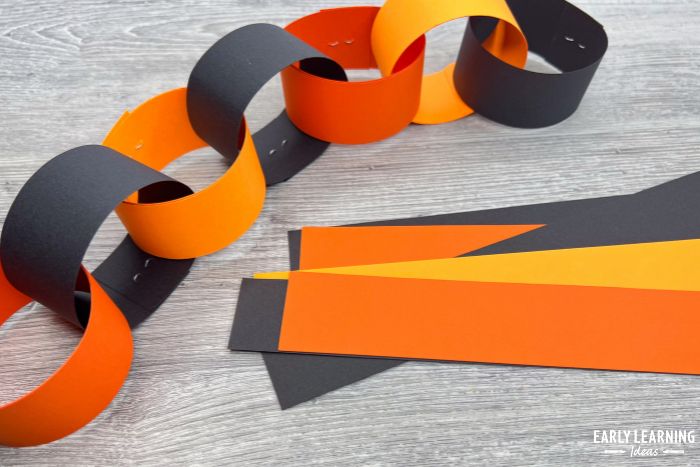 Your kids will feel pride knowing that they made the festive decorations.
Creative Paper Chains
Do you wanna make some fancier paper chains? That's easy, too. Here are a few ideas to help you take your craft to the next level.
Use Scrapbook Paper
Provide your kids with strips made from scrapbook paper that can instantly add pizzazz to your paper chain craft.
Here is an example of a cute birthday chain. We used a double-sided birthday-themed scrapbook paper along with some brightly colored cardstock.
Printable Paper Chain Strips
My small dot sticker strips are the perfect size to make paper chains. I made strips for all seasons of the year, so it's easy to find a printable for every occasion.
All you have to do is print the pages. When you cut the strips out on the dotted lines, they are perfectly sized for chains.
You can use them as is or use the strips for fun fine motor activity before creating links. Give them a hole puncher, and your kids can add holes to the strips.. They can also add dot stickers to the strips, apply color with a stamp, or apply paint with a Q-tip).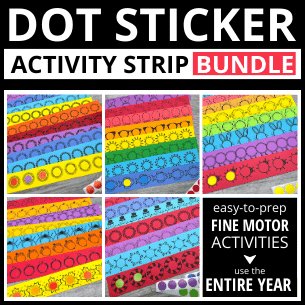 JUST Purchase the pRINTABLE STRIPS
No Time to Read The Whole Article?
Here are the quick links to purchase the printable dot sticker activity strip bundle today.
Educational Paper Chains
Paper chains are not just colorful creations; Here are some clever ways to turn that crafting project fun hands-on learning experience!
Rainbow Paper Chain
Learn the colors of the rainbow when you use them to make a beautiful rainbow paper chain.
Color Recognition Paper Chains
Are you working on colors or sorting with your kids? Supply a bunch of paper strips in a variety of colors and kids can sort them as they make individual colored chains.
Counting and Math Chains
Use the links to make numbers visually tangible and fun! Use with number cards to create a visual representation of a number.
You can use chains to represent small numbers, but kids will get really excited to count large numbers with long paper chains. Y
Comparing numbers
Use with multiple number cards as pictured above, and you have an easy way to compare numbers.
Ask your kids to cast a vote for something by adding a link to a chain. For example, kids can vote whether they prefer red or blue by creating a link on the red or blue paper chain. This is an exciting way to count and compare their election results.
Christmas Countdown Chain
A countdown chain is a delightful way for kids to visually track the days leading up to a holiday or special day. It gives kids daily opportunities to count, and you can even introduce the concept of "one less."
Making a DIY advent calendar or Christmas countdown chain with strips of festive-colored paper is a great Christmas fine motor activity. If you want, write the countdown numbers on each loop as you construct a chain.
As each day passes, snip off one loop, building excitement until Christmas vacation or Christmas day arrives!
In addition to a Christmas countdown chain, you can make countdown chains for birthdays, the end of the school year, or any special occasion.
Pattern-making Paper Chains
I love hands-on learning activities! Creating paper chain patterns is a great way to help kids understand the concept of patterning.
They can make simple ABAB patterns or increase the difficulty as they make beautifully patterned garlands that can serve double duty as classroom decor.
Letter and Sound Paper Chains
The printable paper chains work well for letter and sound activities. Use these ladybug strips to make a ladybug paper chain, and encourage kids to make the "l sound" as they work on the project.
Heartfelt Paper Chain Activities
By now, I'm sure you know that paper chains can be used for decor, as a fine motor activity, and for a variety of learning activities. But did you know you can use them for heartwarming projects to build community in your classroom?
Kindness Paper Chain
A kindness paper chain visually represents positive deeds and thoughtful actions. Each time you catch a child doing something thoughtful or kind, write it on a strip of paper and create a link with the strip.
Each link in the chain represents an act of kindness, whether it's helping a friend, sharing, or offering a comforting word. As the chain grows, so does the collective impact of these gestures, creating a tangible reminder of the kindness that permeates the classroom or community. It's a beautiful way to foster empathy, gratitude, and a culture of compassion among children, showing them the power of small acts to create a chain reaction of positivity.
Gratitude or Thankful Chain
Are you looking for a fun Thanksgiving activity? How about doing a lesson on gratitude? Write the things that kids are thankful for on individual paper strips. They can also draw on or decorate their strips. Then, use the strips to make a Thanksgiving paper chain.
Well Wishes or Prayer Chain
When my family lived in North Texas, our church was very involved in a prison ministry. Several times a year, a team would go into a nearby prison to conduct a weekend worship workshop with inmates.
One of the ways the church members were asked to help was through prayer. Everyone in the church was asked to write their names on a strip of paper, and all the strips were linked together to make a HUGE paper chain.
The paper prayer chain was wrapped around the participants during the weekend workshop. The huge chain helped the men visualize how many people were praying for them, creating a powerful experience for each of them.
Now, I know that you can't make a prayer chain in a public school, but I bet you can make a chain of good vibes, positive thoughts, or well wishes. This can be a powerful exercise for a child who is ill or moving away.
Paper Chain Challenge
Want a fun team-building activity? Use paper chains. How about a reading challenge? Send paper strips home with kids and ask parents to write the title of each book that they read with their kids at home. When they bring the strips back to school, the kids can assemble them into chains. You can have contests between your classrooms to see which class read the most books.
Paper Chain Crafts
If you want to get really fancy, you can make paper chain crafts with your kids. Here are some fun craft ideas.
Holiday Decor
You can use paper chains to create decorative garlands for any holiday or occasion. Here is a spider paper chain that we made for Halloween.
Rainbow Paper Chain
Here's another way to make a rainbow paper chain. Make ROY G. BIV colored chains and connect them to a large paper cloud.
Heart Paper Chain
Fold each paper strip in half and connect the ends together differently to make heart paper links.
Snake or Caterpillar Paper Chain
Add some googly eyes and a tongue to the end of the chain to create a snake. Nix the tongue to create a cute caterpillar.
Snowman Paper Chain
Add a black hat to the end of a white chain. Make a face and buttons with a marker, and you have an easy snowman.
Octopus Paper Chain
Need an adorable ocean-themed craft? Add eight separate chains to an oval body to make a cute octopus craft.
Purchase The Paper Strip Printables Today
Are you ready to help your kids make fantastic paper chains? You can purchase the paper strip pintables in the store. Click on the picture below to purchase the fine motor strips today.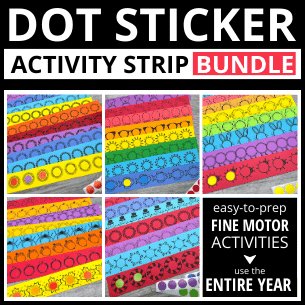 Purchase on TPT
Do you prefer to shop at Teachers Pay Teachers? You can also purchase the fine motor activity strips in my TPT Store.
More Craft Activity Ideas for Your Kids