Easy & Memorable Preschool Christmas Gifts For Parents [Free Printable]
Are you looking for an inexpensive and super easy preschool Christmas gifts for parents? I have just the thing for you! Use this free printable holiday ornament and a ribbon to make a memorable and meaningful Christmas gift for preschool parents.
Do you know what's the BEST part about this DIY Christmas gift? This is a keepsake that parents will cherish.
I added several links at the bottom of this post to help you find materials faster. Just an FYI….the links are affiliate links. Here's how it works….I may earn a small portion of your purchase, but you will not be charged an additional fee when you purchase from the link.
Why Make an Ornament for Parents?
I love unpacking all of our brightly colored Christmas ornaments every year. I open each tissue-covered ornament and am filled with so many memories. There is a handmade feathery angel made by my Aunt Lucille (it hung on my childhood tree), ornaments purchased on family trips, and ornaments that were gifts from students and friends.
I have LOTS of ornaments.
But none are more precious than the simple homemade keepsake ornaments that my kiddo made for me.
I am so grateful to his past teachers and daycare providers for helping him make holiday ornaments and decorations that our family can enjoy year after year.
A Meaningful Christmas Gift for Preschool Parents
If you are looking for a simple parent gift to make with your class, I have the perfect keepsake Christmas ornament idea for you. The craft is simple, inexpensive, and can be adapted for kids of all ages and abilities.
The best part is that parents will really appreciate this one.
Why I Designed This Ribbon Christmas Ornament Gift
This gift from students to parents is useful in providing great memories for years to come.
It's a simple length of ribbon.
All the handprint and photo ornaments that my son created are fantastic. But my favorite gift in the box of ornaments each year consists of a simple ribbon attached to a poem.
Alex's teacher used the ribbon to measure Alex's height when he was in kindergarten. Every year, as we decorate the tree together, we carefully unwind the red ribbon and stretch it out to see how "big" he once was and compare it to how big he is now…..
and my heart grows.
I created a printable keepsake ribbon ornament so that you can help kids make their own cherished Christmas gifts for their parents.
Supplies Needed for Your Preschool Christmas Gifts for Parents
You can make ornaments with all of the kids in your classroom on the cheap. You just need a few supplies:
colorful paper (card stock works best)
pipe cleaners (1/4 pipe cleaner or chenille stem needed per ornament)
ribbon or yarn for the top tie
ribbon cut to the length of each child
scissors
glitter glue, rhinestones, sequins (optional)
How To Assemble the Christmas Ornament for Parents
I have updated the file to include the next few years. First, print the ornaments on card stock and cut them out on the dotted lines.
Next, cut a piece of ribbon the same length as each child. You can get all fancy with the ribbon, but an inexpensive curling ribbon will work just fine.
Now, you need to help your kids make a hanger. To do this, I cut a smaller piece of ribbon, tied it at the ends, and looped it through a hole in the top of the paper ornament to make a hanger.
To attach the kid-length ribbon to the ornament, I used a 1/4 piece of pipe cleaner. I secured the pipe cleaner in place with the hanger ribbon.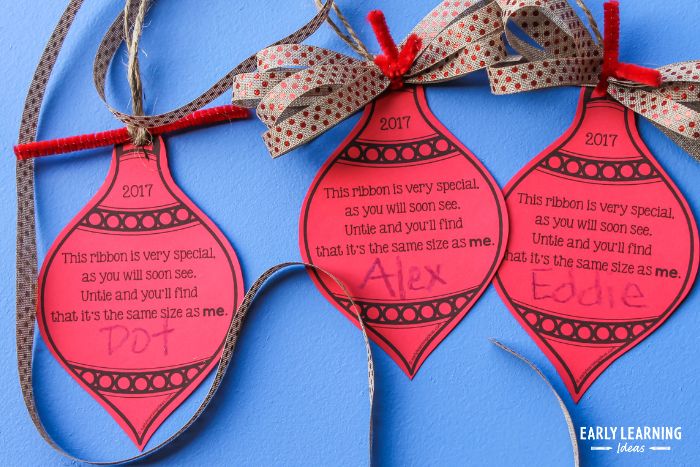 Finally, I looped the measured ribbons and secured them in place with the pipe cleaner.
See….this ornament is easy-peasy and quick.
Finally, kids can sign the ornaments and they are all ready to send home for their gift to their parents.
Additional Ideas For Your Memorable Christmas gift
You can make these preschool Christmas gifts for parents as fancy as you want. Kids can color them with crayons or markers, add glitter, decorate them with glitter glue, use stickers, or add paint with q-tips.
Older kids with better fine motor skills might enjoy adding sequins or gems. Make them unique and experiment with supplies.
Who Can You Make Ornaments for?
In addition to giving these ornaments to parents as a Christmas gift you can consider the following ideas:
gift for grandparents
godparents
aunts and uncles
Get The Free Ornament Printable
Are you ready to make these memorable Christmas gifts for preschool parents? I know they will be cherished!
Click on the link below, add your name and email address to the form below, and I will send them directly to your inbox.
I hope that you have fun making these preschool Christmas gifts for parents. I'm sure that all of your parents will be grateful each year when they unwrap their special ribbons.
Additional Christmas Activities for Your Kids
I know that this season is a busy one. Here are some hands-on learning activities that will help you out. Click on the images below to check out the resources.
Purchase Christmas Activities on TPT
Do you prefer to shop at Teachers Pay Teachers? You can also purchase the Christmas themed activities in my TPT Store.
---
Find Ornament Supplies
Here are some Amazon links for some items used in the activities mentioned in this article. A small commission will be paid when you purchase something from a link, but there will be no additional cost to you. That small commission is used to support this website.