How to Use These Pond Crafts for Preschoolers to Build Fine Motor Skills
Are you struggling to find ways to help your preschooler improve their fine motor skills? It can be frustrating when you know your child needs to work on their motor skills, but you can't seem to find fine motor activities to motivate them to practice. I've got a solution for you. Let me show you how to use four pond crafts – a frog, turtle, fish, and duck – to make building fine motor skills fun and engaging for your little ones.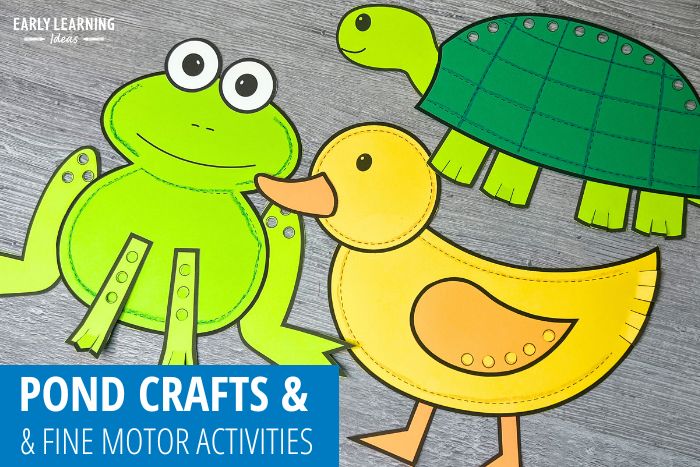 These pond crafts for preschoolers and beyond are not only adorable but also offer many benefits for your child's development. Let's dive in and discover how to use these pond animal fine motor crafts to help your kids improve their motor skills!
Your child will love creating their own frog, turtle, and duck and learning more about the creatures that live in the pond. And the best part? These crafts are specifically designed to help your child develop their fine motor skills. You can use the adorable spring craft activities to supplement a pond life themed unit or lesson plans. Working on the alphabet or beginning letter sounds? Use the crafts for F is for frog, D is for duck, or T is for turtle alphabet activities.
Unlike some crafts that only focus on the end result, these pond crafts provide a fun and engaging way to work on scissor skills, hand-eye coordination, and hand strength. So, whether you're looking to add some fun activities to your pond life unit or simply want to help your child improve their fine motor skills, these printable fine motor crafts are the perfect solution.
These pond crafts for preschoolers are perfect for building fine motor skills and are the perfect addition to your pond life study.
Cutting Practice: How to Use the Frog, Turtle, and Duck Crafts to Develop Scissor Skills
So, you wanna help your little ones improve their scissor skills? These frog, turtle, and duck crafts are the perfect way to do just that!
Designed for Cutting Practice
The lines on these cute craft parts are nice and bold, which makes them easier to cut out, especially for beginners. Plus, take a look…. some of the parts have small lines that are just right for snipping practice – a great starting point for little ones to learn scissor skills.
Snipping Practice Opportunities for Beginning Cutters
This turtle craft has snipping lines on each leg. Snipping is an important part of scissor skills development that helps early cutters get the hang of making small, simple cuts, which is super important when it comes to building their scissor skills. Once they've nailed that, they can move on to cutting straight lines and then tackle longer and more complex lines, like curves and shapes.
How to Adapt the Pond Animals Craft Activity for Kids with Different Skills
Your kiddos probably have different cutting abilities, and that's no problem!
Some kids will have the ability to cut everything out on their own….great. For other kids, you may have to cut out the bigger or more complex pieces for them, and they can cut out a few of the smaller or simpler pieces of the pond animals.
If your kids aren't quite ready to cut out shapes yet, they can work on snipping on the short black lines. This will give them valuable practice with the open and close motion of using a scissors.
The frog, turtle, and duck crafts are a fun and exciting way to help kids stay engaged and motivated while practicing their scissor skills. Whatever their skill level, your kids will have a blast creating their very own pond creatures while improving their fine motor skills at the same time!
Using the Pond Crafts For Tracing Practice
Tracing is an awesome way to help kids develop their fine motor skills, and these pond-themed crafts are great pre-writing activities for your kids. Here are some ways tracing helps with motor skills:
Hand-Eye Coordination: Tracing the lines of the frog, turtle, and duck helps kids develop hand-eye coordination as they try to keep their hands steady while following the lines.
Pencil Control: Tracing the lines of the pond creatures helps kids develop pencil control as they practice holding a crayon and making small, precise movements. There are a variety of lines for kids to trace in the pond animal crafts, which will help them as they progress to letter formation.
Grip Strength: Tracing requires a steady grip on the crayon, which helps build grip strength in the fingers and hand. You can use this as an opportunity to help kids work on their pencil grip.
Focus and Concentration: Tracing can help kids improve their focus and concentration as they try to stay within the lines.
I have to say that these crafts are much better than tracing worksheets to provide pre-writing practice. To use these cute pond crafts for tracing practice, simply print out the templates and have your child trace the dotted lines with a crayon. You can also make it more fun by using different colors for each line. You can also encourage preschool kids to get creative and add more designs to their craft project.
Hole Punch Practice: How to Use the Pond Life Crafts To Build Hand Strength
Get out your hole punches!
The pond crafts for preschoolers not only offer opportunities for cutting and tracing practice, but they also have small circles on some of the parts so kids can use hole punches to punch holes. This activity is great for building hand strength and hand-eye coordination, two important skills that will serve children well as they continue to develop their fine motor abilities.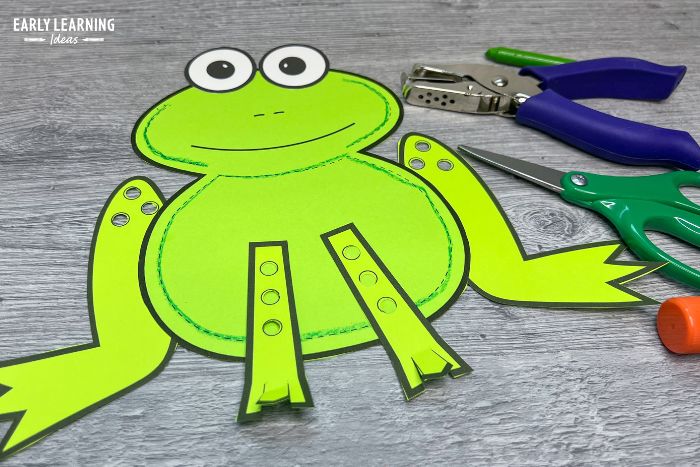 As they punch holes in the craft pieces, they are using the muscles in their hands and fingers, strengthening them for future tasks like writing, drawing, and even buttoning clothes. Plus, kids usually find hole punch activities to be really satisfying and fun!
Want to add a little math to this part of the activity? Ask kids to count the number of holes as they make them.
Personalizing Your Pond Crafts: Simple Ways to Add a Unique Touch to the Printable Activities
If you have read everything above, I'm sure you can understand the benefits of craft activities. So, while these pond crafts for preschoolers are super fine motor activities, why not take it up a notch and add some personal flair and let kids get a bit more creative? With a few extra materials and a bit of creativity, you can customize these crafts to make them unique and exciting for your little ones.
Here are some ideas on how to add your personal touch to the fun and easy pond crafts.
Use different colors: Encourage children to use their favorite colors or try out new ones to make the pond crafts unique and personal. Instead of a green frog, how about a pink or orange one?
Add texture: Consider using different materials such as tissue paper, cotton balls, or pipe cleaners to add texture and depth to the pond crafts.
Mix and match: Provide options for children to mix and match the parts of the different pond creatures. For example, they could put the frog's head on the turtle's body or use the duck's wings on the frog's body.
Use stickers: Children can use stickers to decorate the pond crafts and add a fun and playful touch to them.
Add glitter: Children can use glitter to add some shine to the pond crafts. Does it FREAK you out to use glitter with preschool kids? Glitter glue or small pieces of self-adhesive glitter foam sheets are great less-messy options.
Create a background: Children can use art materials like paint, crayons or markers to create a background for the pond crafts, such as a pond, river, or swamp setting. Let them get creative to make habitats complete with plants, lily pads, cattails, etc. for these animals.
Get Printables Pond Crafts for Preschoolers and Beyond Today
You've learned some awesome ways to help your little ones develop their fine motor skills with these fun life pond crafts. Remember, crafting is a fantastic way to encourage creativity and imagination in children. So, why not grab the printable craft set from my store and keep your kids engaged and entertained while they work on their motor skills? They'll have a blast cutting, tracing, hole-punching, and personalizing their very own pond creatures. Plus, you can feel great knowing that you're helping them build essential skills that will benefit them for years to come. Happy crafting!
Purchase on TPT
Do you prefer to shop at Teachers Pay Teachers? You can also purchase the Pond Animals Crafts for Preschoolers and Beyone in my TPT Store.