Boost Your Child's Fine Motor Skills with These Printable Fine Motor Crafts
I'm so excited to share my new printable fine motor craft projects! While many craft activities can be used to build fine motor skills, these printables are specifically designed to help your kids build their fine motor skills while they create something cool.
I'm sure you know many of the benefits of crafts for kids. I call these hole punch crafts, but they have many more benefits than just building hand strength with a hole puncher.
Let's look specifically at some of the design elements of these printable fine motor crafts, and then we can take a look at all the different available themes.
Build Scissor Skills with The Printable Fine Motor Crafts
Do your kids need some extra practice to improve their scissor skills? These projects will provide an opportunity to work on holding scissors correctly as well as a motivating way to get them cutting.
Opportunities to Cut Different Types of Lines
When I created these crafty fine motor activities, I made the cutting lines thick and dark so that it's easy for kids to cut along the line.
Each object has several different shapes that need to be cut out. Some are made of simple straight lines and others contain more complex lines for your kids to cut. The activities are easy to differentiate. If they aren't ready to cut out all the shapes, you or a volunteer can prep some of the pieces for them.
Opportunities for Snipping Practice
In addition to the thick dark lines that outline each piece, you will also find small, short lines on some of the pieces of the craft. These are snipping lines. When you look at scissor skill development, making short little snips in paper is the fist step for kids to master. So, if your kids aren't ready to cut out all the pieces, they can work on sharpening their scissor skills by doing a little bit of snipping.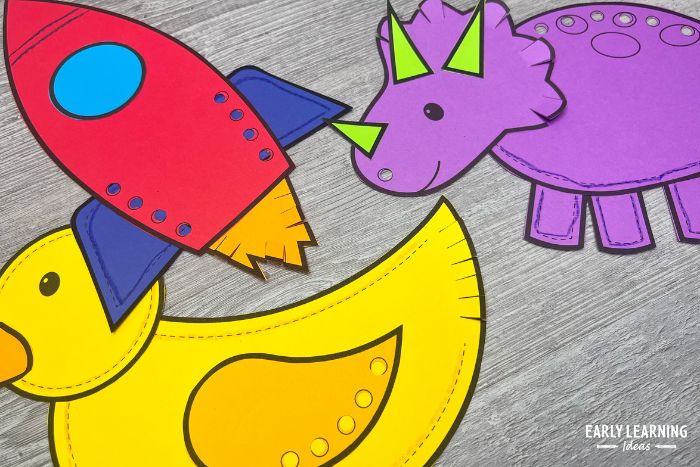 Build Hand Strength with The Printable Fine Motor Activities
In addition to getting cutting practice, your kids will also get to punch holes when they assemble these projects.
Did you know that using a hole punch is a great activity for developing hand strength? My hole punch activities are very popular, and teachers are ALWAYS telling me how much their kids LOVE using hole punches. That's why I know that hole punch activities are such fun and motivating fine motor activities.
That's also why I created these hole punch crafts for kids.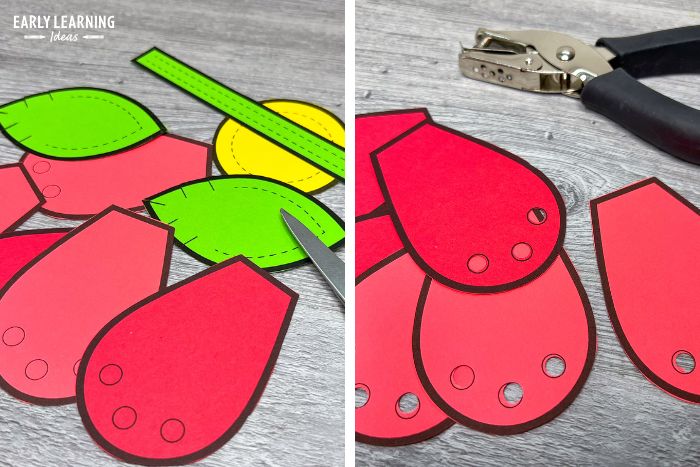 That's also why I made sure to include some little circles in all the printable fine motor activities so that kids have an opportunity to use a hole punch. AND…..while they're at it, they will build some hand strength too!
Don't ya love that bonus?
Take a look at all the imageon this page. Can you see the holes in each of the cute crafts?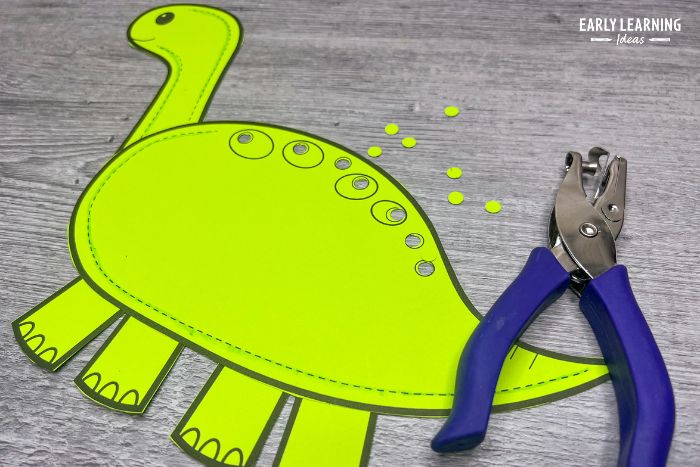 Tracing Lines and Pre-writing Practice
When you look at the printable crafts, I'm sure you'll notice that some of the shapes have dotted lines in them. These are tracing lines.
Give your kids a crayon so that they can trace the lines. This will give them practice with pencil grip and will help them develop finger control and hand strength.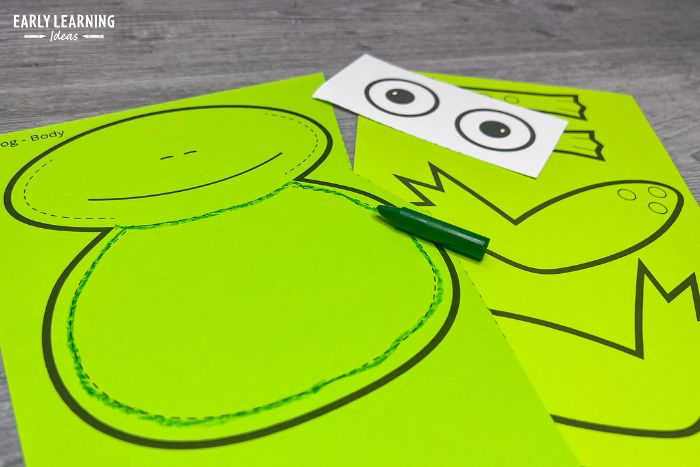 The craft activities include a variety of types of lines. Tracing them is a great pre-writing activity that will help them as they begin working on letter formation.
Also…don't forget that cutting and pasting activities benefit kiddos.
Now that you understand how I designed the printable fine motor crafts let's take a look at all the different themes available. Keep checking back. I'm having fun designing these babies, and I plan to keep adding more sets to the store.
Printable Space Themed Fine Motor Crafts for Kids
Outerspace is such a fun theme for preschool kids to study. They will have a BLAST making these space themed crafts. The space set includes a sun, a planet, a rocket, and even an astronaut.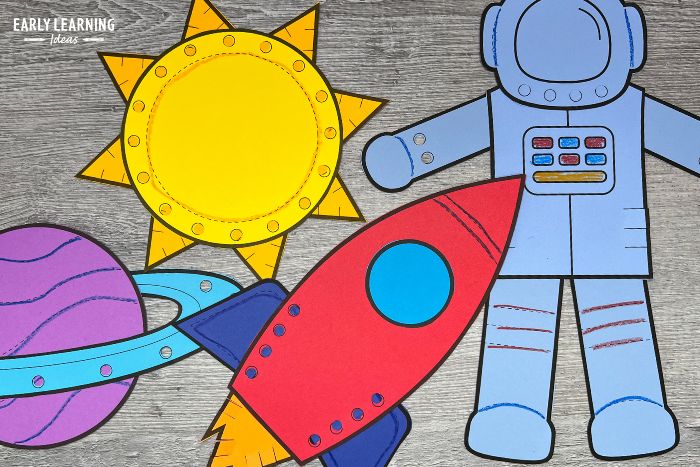 This set will also be a great addition to a space themed VBS theme and the adorable sun can double as fun summer or weather activity.
Printable Transportation Fine Motor Crafts For Kids
Do you know a kiddo who loves all kinds of vehicles? This transportation craft set will be extremely motivating for that car lover. In addition to a car, the transportation crafts set includes a simple airplane, a truck, a motorcycle, and even a boat.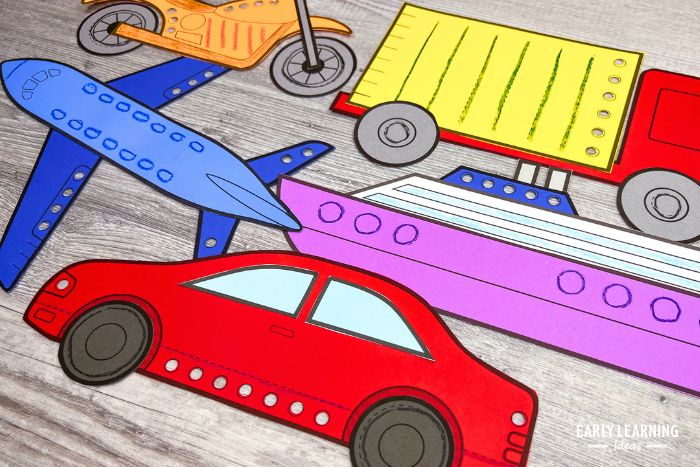 Community Helpers Crafts
If you like the transportation crafts, you will LOVE the community helpers crafts. The set includes community helpers vehicles, including a police car, firetruck, ambulance, and mail truck crafts.
Easy paper apple crafts
Fall is all about apples and you can use these simple apple crafts to supplement your apple theme unit and lesson plans. Your kids can even cut a "crunch" out other cute paper apples.
Easy Zoo Animal Crafts
https://shop.earlylearningideas.com/products/zoo-animal-fine-motor-craft-activitiesWatch out….things might get a little wild when you make these zoo animal crafts with your kids. The set includes a printable elephant craft, a tiger craft, and a lion craft.
These would be great crafts to go along with the book Dear Zoo by Rod Campbell or Good Night, Gorilla by Peggy Rathmann.
I'm a cat person, and I think tigers are the most magnificent and beautiful cat, so the tiger craft is my favorite design. Which is your favorite?
Forest Animal Crafts
The woodland animals craft set includes an adorable raccoon, a fox, and a deer. I can't even choose a favorite here. Aren't they the cutest woodland creatures around?
Printable Dinosaur Fine Motor Crafts for Kids
The set of dinosaur craft printables is my son's favorite. Your kids can make a stegosaurus, a triceratops, and an additional dinosaur. I think the third dino looks like an apatosaurus, but my son insists I made the neck and tail much too short. I tried to tell him that the craft needed to fit on a standard piece of paper, but he wasn't having it.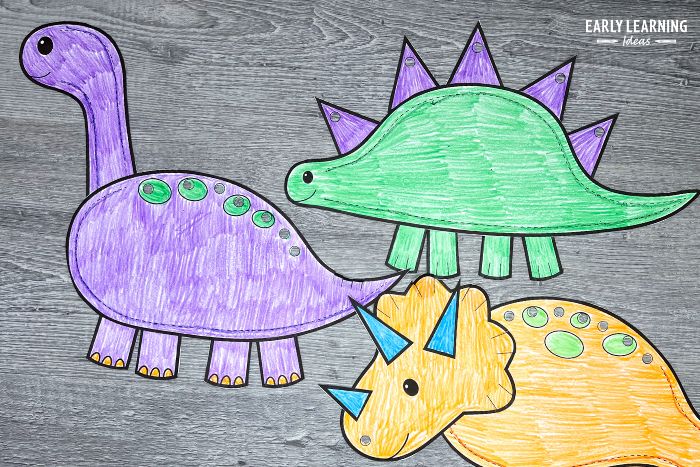 Under the Sea Crafts
You can get ready for an underwater adventure with these under the sea crafts. The set includes jellyfish, crab, shark, and sea turtle crafts. These fun sea creatures will make a great bulletin board, don't you think?
Farm Crafts for Preschoolers
If ocean creatures aren't your thing, maybe farm animals are. I love this adorable cow, pig, and sheep in the farm crafts set. Unlike the real animals, there are no smells associated with these.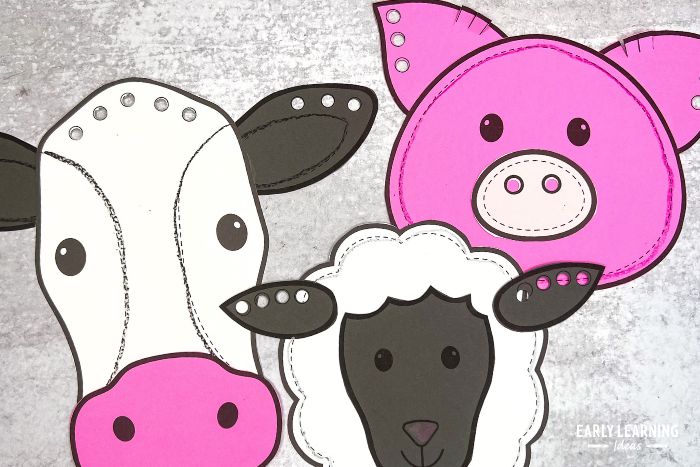 Bug & Insects Fine Motor Craft Printables
These are perfect for your bug and insect theme. I can't get enough of these cute insect activities. There is a ladybug, a butterfly, and my favorite – the bumble bee. Which is your favorite?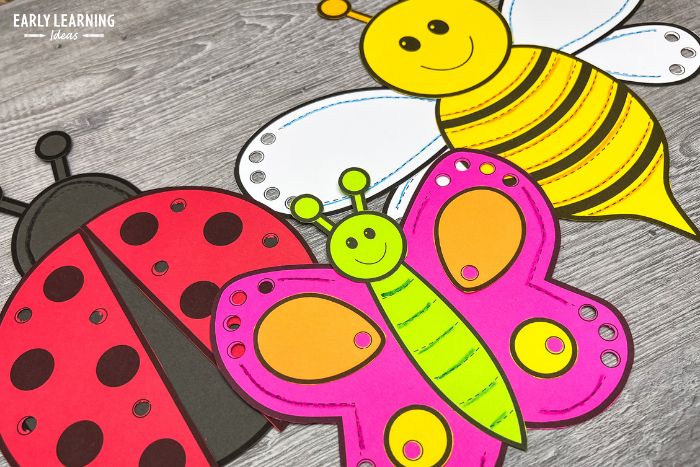 Pond Animal Fine Motor Crafts for Kids
A study of pond animals is not complete without these cute pond life crafts. You will find a turtle, a duck, and a hopping cute frog. Check out the hole-punched spots on that frog.
Ribbet!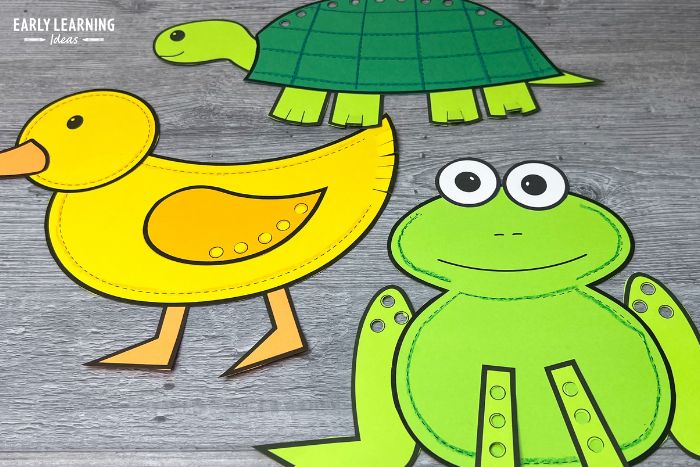 Flower Hole Punch Crafts
These gorgeous flower theme projects will make a great Mother's Day activity. You can also use the easy spring crafts to celebrate the season. You can also use them to support your flower science activities to teach kids the parts of a flower.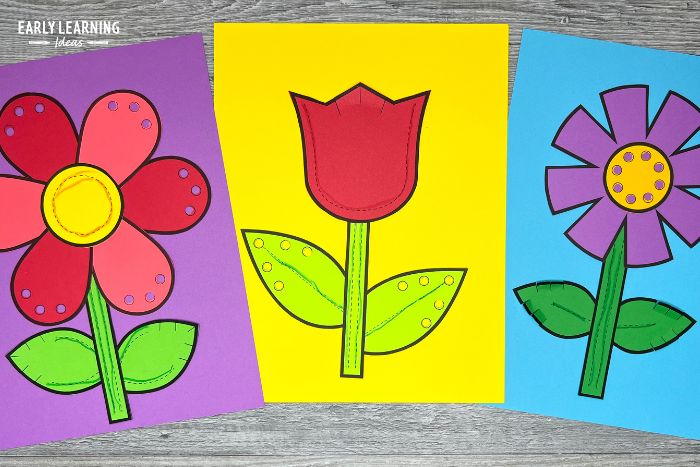 Easter Themed Fine Motor Activities and Craft Printables
Looking for some fun bunny activities? You'll get a printable bunny, chick, and Easter basket in this Easter craft set. They are perfect for a spring-themed classroom activity or Easter celebration.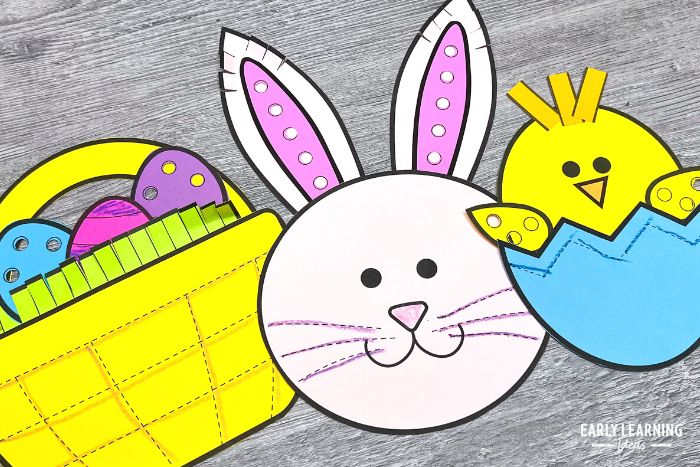 Earth Day Crafts and Fine Motor Activities
April is the time to celebrate Earth Day, and I have some easy Earth Day crafts to help you recognize the occasion. Why not make a seedling, a recycling truck, or an Earth craft with your kiddos?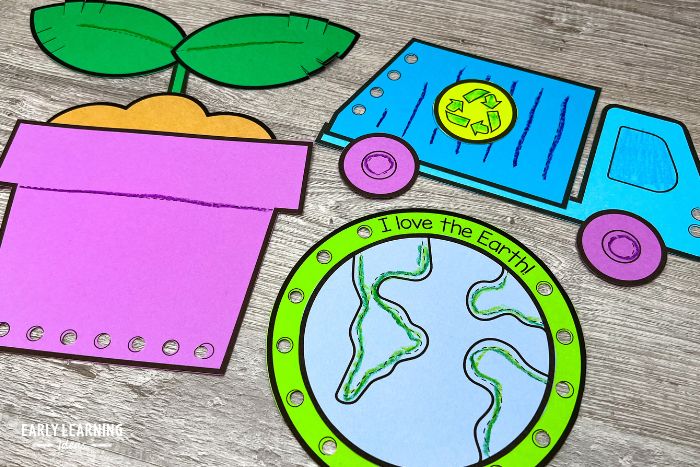 St. Patrick's Day Crafts and Fine Motor Printables
These cute St. Patricks Day activities will put a smile on every leprechaun's face. The set of printable fine motor crafts includes a leprechaun hat, a rainbow, and a shamrock. The rainbow craft can also serve double duty as a weather theme activity.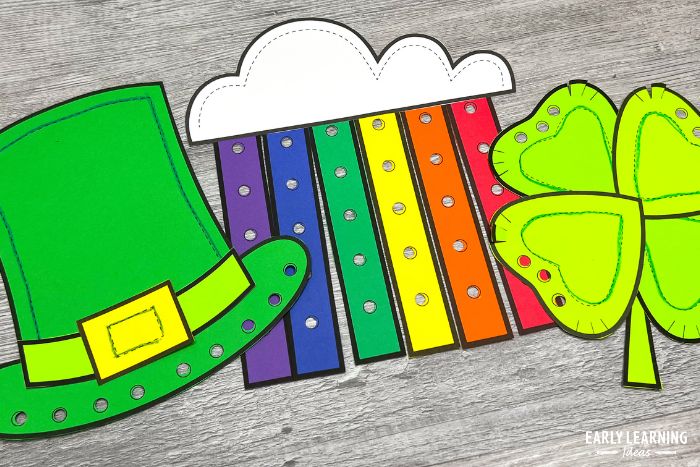 Get the Printable Fine Motor Crafts today
Well, that's all of the printable fine motor crafts that I have designed so far. Please stop back, as I will update this page as I create more sets. Are you ready to get started making these fun hole punch crafts with your kids? Stop by my store to pick up the printables today.
The best option is to get a bundle. Right now, I have all the spring themed craft activities together in a money-saving bundle, and I have an animal bundle.
You can also purchase each set individually. Here are all the sets that are available at this time.
Get the Printable Fine Motor Craft Activities at TPT
Do you prefer to shop at Tacher Pay Teachers? You can also purchase the printable fine motor craft activities in my TPT store.