How to Make my Favorite Quick Play Dough Recipe
Here is an easy and quick playdough recipe that my family has used for years. Download the printable recipe to keep in your file or give it to parents.
I ate playdough when I was a kid. I can't say that it tasted good, but there was just something about the saltiness. Sometimes I snuck a little nibble when my mom left the kitchen.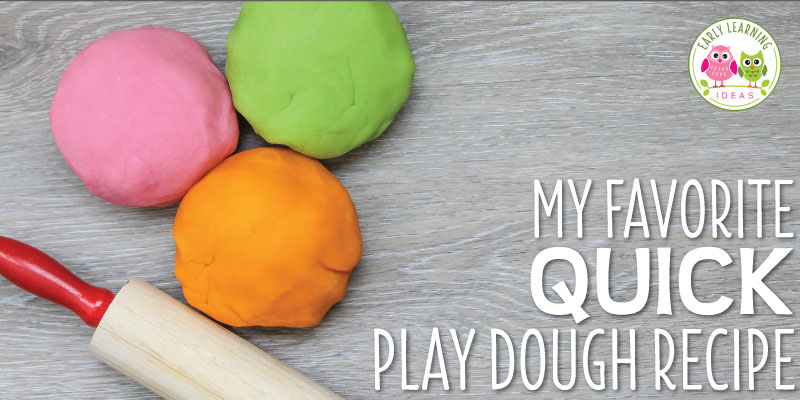 Yes…I was a WEIRD KID!
Mom made everything from scratch… and that included homemade playdough. I LOVED squishing it between my fingers when it was still warm.
I don't eat playdough anymore, but I still use that same recipe that Mom used years ago.
The recipe is really quick and easy. Yes, you need to heat the mixture up on your stovetop, but I actually find that doing this is quicker than using the recipes that require you to boil water in the microwave.
This mixture is pretty forgiving too. Sometimes I halve the recipe and approximate the measurements and it still comes out fine.
Ingredients
Here is what you need to make your own batch of DIY playdough.
3 cups flour
3/4 cup salt
5 Tbsp cream of tartar
3 cups water
3 Tbsp vegetable oil
food coloring
How to Make the Play Dough
Add the first 5 ingredients to a large pot. Stir them up and heat the pot over medium heat.
As you are mixing everything together, mix in your food coloring a few drops at a time until you get the desired color.
The mixture will look like a wet, globby mess and you will think that you messed it up. Keep stirring it over the heat and it will soon start to thicken.
Remove it from the heat when the mixture forms a ball in the center of the pot.
Place the ball on a lightly floured cutting board or cookie sheet and carefully knead the ball of play dough until it is smooth.
Helpful Hints
I always recommend adding the food coloring while the ingredients are wet because it is easier to mix it in.
Use a silicone spatula to stir the mixture. It will help you pull the thicken mixture away from the side and bottom as you stir.
When the play dough is cool, store in an airtight container. It should keep for several weeks.
If you make this frequently, you can save money by purchasing a large bag of cream of tartar. Check the affiliate links at the bottom to see what I purchased.
Play with the Play Dough
Now get out the rolling pin, cookie cutters, and other tools, and your kids will have a blast. If you get a little curious like my three-year-old self and feel the need to taste the play dough, you can see that the ingredients won't hurt you.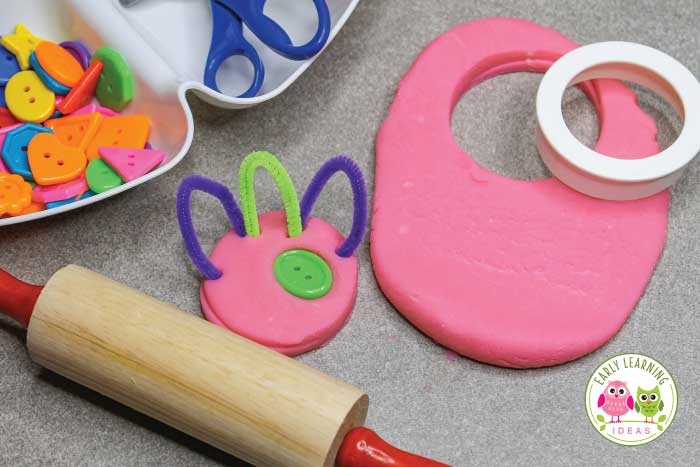 The play dough works well as part of an invitation to play or can be used with play dough mats.
Download the Recipe
I hope that you enjoy the soft product that results from this quick playdough recipe. Stay tuned and I will share lots of mix-ins and ideas that you can try as well. Do you want a printable recipe to keep in your recipe file or to give to parents? Click below to download the recipe.
Playdough Mats
Are you looking for some hands-on learning activities for your kids? Check out the following playdough mats in my store.
---
Below are some items from Amazon that can be used for the activities mentioned in this article. The links below are affiliate links. If you happen to purchase something from a link, there will be no additional cost to you, but a small portion of your purchase will be used towards the cost of maintaining this website.