Rhyming Activities: This is What you Need to Know
Repeated exposure to rhyming activities will help your kids build this important early literacy skill. Here are many activity ideas for teaching rhyme to your preschoolers and kindergarteners.
Why is Rhyming So Important?
Rhyming is one of the phonological awareness skills that form the foundation for early literacy. Phonological awareness is the ability to hear and manipulate different parts (syllables, initial sounds, rhyming parts, phonemes) of spoken words.
Kids build phonological awareness when they play with words. While playing with words, kids begin to hear patterns in spoken language. This knowledge then helps them understand how sounds and letters work as they begin to read and write.
3 Stages of Learning to Rhyme
There are three stages to mastering the ability to rhyme. Understanding these stages will help you teach kids how to rhyme.
Hearing a Rhyme – With repeated exposure to rhyming books and songs, kids begin to develop the ability to hear the rhyme in spoken language.
Identifying a Rhyme – Next, kids will start to identify two words that rhyme.
Producing a Rhyme – The final stage is when kids are able to produce their own examples of rhyming words.
The good news is that playing with words and rhyming practice is fun and exciting for children in preschool, pre-k, and kindergarten. Rhyming is an especially fun skill to practice and can usually be picked up by kids with repeated exposure. Here are some ways that you can help kids hear, identify and then produce rhymes.
Rhyming Books for Kids
Some of the best children's books feature rhyming words. Many kids will ask to read fun rhyming books over and over again. Use this to your advantage.
As you read, point out to your kids that some of the words sound the same at the end. Soon, they will be able to identify the rhyming words on a page.
Let kids say the rhyming words and challenge them to come up with additional words that rhyme with the ones in the book.
If you need some new rhyming books to add to your library. Check out my favorite rhyming books for kids.
Rhyming Songs & Fingerplays
Classic nursery rhymes, Rhyming songs, and fingerplays provide a great way to play with words. They are great for circle time, story time, and transitions.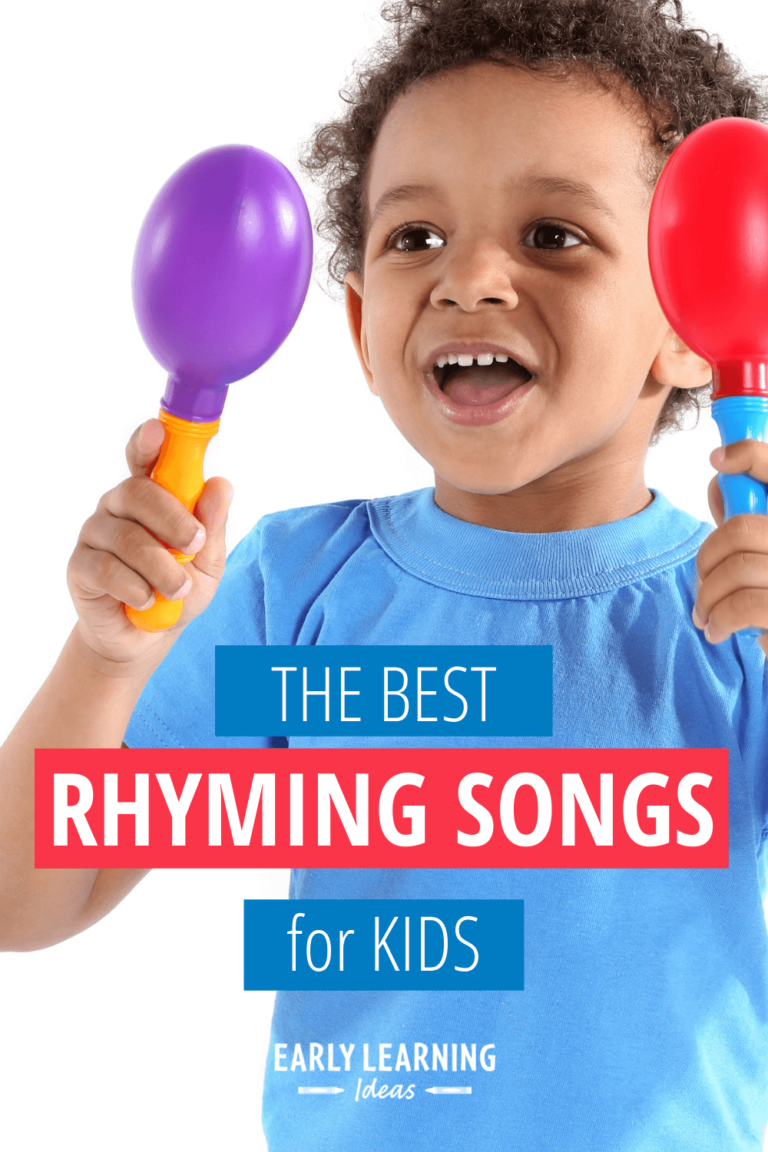 One of my favorite rhyming songs is Down by the Bay. Here are some free rhyming picture cards that you can use with the song.
Rhyming Name Activities
Young kids love themselves, and they love their names. That's why one of the best ways to introduce literacy skills to young kids is to focus the activity around their names.
You can use printable name puzzles to create a rhyming activity or use these editable rhyming books that were inspired by the Willoughby Wallaby song. They feature kids' names and photos.
Imagine the fun as you read "Zippity zoppity Zelicia a zebra sat on……" and your kids scream "Felicia!!!"
Rhyming Name Songs
In addition to rhyming name books and name puzzles, kids LOVE fun rhyming name songs. Two of my favorite rhyming name songs are Willoughby Wallaby Woo and The Name Game.
Additional Rhyming Activities
Here are some additional rhyming activities and printables by Early Learning Ideas for your kids.
Rhyming Resources in the store
Find these fun, hands-on rhyming resources in the Early Learning Ideas store.