10 Winter Sensory Table Ideas for Preschoolers
Are you having trouble thinking of new fillers for your sensory table? Here are a few winter sensory table ideas that your kids will LOVE! These sensory bin fillers will be perfect for your winter theme, snow theme, and snowman theme units and lesson plans.
Sometimes it's difficult to think of new sensory materials to use with kids. Here are a few sensory table ideas that you can use during the winter months.
A Snowy Habitat
I love the feel of a bin filled with buffalo snow…you know, the snowflakes that people use to complete their little Christmas villages. I often see bags of the stuff on deep discount after the holiday. I'm going to be honest with you. The snow can get a little messy….but it is so much fun. Kids can make a snowy habitat when you add toy polar bears or other arctic plastic animals, small plastic containers, blocks, sheets of packing foam, small bottle brush trees, and snowy floral branches to the mix. The little snowy branches can be pushed into the foam to create a wintry forest – a great fine motor activity.
---
---
Snowflake Hunt in the Sensory Table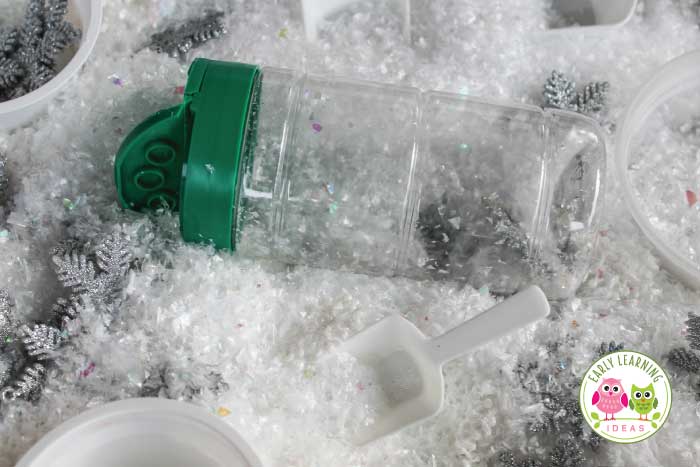 In addition to buffalo snow, I picked up a bunch of plastic snowflake ornaments. When you add ornaments, some scoops, sorting containers, and shakers to the snow your kids will have a blast.
I really liked using the little white snowflake ornaments (they are totally camouflaged in the picture above…can you spot them?). The white ornaments totally blended in with the snows and I really had to feel around in the flakes to find them. An empty cheese shaker or spice container is also a fun addition to a sensory bin. Kids can scoop the snow and ornaments into the container. When they screw on the lid and shake out the flakes of snow (this creates a very cool snow shower), any snowflake ornaments that were in the scoop will be left in the container.
Paper Fill and Eraser Counters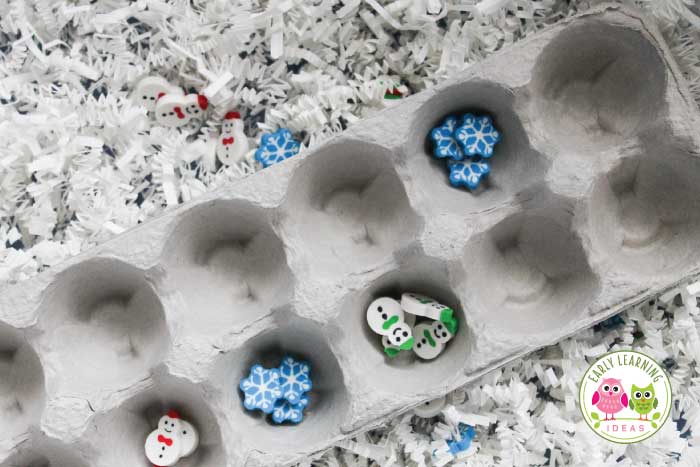 White paper basket filler makes a great addition to a winter-themed sensory table. Add snowman mini-erasers, snowflake mini-erasers, clear glass beads, or clear gems.
Kids can search through the paper fill with their fingers or create a winter fine motor activity by supplying small tongs or tweezers to help them find the treasures. They can sort and count the treasures in small containers, egg cartons, or muffin tins.
Pom Pom Snowman
While the snowman activity above isn't pictured in a sensory bin, the idea can certainly be used in one. Fill a table or bin with small white puffballs, several plastic bottles, and snowman parts. If you don't have puffballs you can use white rice, salt, baking soda, white beads, or white beans to fill the bottles. Kids can fill the bottles to make snowmen. Then, they can shake the "snow" out to start over.
Salt and Glitter
Salt with a little bit of glitter can make an interesting sensory table filler. You can add snowflake ornaments or any kind of treasures. Mix in some number circles to encourage numeral recognition and counting.
More Sensory Table Ideas
Here are a few more ideas that you can use for your sensory table this winter.
Cotton Balls
Diaper Filling – Pour several cups of warm water into a clean diaper. Tear the diaper open and pull out the wet gel/fluff to use in your sensory table.
Real Snow– If you are lucky enough (or some might say…unlucky enough) to live in the north…use the real stuff with gloves, scoops, and sand pails.
Ice – Use cubes or make some icebergs and float them in water
Foam Packing Peanuts – If the static gets out of control, give it a light spritz with a water bottle.
---
Additional Winter-Themed Activities for Kids
For additional winter-themed activities, check out the following resources in my store.