A Beaded Snowflake Craft for Kids: Math & Fine Motor Activity
This beaded snowflake ornament craft for kids is a great winter project that provides opportunities to work on fine motor skills and number sense.
I want to show you a cute winter beaded snowflake craft activity that you can make with your kids. The DIY beaded snowflake ornaments are fun to make, but the best part of this preschool craft idea is that kids can work on fine motor skills and many math concepts while they create.
How To Make Beaded Snowflakes
If you want to do this winter fine motor activity with young kids you will need to do a little bit of prep work before the project. Don't worry, it is really not difficult, and I have included a step-by-step tutorial for you.
You will need the following supplies:
pipe cleaners
colorful beads
scissors
I began by cutting pipe cleaners in half.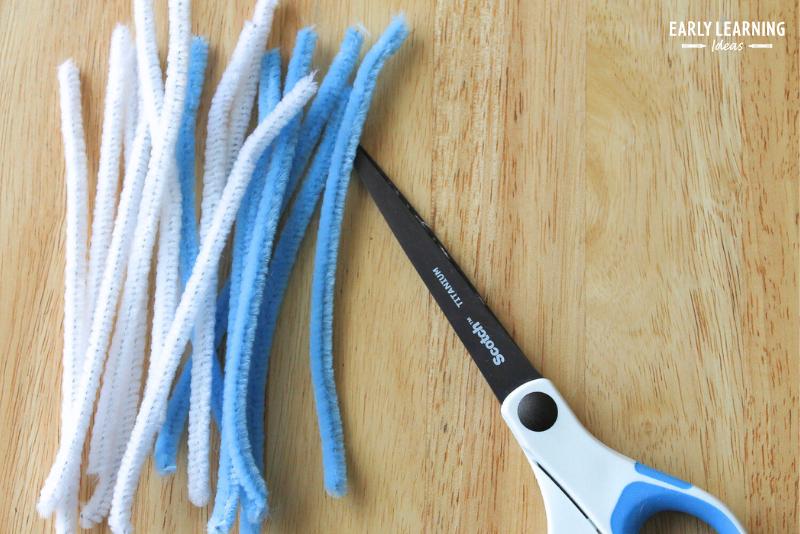 You will need 3 of the halved pipe cleaners for each snowflake.
I folded the small (halved) pipe cleaners in half.
Then, I twisted two of them together on the bend.
Finally, I twisted the third small pipe cleaner around the first two.
That's all you need to do to get them ready. Now, they are all set for kids to add the beads.
How to use This Beaded Snowflake Craft for Fine Motor Practice
If you want kids to have creative freedom, you can just let them place the pony beads on the pipe cleaner snowflakes without additional instructions. Kids will enjoy the fine motor activity as they create gorgeous snowflakes.
---
---
Use the Beaded Snowflake Craft to Practice Math Concepts
When we made our snowflakes we tried to incorporate some math learning. I get excited when I think about all the different ways I can create learning opportunities within an activity. Here are a few ideas:
Counting – Ask kids to place 5 pony beads on each pipe cleaner. I found that they kept counting them to check the quantity. They also had to figure out how many more they needed to add or take off to get the correct number of beads. When your snowflakes are complete, you can ask kids to count the total quantity of beads on their snowflakes.
Pattern by Color – Ask kids to create a pattern with the bead colors. They can create an ABAB or similar pattern on each individual pipe cleaner or kids can create a pattern by filling alternating colors on each pipe cleaner.
Pattern by Quantity – If kids placed 4 beads on one pipe cleaner and 5 beads on the next pipe cleaner, etc…they would have an ABAB pattern made with bead quantities.
Constructing and Deconstructing Numbers – Use two-color of beads. Ask kids to place 5 beads on each pipe cleaner and ask them how many different ways they can create 5 with the colors. (4 purple beads + 1 blue bead, 3 purple beads + 2 blue beads, 2 purple beads + 3 blue beads…..)
Finishing the Snowflakes
Okay, back to how to make beaded snowflakes. To finish the snowflakes we wrapped the end of the pipe cleaner around our finger to curl it and stuffed the end of the pipe cleaner into the hole of the last bead. This kind of creates a knot so that the beads won't come off.
Young kids may need help to accomplish this.
Finally, you can tie a ribbon to one of the ends to create a beautiful snowflake Christmas ornament. Use them to decorate a Christmas tree, as a winter decoration hanging in the window, or as a gift tag on a present…
I hope this article helped you think of some ways that you can incorporate learning concepts into a fun winter beaded snowflake craft for kids. Do you have additional ideas? I would love to hear them!
Additional Beaded Activities
Want to switch of the activity a little bit? Maybe you're looking for a space-themed craft activity. You can also use the same concept to make a beaded star craft.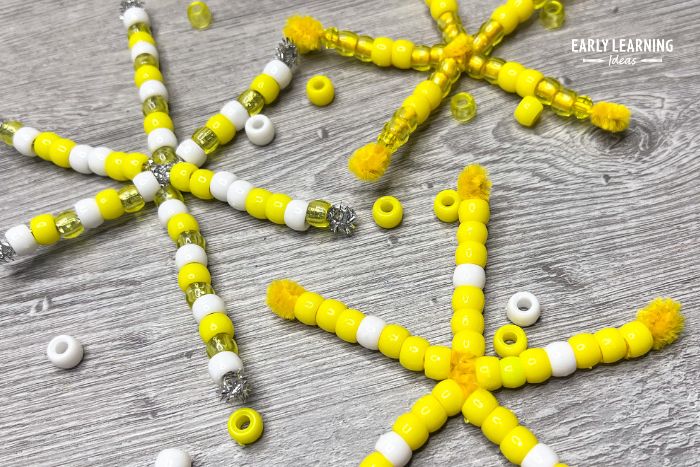 ---
Additional Winter-Themed Activities for Kids
If you are looking for additional hands-on winter and snowflake themed activities for your kids, check out the resources from my store below:
---
Below are some items from Amazon that can be used for the activities mentioned in this article. The links below are affiliate links. If you happen to purchase something from a link, there will be no additional cost to you, but a small portion of your purchase will be used towards the cost of maintaining this website.