The Best Fun & Easy Space Themed Craft Activities for Your Kids
Ready for a cosmic adventure with your young ones? You don't need to travel to the moon and back to explore the wonders of space.
With just a few simple materials and some creative ideas, you can blast off into a universe of crafting fun! I have gathered some of the coolest and most fun space-themed crafts for young kids.
Crafting with your kids is not only a fun way to spend quality time together, but crafting also provides a host of benefits for their development. One of the key benefits is that it helps to develop their fine motor skills.
When selecting crafts, look for activities that require your child to use their hands and fingers in a precise way, such as cutting, folding, and manipulating small objects. These activities can improve their hand strength, coordination, and control, which are important skills for many areas of life.
Now that you understand a few of the important benefits of crafts, it's time to grab your space helmets. Let's take a look at the best space themed craft activities out there.
Printable Space Fine Motor Crafts
Looking for a fun and easy way to encourage your child's fine motor skills while also indulging their love of space? The printable space-themed fine motor crafts from my store are the perfect solution!
These printables include an astronaut, planet, rocket, and sun, each with engaging fine motor tasks that will help your child develop important hand-eye coordination and dexterity.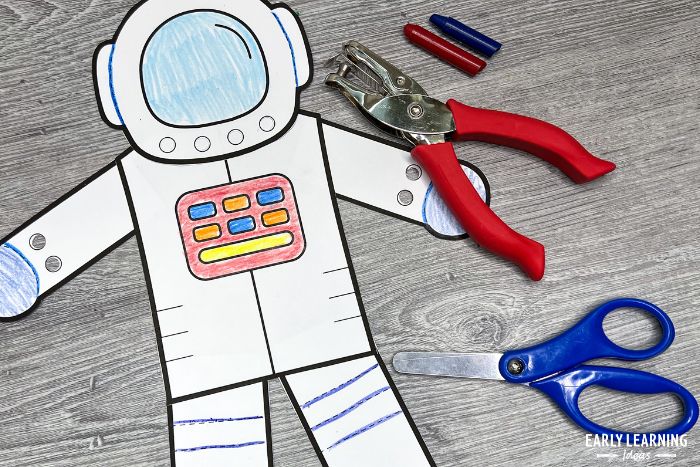 From tracing and cutting to gluing and coloring, these activities will not only be entertaining for your child, but they'll also help them to develop important skills that they'll use throughout their lives.
So, why not download our printable space fine motor crafts and let your child blast off into a universe of creativity and skill-building?
Interested in additional themes? Check out all of my printable fine motor crafts activities too.
Beaded Star Craft
My beaded snowflake craft has been going viral on Pinterest for years. You can easily switch up the craft with different colors of beads to make a beaded star. How's that for easy idea for space themed craft activities?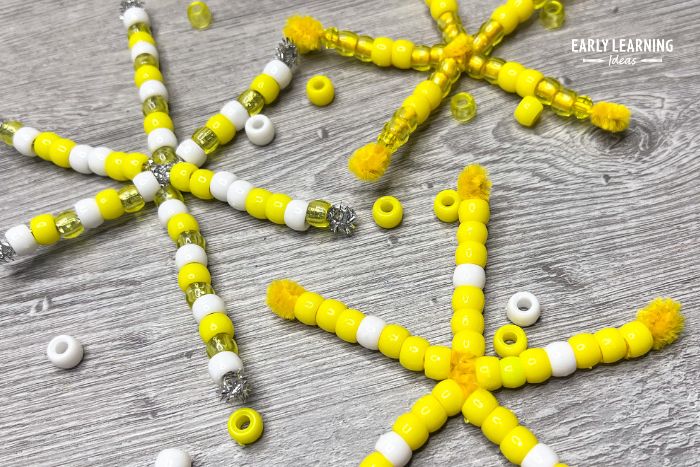 Make a Star with Craft Sticks
Speaking of stars, the easy star craft from Powerful Mothering is a simple and fun activity that's perfect for young kids. Using just a few materials, popsicle sticks, glue, and sequins, your child can create their own beautiful star that they can proudly display.
Straw Rockets
Looking for quick and easy space themed craft activities that include rockets? Check out these awesome straw rockets! Using just a few simple materials, including the free printable rocket template, straws, and tape, your child can create their own rocket and launch it into the stratosphere!
This activity not only encourages creativity and imagination, but it is also a great way to study science and the scientific method with your kids. So, why not give these straw rockets a try and let your child's imagination soar to new heights?
Cardboard Roll Rockets
Looking for a fun and simple rocket ship craft for your little astronaut? Check out Our Kid Things' cardboard roll rocket ships! Using just a few basic materials, this craft is a great way to encourage imaginative play. Set their creativity soaring and give this craft a try today!
Paper Plate Sun Lacing Craft
I LOVE this summer sun craft from iHeartCraftyThings is a fun and creative activity that's perfect for helping your child develop their fine motor skills. With just a few materials, including construction paper, a paper plate, pony beads, and yarn, your kids can create their own beautiful summer sun.
Paper Plate and Pipe Cleaner Sun Craft
Here is another fun paper plate sun craft that will help build fine motor skills, and this one by Buggy and Buddy is super easy. All you need are paper plates, pipe cleaners, and cut straws (your kids can cut them and get cutting practice).
Painted Sun Art & Craft
This painted sun craft from Mis Karen's Class is a great process art activity for preschoolers. She spreads the paint with q-tips to make the sun's rays, but you can also do this with the blow painting with straws technique.
Glow in the Dark Puffy Paint Moon
This fun and easy glow in the dark puffy paint mood craft from No Time For Flashcards uses just a few simple materials, including glow-in-the-dark paint, shaving cream, and glue, to create a textured and realistic moon that will light up your child's imagination. Plus, it's a great way to develop your child's fine motor skills through squeezing, mixing, and painting. Give this craft a try and let your child's creativity shine bright like the stars!
Foil Printed Moon
Here is another moon-themed art and craft activity. Check out foil-printed moon craft from a Dab of Glue Will Do! With just a few simple materials, including foil, silver paint, and paper, your child can create a stunning and realistic moon that they can proudly display. Your kids will love crumpling, painting, and stamping.
Aluminum Foil Moon Craft

Here's another moon craft that uses foil. This aluminum foil craft by MomBrite is a simple yet engaging activity that involves creating a textured and shiny moon using aluminum foil. I love the effect of using coins for rubbing…..it totally looks like craters on the moon. Don't you think?
Painting Planets Craft
Super Simple provides some great ideas for creating an out-of-this-world planet collage. I love all the ideas for creating backgrounds and textures with paint. There is a difference between art and craft, and this collage activity is the perfect combination of both art activities and craft activities.
Yarn Wrapped Planet Craft
These yarn-wrapped planets craft from And Next Comes L's is a fun and engaging way to develop your child's fine motor skills. With just a few simple materials, including yarn, and cardboard your child can create their very own colorful and textured planets.
UFO Craft Project for Kids
Whether or not you believe in aliens, a UFO craft from No TIme For Flashcards can be a fun addition to your study of space. This pie plate UFO craft will certainly get your kids' imagination going.
I hope that you are inspired by these fun ideas for space themed craft activities. With these fun and easy crafts, your child can explore the universe without leaving home. From rocket ships to planets, these crafts will transport your child to a galaxy far, far away and provide hours of imaginative play. So what are you waiting for? Start crafting today!
Get the Printable Space Themed Craft Activities Today
Are you ready to try my space themed printables? you can buy them at my store today.
Purchase the Space Craft Printables on TPT
Do you prefer to shop at Teachers Pay Teachers? You can also purchase the Space Fine Motor Craft Printables in my TPT Store.
Additional Space Activity Ideas