Squirt Gun Painting: This is an Exciting Art Project for Kids
Squirt gun painting is an exciting way to combine process art with a fine motor activity.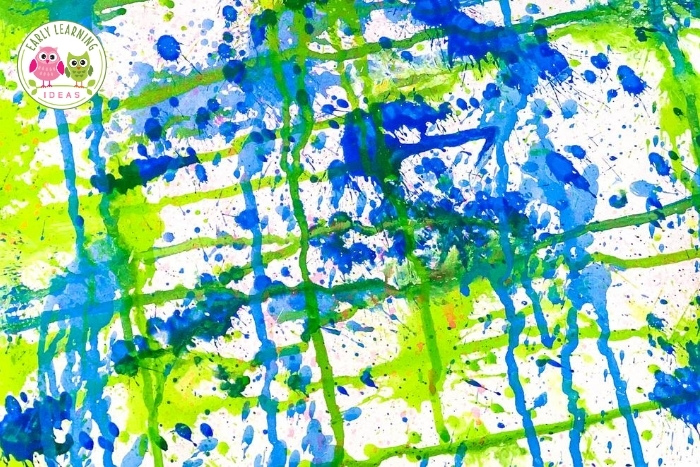 Why is Squirt Gun Painting a Great Activity for Kids?
Sometimes the kids who need to develop fine motor skills are the same kids who avoid fine motor activities like the plague. But, sometimes you can find an activity that is extremely engaging for these kids. Squirt gun painting is one of those extremely engaging activities.
I added several links at the bottom of this post to help you find materials faster. Just an FYI….the links are affiliate links. Here's how it works…I may earn a small portion of your purchase, but you will not be charged an additional fee when you purchase from the link.
Supplies that You Will Need
Squirt guns (I don't love using "guns" with young kids. I found some fun sea creature squirt guns that I used)
Tempera paint
Squeeze bottles
Paper
Where to Set this Up
This is a fun and messy activity. It is a perfect outside activity. We happened to have a large piece of cardboard that we attached to a fence and then taped our paper to the cardboard. If you are brave enough to squirt gun paint inside, be sure to protect nearby walls, floors, etc. with plastic.
Squirt Gun Painting Instructions
Begin by adding a few squeezes of tempera paint to a plastic squeeze bottle. Dilute the paint by adding water to the squeeze bottle. Shake it up to mix it all up. You might have to play around with the consistency. You want enough paint in the mixture to create a vibrant design, but you want it to be thin enough to flow throw the squirt gun properly.
Next, fill a squirt gun (or shark squirter…ha) with the paint mixture.
Finally, kids can spray the paint onto paper.
Note: If you are painting outside, be careful when you remove the paper from the fence, easel, or cardboard. Don't let the wind blow the wet side of the paper on you. The first time I tried removing a paper, I had an arm and sleeve covered with paint.
Experiments and Extensions
Here are some ideas for experimenting with squirt gun painting.
Try different types of paint or different concentrations of paint solutions. What do you notice?
What happens when colors mix on the paper?
Try standing at different distances from the paper. Do you notice a difference in the paint?
Hold the water gun at different angles. Do you notice a difference?
What do you notice about the paint when it hits the paper? Why do you think that it runs down? What happens when you turn the painting?
You can see that squirt gun painting is not only a fun process art activity for your preschool kids, It is also a great way to work on hand strength and even do a little bit of scientific experimentation.
Purchase These Creative Resources in the Store
Are you looking for additional creative activities for your kids? I think that they will also enjoy these Maker Mat activities. Click on the images below to check them out.
---
I listed some items below that you can use for the activities mentioned in this article. The links below are affiliate links. Amazon will not charge you an additional fee if you purchase something from a link, but a small portion of your purchase will be used towards the cost of maintaining this website.