Try These Under the Sea Crafts for Preschoolers to Spark Imagination
Get ready to dive into a world of underwater adventure with your kids. Today, I want to share a whole bunch of fun and easy under the sea crafts for preschoolers.
I know your kids will enjoy exploring all these underwater creatures perfect for preschool. From printable jellyfish, cute crabs, adorable sea turtles, and even toothy sharks! – get ready for an ocean theme craft adventure.
Under the Sea Crafts to Build Fine Motor Skills
Here's the best part: these crafty activities are a blast to create and an awesome way to help our kiddos develop their fine motor skills. I've included some printable fine motor crafts that are specially designed to give those little hands a workout and make them stronger.
You might be wondering why I'm always talking about fine motor skills and fine motor skills activities. Well, it's because fine motor skills are super important for our child's overall development. These skills involve using the small muscles in their hands and fingers, and they're crucial for things like writing, tying shoelaces, opening packages, and even getting dressed all by themselves.
Can you believe that by getting crafty with our preschoolers, we're having a blast together AND giving them an exciting way to master those all-important fine motor skills? Who knew that crafts were so beneficial?
Now, get ready to make a splash with these super fun under the sea crafts for preschoolers!
Printable under the sea crafts
First, I will show you these adorable ocean animal crafts in my Ocean Fine Motor Crafts set. These printables were designed to be a fine motor activity. Kids will practice their scissor skills as they cut out the shapes on the thick, dark lines. Each craft has dotted lines for tracing and pre-writing practice. Best of all, each craft has small circles on it that can be punched out with a hole punch.
If you haven't tried them yet, you have to try hole punch activities. They are such a motivating way to encourage kids to build their hand strength.
Jellyfish Craft
Look at all the hole-punching that kids can do when making this jellyfish craft for kids!
If you don't want to use hole punches, kids can apply little circle sticker to each circle. You can also use this printable jellyfish craft template to make a variety of beautiful and creative jellyfish. Think about mixing up the colors in the arms, and adding ribbon tentacles…the creation possibilities are endless!
Crab Craft for Preschoolers
I think this crab craft activity is my favorite ocean animal from the set. The claws are a little bit more difficult to cut out than the other parts, but you can help your kids with them if needed.
Printable Shark Craft Template
A set of under the sea crafts would not be complete without a shark craft. Am I right? I think this shark is more cute than scary.
Sea Turtle Craft
I designed a sea turtle craft for this ocean theme set because sea turtles are my favorite sea creatures. I'm not satisfied when we visit the Texas Gulf Coast until I see these amazing creatures. I love watching the small sea turtles eat along the shipping channel in Port Aransas, and I love talking to all the patients at the sea turtle rescue facilities in Corpus Christi and on South Padre Island. Yes……I really talk to them! I hope to be a volunteer at one of those facilities when I'm retired.
Okay…enough about my love of sea turtles. Isn't this easy sea turtle craft adorable?
Additional Under the Sea Crafts for Preschoolers
Now let's take a look at some of my favorite ocean crafts for preschoolers from around the web.
Paper Plate Pufferfish Craft
Here is a simple pufferfish craft from Our Kids Things. Check out my article about making your own paintbrushes. I think DIY paintbrushes would totally work with this pufferfish craft.
Starfish Craft
This ocean starfish craft from A Little Pinch of Perfect is a great way to combine ocean animal crafts and fine motor activities. Kids can work on their pincer grasp as they place buttons on the starfish body.
Octopus Craft
This cupcake liner octopus craft from I Heart Crafty Things will also put your kids' fingers to work as they place cereal tentacles on each of the octopus' arms.
Torn Paper Shark Craft
Tearing paper activities are a fun way to build hand strength. This torn paper shark craft printable is part of my July Fine Motor Activity Set.
Starfish Cutting Practice Printable Craft
These cutting practice activities, also a part of the July set, include a starfish that kids can cut out and decorate.
Well, I hope that you enjoyed this fun ocean animal crafts for preschoolers. Just think of the sea creature decorations, underwater murals, or bulletin boards you can make with these fun under the sea crafts and ideas.
Purchase The Ocean Animal Crafts Printables Today
Are you ready to help your kids make a world of underwater creatures? You can purchase Ocean Fine Motor Crafts set the store. Click on the picture below to purchase the printables.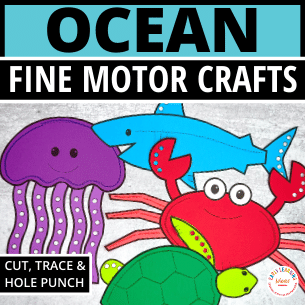 Additional Animal Craft Activity Printables
Are you looking for additional craft activities for your little animal lovers? Here are more animal craft activities available in the store.
Purchase The Fine Motor Craft Printables on TPT
Do you prefer to shop at Teachers Pay Teachers? You can also purchase the fine motor craft activities in my TPT Store.
More Craft Ideas and Activities