Try This Free Valentine's Day Activity for Fine Motor Practice
Are you looking for a fun Valentine's Day activity? Use this free heart printable. Kids can practice scissor skills when they cut out the hearts. They can use a hole punch to make holes around the hearts' border.
Kids enjoy cutting out hearts, just as they enjoy cutting snowflakes. It's a great idea to encourage kids to try to cut hearts on their own. But, sometimes they do get frustrated. Here is an idea for a Valentine's Day activity that will motivate kids to practice their scissor skills.
This free fine motor activity printable is also part of my Hole Punch Fine Motor Activity set in my store.
Motivate Kids to Practice Scissor Skills
This simple preschool craft idea is super easy when you use my template. The template is the secret to helping kids experience success. When kids experience success with cutting, it can help motivate them to work on scissor skills. I had a great response to my snowflake cutting templates, so I created some heart templates for Valentine fine motor practice.
Make Your Own Template or Use the Printable
You can make your own template or cutting pattern with some bright paper and a marker, but my free templates are really simple to print and copy for a whole class. I have included two different styles of heart cutting and hole punch templates.
The templates print two per page so that you can print, cut the pages in half, then fold the small paper in half.
Additional Fine Motor Practice Using a Hole Punch
Kids can use the templates to practice their scissor skills, and you can use them for cutting assessments. For more fine motor practice, kids can use a hole punch to punch holes into each of the circles on their paper hearts.
The Big Reveal!
I love to watch a child's face when he or she opens them up…..so sweet!
Add the Fine Motor Activity to a Cutting Center or Writing Center
You can easily fold a bunch and place them in a container. Add scissors and a hole punch….an easy little cutting center for your home and/or classroom. Add them to your writing center and encourage kids to write messages or draw on them.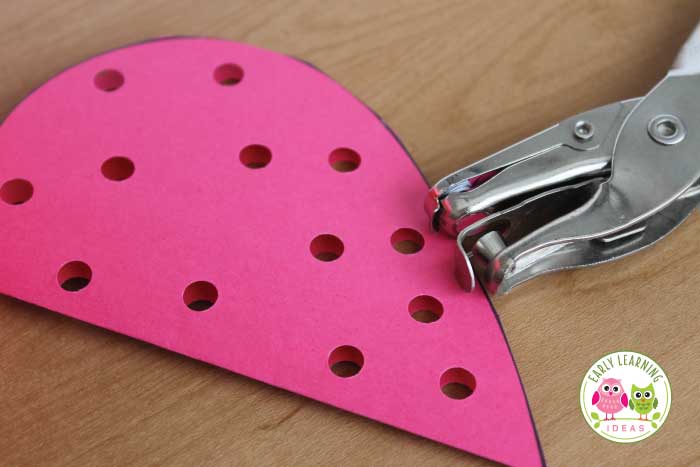 If you want your kids to enjoy a little more freedom, you can always use the template without the circles. Kids can just use a hole punch to punch holes anywhere on their hearts. My kiddo, however, would be more easily motivated by having the circles on the template. On the blank template, he would only use the hole punch 1 or 2 times, but the template would give him a goal and more fine motor practice.
Download The Valentine's Day Activity Today
Are you ready to get your heart printable? Click the button below, fill out the quick form, and I'll send the heart printable directly to your inbox.
Purchase the Complete Hole Punch Activity Set
Do you want fun hole punch activities to use all year long? Click on the image below to purchase the Fine Motor Hole Punch Activity Set from my store. If you are looking for additional fine motor activities, check out the Fine Motor Activities Bundle.