Here are 15 ideas for winter fine motor activities. Your kids will enjoy playing and learning as they strengthen their fine motor skills with these winter-themed activities.
---
Are you looking for activities that will help your kids work on their fine motor skills during the winter months? Here are a bunch of winter fine motor activities for kids.
Winter Fine Motor Activities
1. Beaded Snowflake
This cute snowflake craft provides opportunities for fine motor exercise and math practice.
2. Snowflake Twirler
This Snowflake Paper Plate Twirler by Crafts on Sea will give kids an opportunity to practice their scissor skills.
3. Marshmallow Letter Activity
Add a wintry fine motor twist to letter or name recognition with this Marshmallow Name Activity by Fun-a Day .
4. Snowman Fine Motor Activity
Make a snowman fine motor activity from a large plastic bottle. Kids can attach pieces to the snowman's face and can fill the snowman with snowballs.
5. Snowflake Counting Necklaces
If your looking for fun winter crafts for kids, these snowflake necklaces are one of my favorites. Plus, you can work on math skills with this craftivity.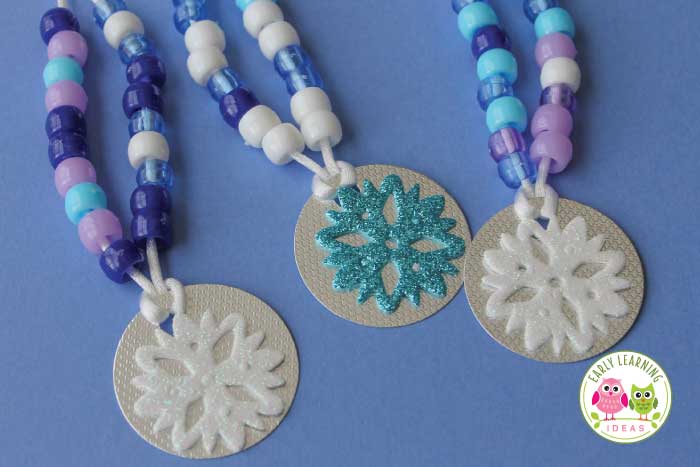 6. Play Dough Snowman
Playdough always provides a great opportunity to strengthen the muscles in little hands. Help kids make a playdough snowman with a few hacks for snowman parts.
7. Snowflake Cutting Templates
Help kids experience success while cutting snowflakes by using snowflake cutting templates. You will soon have a room full of snowflakes.
8. Sorting in the Sensory Bin
You winter sensory table can provide plenty of opportunities for working on fine motor skills. Kids enjoy sorting small erasers, filling containers with "snow" balls, and scooping and shoveling snow.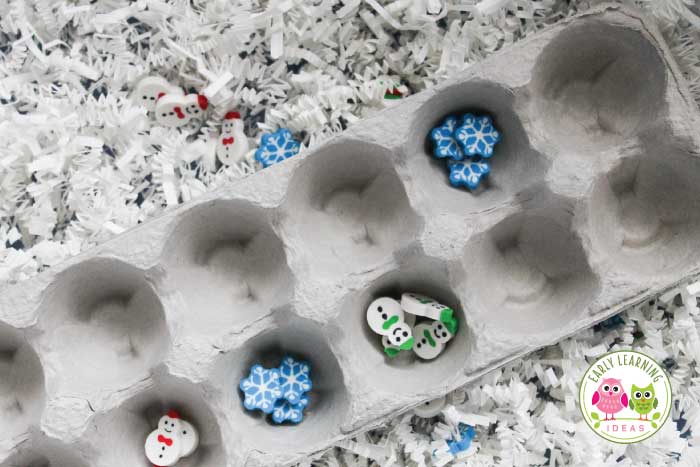 9. Punching Holes in Paper Snowflakes
This simple snowflake activity is really fun for kids because they love using hole punches.
10. Pom-poms and bug catchers
Tongs and tweezers are great for fine motor. Use them in the sensory bin or with counting mats in the math center.
12. Hammer into "ice"
Kids can hammer golf tees into a big, thick piece of packing foam…… Ice Picking by Modern Preschool
13. Snowflake snacks
Even snack time can provide opportunities for working on fine motor skills. Kids will enjoy making and eating this pretzel and marshmallow snowflake snack from Motherhood on a Dime
14. Penguin pre-writing activity
Kids can practice tracing a variety of lines with this free printable penguin activity.
15. Snowflake Stickers
Use snowflake stickers for process art or with Alphabet Dot Pages. Similar to the marshmallow name activity above, stickers can be used to form letters.
16. A Winter-Theme Invitation to Play
Grab a divided tray and fill it with a variety of materials. Here are a bunch of material ideas for your winter playdough activity tray.
17. Bright White Playdough
Complete the activity above with some bright white playdough. This post includes a bunch of fun and unexpected materials that you can mix into your winter-theme playdough. Don't forget to provide some rolling pins and circle cookie cutters.
I hope that you enjoy trying some of these winter fine motor activities with your kids. Feel free to share some additional activity ideas in the comments below.
---
If you are looking for more winter themed activities, you might like the following resources from my TPT store. Click on the images to check them out.
---
Below are some items from Amazon that can be used for the activities mentioned in this article. The links below are affiliate links. If you happen to purchase something from link, there will be no additional cost to you, but a small portion of your purchase will be used towards the cost of maintaining this website.