Flower Color Sorting Activities
Here are a couple of flower color sorting activities that you can make with a Hawaiian lei. Kids can work on color sorting, number sense, and patterning with these cute activity ideas. Perfect for your flowers theme, plant theme, or Spring theme unit or lesson plans.
Today I'm going to share a couple of ideas for quick and easy flower color sorting activities. You can make them in a snap. I found a bright, colorful Hawaiian lei at the dollar store. It caught my eye because it was made of flowers from all the colors of the rainbow…..perfect for a color matching activity!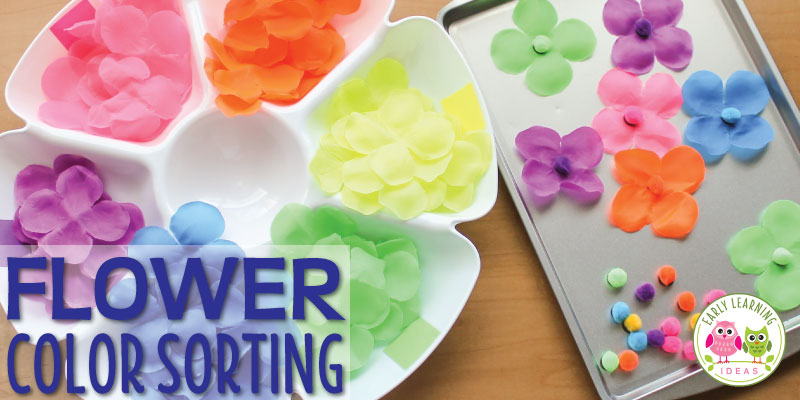 Flower Color Color Sort with a Serving Tray
Supplies
For the first activity, you will need just a few supplies:
Hawaiian lei with a variety of flower colors
Plastic divided serving tray (check the dollar store for these too)
Colored paper (same colors as the flowers)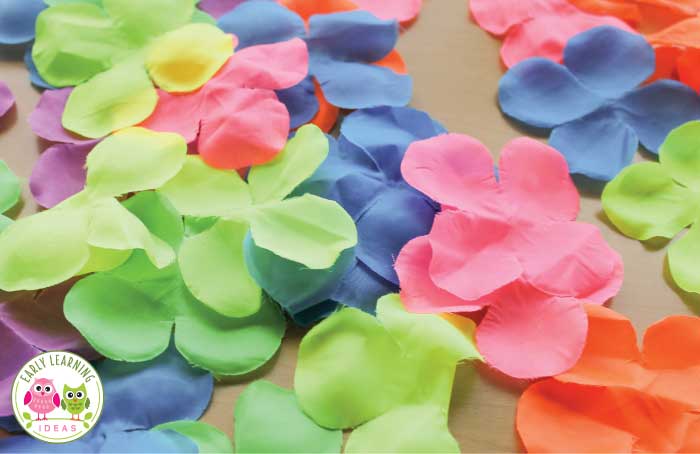 Prepare the Activity
With a quick snip from a pair of scissors, I cut the lei's string and and pulled all of the flower petals off the string. I was really surprised by how many petals a single lei produced.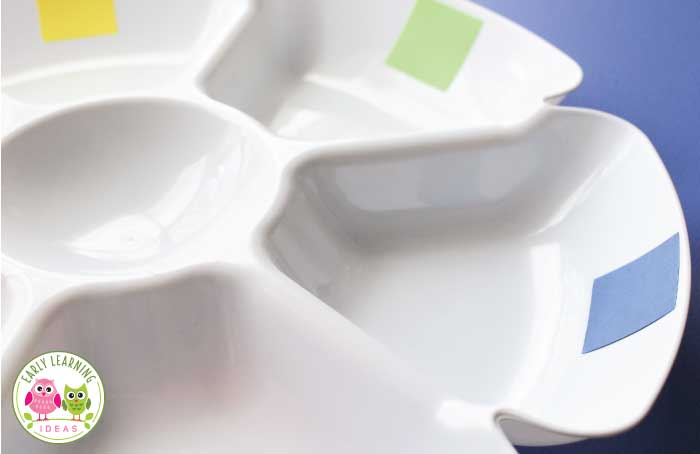 Then, I dug out a plastic serving tray (also from the dollar store) and added coordinating colored paper squares to each section of the tray. After I cut up and attached all the pieces of paper, I realized that I had post-it notes in all of the same colors. Using the sticky notes to color code the serving tray would have saved me a bit of time and paper. Do you have sticky notes to use?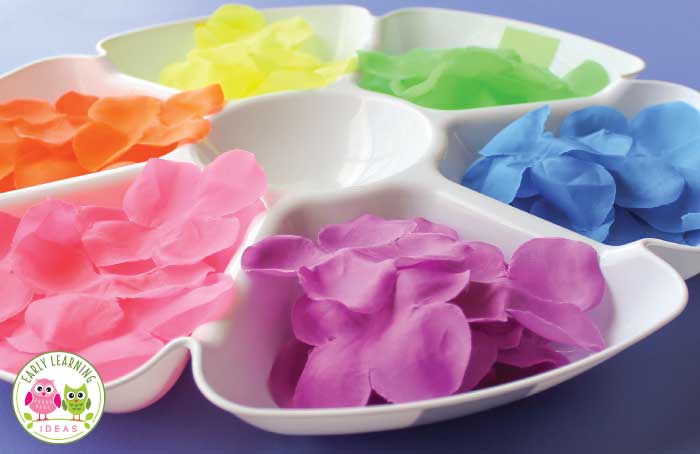 Play
With all the sections of the tray marked by color, kids can use it to sort the flower petals into the correct sections of the tray. This can also be used as a counting activity. Kids can determine how many flowers there are in each color and which color has the most flowers.
Magnetic Flower Color Sorting Activity
Supplies
For this activity, you will need the following supplies:
Hawaiian lei with colorful flowers
pom-poms in matching bright colors
magnets
hot glue and hot glue gun
cookie sheet
Prepare the Activity
You can also make a magnetic flower color match activity to use on a cookie sheet, a magnetic board, or on your refrigerator. (Magnets may be a choking hazard..for kids 3+). I found small pom-poms that match the colors of the flower petals. Using a hot glue gun, I attached a small magnet to the back of the pom-pom.
Play
Now, kids can use the magnetic pom-poms to hold the flower petals to a cookie sheet, magnetic board or refrigerator. In addition to color matching, kids can use these magnetic flowers for counting, building number sense, making patterns, etc……a great addition to a flower-themed unit!
I hope that you and your kids enjoy these color sorting activities. Do you have an additional idea for using these little silk flowers? I would love to hear them in the comments below.
---
Additional Flower-Theme Activities
If you like this activity, you will also like the following flower-themed activities from my store. Click on the images below to check them out.