An Adorable and Free Counting Book That will Surprise Your Kids
Your kids will love this adorable bird-themed free counting book. The emergent reader contains predictable text, counting from 0-5, and even a surprise ending that will delight your kids.
This adorable free counting book is part of my bird activity bundle. I created the little book several years ago. I'm not sure why I never featured this sweet freebie on the blog before now, but here it is.
Easy To Assemble
These little bird-themed books are perfect for a bird theme or Spring theme unit or lesson plans. The counting books print two per page and are very easy to assemble.
Two Versions
The printable books come in two different versions. One includes a blank space so that kids can write the number or number word on each page. The numeral is printed already on the second version. You can choose to print the book that is best for your kids.
Each page includes predictable, easy-to-read text plus an opportunity to count the eggs in a nest. Your kids will enjoy reading, counting, and coloring.
A Sweet Surprise Ending
The little birdie in the book lays 5 eggs. Then, kids find a sweet surprise when all of the eggs hatch.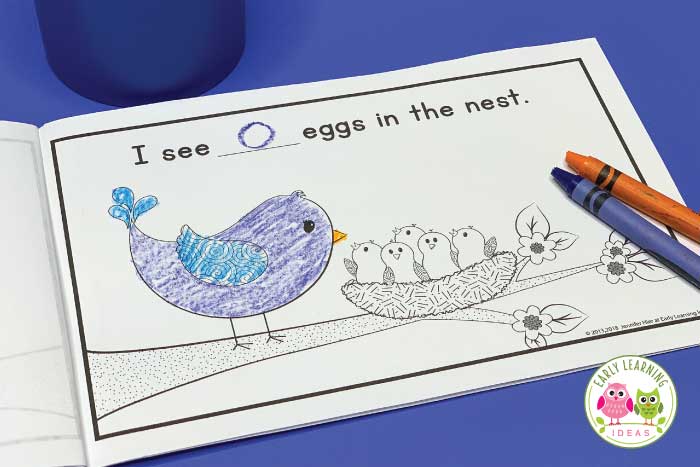 The final page provides a review of the numbers. Kids who are writing numbers or words in their books can use this page for reference.
Download Your Free Counting Book Today
Visit my store to get your copy of the bird-themed free counting book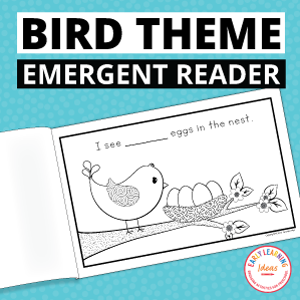 I hope that you and your kids enjoy using the little emergent reader. Are you looking for additional bird-themed activities? The counting emergent reader is also included in my Bird Theme Activity Bundle.