How to Make Easter Bunny Juice Boxes with free printable cover
Use these free printable juice box covers to make adorable Easter bunny juice boxes. The juice boxes make a great Easter or Spring-themed snack for preschool, pre-k, toddlers, and kindergarten parties, or put them in a fun bunny-themed Easter treat bag.
Several years ago, I made some Easter Bunny juice boxes for my son's class as a birthday treat. I posted some pictures on Pinterest that became quite popular, so I thought I would add a little tutorial to go with the photos.
I recently noticed that there are many printable bunny juice box covers for sale on Etsy…and many were obviously inspired by mine. But, guess what? There is no need to pay for the printable, because you can still get mine for FREE.
With this free printable bunny juice box wrap, you can transform a drink box into a cute and healthy treat for kids. You can let your kids help you assemble the fun bunny craft, or you can prepare a bunch of them for a classroom t great or party favor. Prep the activity for a kid's party or special event, or use this as a craft activity to do with your kids.
What Supplies Do I Need?
I used the following supplies to make the cute Easter bunny juice boxes:
juice boxes (save a trip and ship them to yourself)
white paper
white cardstock
cotton balls
tape
scissors
glue gun or glue dots
Several links are at the bottom of this post for your shopping convenience. If you purchase something from one of the links, there will be no additional cost, but a small portion of your purchase will be used towards maintaining this website.
How to Assemble the Bunny Juice Boxes
The first thing that you need to do is print the wraps and ears. I printed the bunny juice box cover on plain white paper. I printed the ears on card stock so they would be a little sturdier.
After printing everything, then you can cut everything out. I designed the wraps to print 2 per page. I find that every brand of drink box is a different size, so you might have to play with them a little bit. With some boxes, you can cut the sheets in half lengthwise and use them, but other brands may require some extra trimming.
Update: I recently added a second version of the juice box wrap that will fit tall, skinny juice boxes better. Both versions are included in the printable. Use the one that works best for your juice boxes.
Pull the straws off the juice boxes before you wrap them. You can tape them back on at the end if you like. Wrap the paper around the juice box so that the bunny face is centered on the front of the box. Tape the edge to secure it in place.
After securing the wrap on the juice box, attach two ears and a cotton ball on the back of each box with hot glue or glue dots.
Now you can add the bunny juice boxes to your snack table….perfect for an Easter party or Spring treat. Cuteness!
Get the Free Printable Juice Box Covers
To get your copy of the free printable bunny juice box covers, fill in the form below with your name and email address. I will send the printable directly to your inbox.
Subscribe and Receive The FREE Bunny Juice Box Printables
When you enter your email address you agree to start receiving the Early Learning Ideas newsletter. The newsletter includes a regular mailing of ideas for your kids with an occasional promotional offer. You are also agreeing to our Privacy Policy. You may unsubscribe at any time.

Additional Bunny-Themed Activities
Now that you are in the mood for Easter activities let me show you a few bunny activity ideas for your kids. Check out the following spring-themed products in my store.
Bunny Fine Motor Craft Activity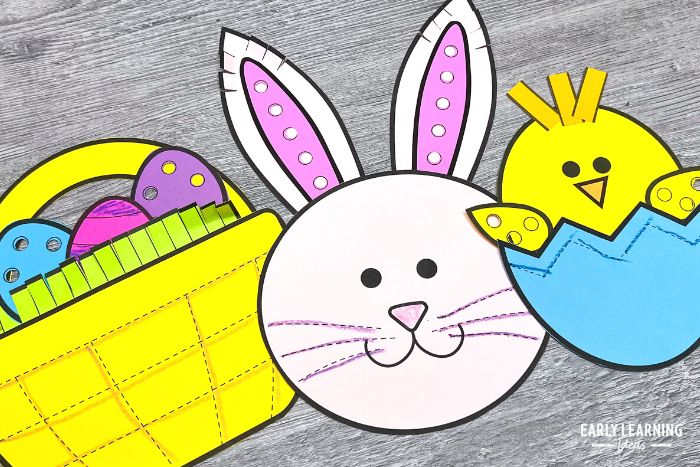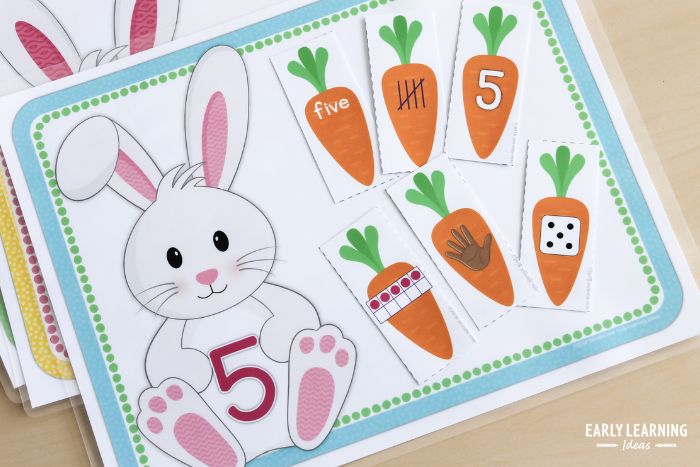 ---
Below are some items from Amazon that can be used for the activities mentioned in this article. The links below are affiliate links. If you purchase something from a link, there will be no additional cost to you, but a small portion of your purchase will be used towards maintaining this website.