Name Writing Practice Books – an Exciting Name Activity for Preschool
Are you trying to help your kids learn to recognize and write their names? These personalized name books are a fun and motivating name activity for preschool kids.
Use these easy-to-customize name-writing activity books filled with various activities to help your kids learn to recognize and write their names. This is also a great activity for learning letter recognition and letter sounds.
JUST Purchase the NAME BOOKS
No Time to Read The Whole Article?
Here are the quick links to purchase the printable name practice books today.
Why Are Name Activities Motivating?
A child's name is the most important word in their life. Learning to recognize and spell their special word is an engaging way to begin learning about the features of print and early literacy concepts.
These printable books include a variety of name activities ideas to help kids learn to recognize their names, recognize the letters in their name, and work on writing their names. The books are available in my store.
Easy to Customize Name Activity for Preschool
Before we begin to look at all of the ways you can use the printable name activity for preschool, let me show you how easy the books are to personalize for your kids.
I know that you don't have a lot of extra time to make editable activities for your kids, so I make sure to make sure that these books are easy to customize. You don't have to install any new fonts on your computer, but you do need to use the most recent version of Adobe Acrobat Reader.….and you need to use your laptop or desktop.
To customize your little books, all you have to do is type your kids' names and the individual letters into the class list for at the beginning of the resource. When you do this, all of the details will be automatically added to the different pages throughout the document.
Customize it!
There are many page options that you can choose from. You can use the print planner pages to help you determine which pages to print. Create a book with a variety of pages, or create a simple book with duplicate pages for repetition.
Easy to Assemble Name Practice Books
Again, because you don't have much time, I make the books very easy to assemble. You can prepare enough for an entire class in no time.
The books print 4 per page and can be easily assembled. After printing, stack one set of pages neatly into a pile.
Next, place two staples on the left side of each book, as shown in the picture below.
Finally, you can cut the books apart on the dotted lines to create four individual books.
Customize Your Name Books with Many Page Options
There are many pages that you can use to customize your own name activities for preschool. Select the pages that meet your needs to create your customized books. Here are the page options that are included in the resource.
Personalized Title Page:
Kids can work on name recognition and naming the letters in their names as they color the title pages. Can they find their book when it is in a pile with other books? What makes their name look different? Help kids find some unique things about their names.
Beginning Letter of My Name Page:
The most important letter of their most important word is the first letter of a child's name.
Kids can name that first letter, finger trace the large letter, color the large bubble letter, and identify or circle the letter in their written name.
Name the Letters Page:
On this page, the letters print with a dot below them. Kids can focus on learning each individual letter and begin to learn how to spell their names as they touch each dot on this page.
Name Tracing on Dotted lines:
If your kids are ready to learn to write their names, the document includes three customized tracing pages. On the first, kids can trace the dotted letters of their names. You can use a marker to make a small colored dot on the starting point to help beginners properly form letters.
Tracing – Dotted with Three Lines:
The name activity for preschool includes another tracing page. This one includes lines to help kids learn each letter's proper height and formation. This page also helps kids see that some letters are tall and some are short. Do any of the letters have tails, hooks, or dots?
Tracing – Over the Solid Line:
I think that it's difficult to see letters that are traced over dotted lines. If you like a cleaner-looking tracing method, try this page. Kids can trace the letters by writing over thick gray letters. Again, you can use a marker to make a small colored dot on the starting point to help beginners.
Rainbow Writing Page:
Kids will enjoy tracing the bubble letters with one crayon color and then tracing over that color with additional crayons. Want to make this activity more playful? Make a color die from a small square cube to help kids determine which colors to use as they trace.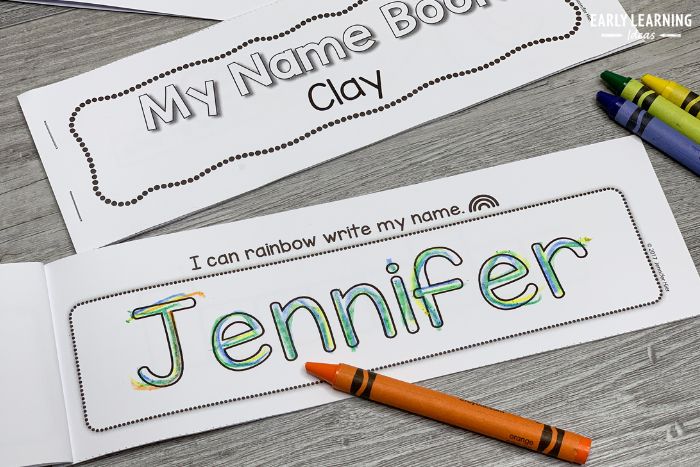 Write in the Letter Boxes Page:
Here is another page that will help kids with letter recognition. They can see that some letters are tall, some are short, and some have tails as they write each letter in the boxes.
Name Writing Page:
In this blank box, kids can practice writing their names.
Build it Page:
Kids can glue letter squares (from the next page) to make their names on this page. They can also use letter stickers on stamps on this page.
Letter Page:
This final page includes letter squares that kids can glue to the previous page. Kids can cut the squares out on their own or you can cut them out in advance, place them in a plastic bag, and attach it to the book.
Additional Ideas
Sign-in Sheets
You can certainly make amazing personalized books with the resource, but there are other ways that you can use it. Print the same name onto 4 tracing pages. Use it as a sign-in sheet when your kids arrive every morning. Place them in a binder and you will have a record of how your kids have progressed.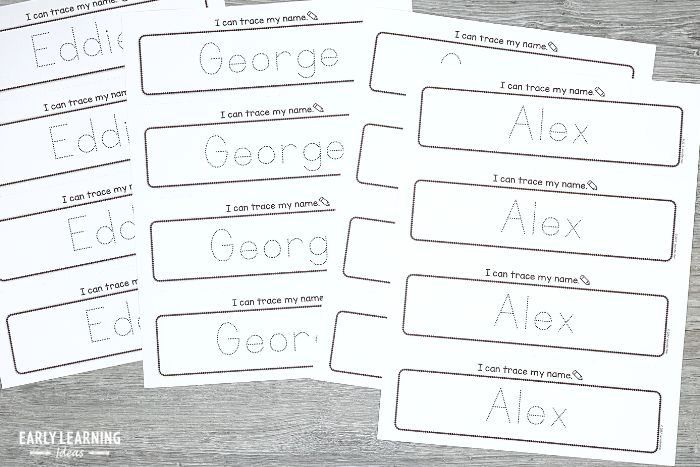 Individual Pages for Name Activities
Instead of binding the activity pages into books, you can use them for individual activities in your learning centers. Laminate tracing pages so kids can use them repeatedly or prep letter squares to create a puzzle activity.
Purchase The Name Activity Books
Get started creating custom name-writing activities for your kids. Visit my store to purchase the Name Activity Books today.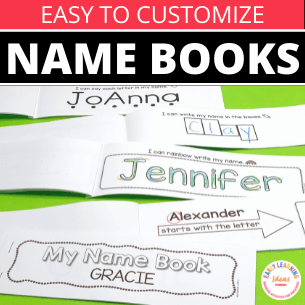 The books can also be purchased as part of the money-saving Name Activity Bundle.
Do you prefer to shop at Teachers Pay Teachers? You can also purchase the Name Books and Name Bundle in my TPT Store.