Bunny Activities For Preschool That Will Make You Smile
From learning activities to crafts, find many fun bunny activities for preschoolers. Find ideas that are perfect for your Easter theme or Spring theme unit and lesson plans.
I used to live outside of Dallas in a neighborhood that was completely overrun by rabbits. They were all over the place…. eating our flower beds, tormenting our dogs, and nearly scaring the life out of me. Have you ever started digging in a flowerbed only to have three baby bunnies jump out at you? I'm surprised that my neighbors didn't call 911 after hearing my screams of terror.
The little furry creatures can be a bit of a nuisance at times, but their cuteness always brings a smile to my face…even when I'm running down the middle of the street trying to catch them so I can stuff them back in their nest.
Today, I have lots of ideas for bunny activities for preschoolers to share with you. I hope that you will find some of these ideas useful while planning your Easter theme, spring theme, or bunny theme units or lesson plans.
This post contains affiliate links for your shopping convenience. I receive a small commission each time someone purchases through one of the links.
Paper Bag Bunny Craft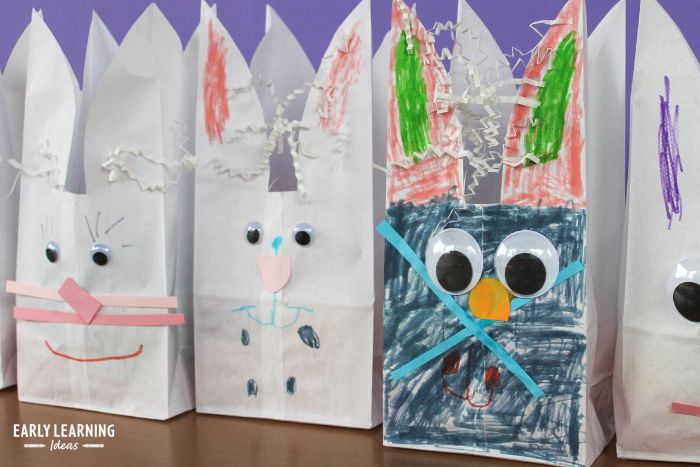 Get out the white paper lunch bags to create this fun bunny craft for preschoolers. Let them cut out the ears to get some practice with their scissor skills. Provide them with a tray of materials to create an open-ended creative activity.
Easter Bunny Fine Motor Craft
These printable bunny craft activities were designed to give your kids opportunities to build fine motor skills. Your kids can cut out the craft parts on the big, bold lines, trace the dotted lines, color the shapes, and even use a hole punch to build hand strength.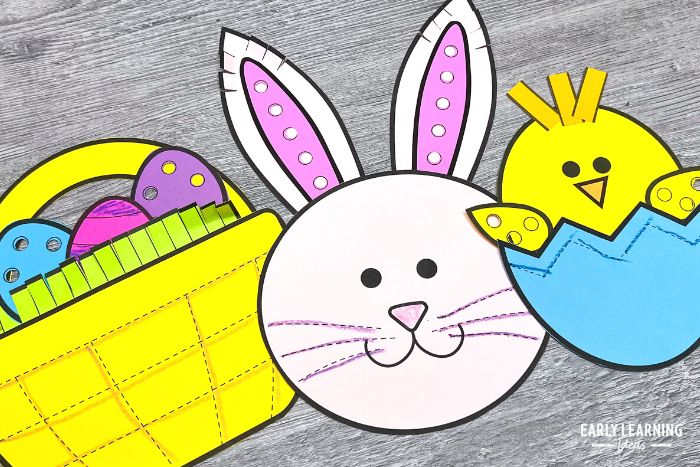 My printable fine motor crafts are available in many themes, like these spring crafts, so be sure to check them all out.
Bunny Math Activities
These cute bunny math activities can be found in my store. Kids can use the printable carrots to practice counting or composing and decomposing numbers. Provide some orange playdough, and they can make their own carrots.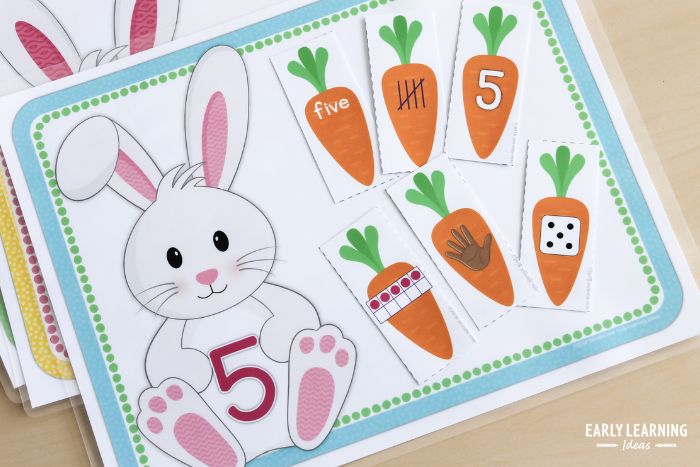 The set includes ten frame, finger counting, dice, numeral, tally mark, and number word cards so that kids can learn to represent a number in many different ways.
Want to make it an Easter-themed activity? There are Easter Egg cards that you can use instead of carrot cards.
Bunny-Theme Snacks
You can even incorporate the bunny theme into your snack time. Use my free printable to make some bunny juice boxes for your kids.
Rhyming Dust Bunny Puppets
One of my favorite rhyming books is Rhyming Dust Bunnies by Jan Thomas. Make some rhyming dust bunny puppets to go with the book.
Bunny Color Match and Size Sorting Activity
Here is another activity that is available in my store. I had so much fun creating this rabbit sorting activity. Kids can sort the bunnies by size, color, and style (see the design on each bunny?).
The cute activity includes printable tails, but you can also use colored pom-poms.
Bunny Theme Playdough Tray
Pull together a bunch of thematic materials to create a playdough tray. Get directions for this fun, textured playdough and material ideas for an Easter bunny playdough invitation to play.
Bunny Alphabet & Beginning Sound Activities
This rabbit-themed alphabet matching and beginning sound-matching activity can be found in the store. Kids can match uppercase to lowercase letters. The letter cards can also be used with a salt tray to practice letter formation.
They can also identify the beginning sounds of objects and match them up to letters. For an additional challenge. Beginning sound cards without word labels are also included in the set.
Bunny Themed Books
Here are several rabbit books. I really love Muncha! Muncha! Muncha! by Candace Fleming. Kids laugh at the sneaky rabbits and squeal delightfully as they recite the repetitive text. It works really well with a garden theme too.
The links below are affiliate links. If you purchase something from a link, there will be no additional cost to you, but a small portion of your purchase will be used towards maintaining this website.
Additional Bunny Activity Ideas
I found some Bunny Chants and Rhymes from Teaching Mama that you can use during your circle time.
Here is a great sensory bin idea for your bunny theme…Carrot Sensory Bin by Modern Preschool
Looking for a gross motor/movement activity. Get your kids hopping with Bunny Color Hop by Toddler Approved
Purchase Bunny Activities from the Store
I mentioned that some of the printable activities above are available in my store. All of the activities are included in my Bunny Activity Bundle. To check it out, click on the image below:
I hope that you found some fun bunny activities that make you smile….just like I do when I see those little bunnies jumping through my yard. Do you have another favorite bunny-themed activity?