25 Activities to Help Preschool Kids Build Scissor Skills
To develop scissor skills, preschoolers need plenty of practice. Here are 25 fun activities that will help them build the skills and accuracy they need to succeed with scissors!
Why are Scissor Skills Important?
As kids develop their scissor skills, they will become efficient cutters. Scissor skills are essential as kids will need to complete cut and paste activities and arts and crafts in school as they get older. With practice, kids will be able to cut with precision and control.
Here are some additional skills kids develop as their scissor skills get stronger.
Hand-eye coordination – Kids need to guide the scissors correctly as they cut. Hand-eye coordination will also help kids in other activities such as sports and dance.
Problem-solving skills – As they cut, kids have to figure out how to get the paper or fabric into the desired shape.
Bilateral coordination – This is the skill that helps kids use both hands together. When using scissors, kids need to coordinate the use of their hands. They use one hand to hold the scissor and the other hand to guide the paper.
Focus – Kids need to focus on the blades of the scissors and the object they are cutting. This focus will help them in other activities where they need to stay focused, such as homework.
Plus – Developing scissor skills also develops muscles that help kids with other daily tasks such as handwriting, buttoning, zipping, and sports activities.
Scissor Skills Activities
Now that you know the importance of scissor skills and some benefits, it is time to start practicing! Here are 25 activities that will help kids build dexterity and accuracy.
Cut and Paste Activities
Cutting and pasting activities are a great way for kids to develop scissor skills. The more practice they have, the better they will cut accurately.
When I was a kid, I spent HOURS cutting out letters or shapes from magazines or newspapers and gluing them onto a piece of construction paper.
So, don't throw those toy magazines away. Instead, encourage your kids to cut images out and paste them onto a piece of paper to create a wish list.
There are also many printable cut and paste activities perfect for beginners.
Fold and Cut Activities
I love to watch kids' faces as they open up these fold and cut activities to reveal the final design. There are fold and cut activities for all seasons in my fine motor bundle.
Cutting snowflakes is another magical fold and cut activity that kids just can't get enough of. Your kids can also do the cutting on this fun folded heart fine motor printable.
Cutting Practice Materials
There are plenty of materials that kids can use to practice their scissor skills. You don't need to spend a lot of money on special supplies or materials.
Need some ideas? Find 45 easy cutting practice ideas in this article.
Cut Photos
Make copies of magazine images or photos of your kids. Let them cut out parts of the photos. They can even make some fun photo collages like these from Picklebums.
Scissors with Playdough
Use scissors in playdough activities. Give your child a ball of playdough and show them how to cut it in half with the scissors. Next, make coils of playdough and cut them into smaller pieces. Be sure to add scissors to your playdough trays for fun, open-ended play, and cutting practice.
Cutting Snip Strips
These free snip strips are a great way to work on scissor skills development with beginning cutters. There are several levels of cutting activities included in the free cutting activity printable.
Large Sheets of Paper Taped to the Table
Here is a great scissor skills activity for kids who are still working on moving the scissors to cut on a long line. First, draw a line down the long side of a large piece of paper. A sentence strip works well.
Tape the end of the strip to the edge of a table. Now, you can show your child how to cut along the long line. As they become more experienced at cutting on the line, they will learn to hold and guide the paper independently as they cut.
Cutting Long Strips of Paper
Once your kids master the use of a helping hand to move the paper, give them strips of paper to cut. Vary the width and length of the strips to make it more challenging for your child.
Cutting Wrapping Paper
Wrapping paper is an excellent material for cutting practice. Some of it is nice and thick, and it often has patterns that kids can cut along or designs that kids can cut out.
Paper in the Sensory Table
Add some scissor practice to your sensory table. Fill it with different materials that kids can cut into, such as colorful foam pieces, ribbons, and tissue paper.
Printable Crafts Designed For Fine Motor Skills Development
These printable fine motor crafts are designed specifically to work on fine motor skills. The thematic crafts give your kids the opportunity to work on cutting skills as they cut on various types of lines. If your kids are brand new at learning to cut, there are snipping opportunities.
In addition to cutting, each craft can also serve as a hole punch activity and your kids will get pre-writing practice as they trace the dotted lines on each design.
You can find fine motor crafts for a variety of themes and seasons. Check out these spring crafts for your kids, or check out all the available printable fine motor crafts here.
Cut Paper Crafts
Kids love my torn paper activity sheets. But, instead of torn paper, kids can snip strips of paper to use for the fun craft.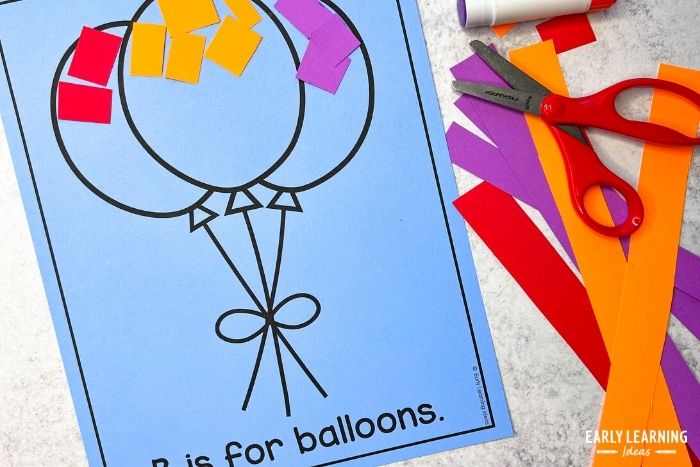 Bunny Bags
Kids can cut a white paper bag to make cute bunny bags.
Flower Cutting Activity
This free flower cutting skills activity is great for spring. Your kids can build scissor skills as they cut out flowers from colorful paper.
Cutting Books
Your kids can create a little mini-book by cutting some simple straight lines with this free scissor practice printable.
I also have some printable cutting books in the store.
Cutting Yarn
If your kids aren't interested in cutting paper, try this cutting yarn activity from New Creation Preschool. Hang a skein of yarn above a sensory table and let kids pull down pieces of yarn to cut.
Squirrel Cutting Practice Sheets
Use these free printable cutting activities to help your child practice scissor. The squirrel printable includes a variety of lines that are perfect for helping kids at different levels learn to cut along a line.
Cutting Practice Trays
Set up a cutting practice tray with a variety of scrap paper, ads, junk mail, catalog pages, printables for kids to cut.
For a fun, sensory cutting experience set up a sticky cutting practice tray with pieces of tape, self-adhesive foam, adhesive vinyl scraps, and strips of contact paper. Kids can cut the materials and then stick them to a piece of paper.
Paper Plate Lion
Kids can snip around a paper plate to create a lion's mane. Add some googly eyes, nose, mouth, and whiskers to complete the creature. Here is an example of the lion cutting activity by School Time Snippets.
Cutting Snowflakes
Kids are thrilled to practice scissor skills when they are making paper snowflakes. These snowflake cutting templates provide a fun way to practice scissor skills in the winter.
So, there you have it! A round-up of some fun ways to help your preschoolers get scissor skill practice. Try out a few of these activities and see which ones work best for your child. With a little bit of practice, those pesky scissors will be no problem at all!
Develop Scissor Skills with These Resources in the Store
Are you ready to get started with some fun scissor skills activities? Check out these scissor skills printables in the store.