How to Make Playdough Trays for Every Season of the Year
Find LOTS of ideas to put together play dough trays for the whole year. Your kids will love the unique materials in these playdough invitations to play.
I love gathering materials to create a playdough invitation to play. When you create a playdough tray for your kids you will encourage open-ended creative play. Your little artists and scientists will have a blast exploring, creating, and experimenting with a variety of materials.
You can also use play dough trays as fun and motivational fine motor activities for your kids.
Here are some ideas for playdough trays for the whole year.
In the age of COVID, you may not be able to put out a tray for all of your kids to share. Don't Worry! You can use all of the playdough tray ideas below to easily create individual playdough kits for your kids.
Spring & Summer Themed Playdough Trays
Spring and Summer themed trays have to be my favorite because I love the colorful thematic materials that fill the divided trays.
Flower Theme
Your kids will love planting a garden of flowers with a flower-themed playdough tray.
Butterfly Theme
There are soooo many fun materials that you can add to a tray to create a butterfly-themed invitation to play.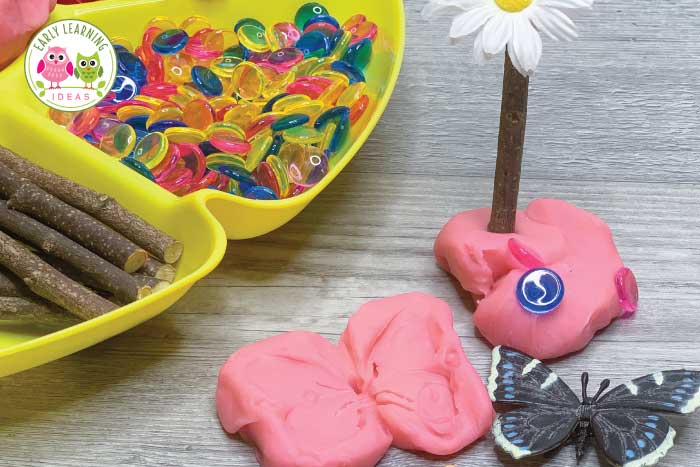 Bug & Insect Theme
Are you interested in a playdough tray with insects of the creepy-crawly variety? How about a bug-themed playdough invitation to play?
Plants & Garden Theme
Get out some garden soil playdough and put together this fun plant theme playdough invitation…..complete with worms!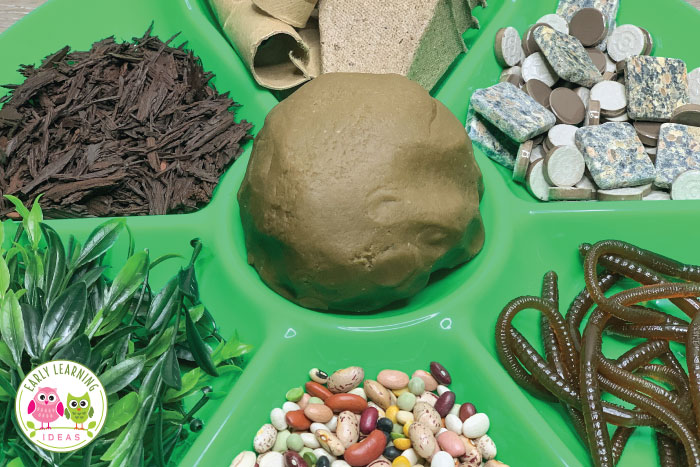 Easter Theme
Easter egg and flower vase fillers, pastel straws, googly eyes, and buttons will spark some Easter-themed creativity.
Bunny Theme
Bunny tails, ears, and even some carrot number cards make a fun bunny playdough tray.
Autumn Playdough Trays
Apple Theme
Assemble an apple invitation to play with a few simple materials. Kids can pretend that they are at the apple orchard or in the kitchen making apple creations.
Scarecrow Theme
Some wood sticks, tiny straw hats, and a little bit of straw will help kids get creative with this scarecrow-themed invitation to play.
Autumn Theme
When it's pumpkin spice time, a fall playdough invitation with pumpkins, leaves, and acorns is perfect.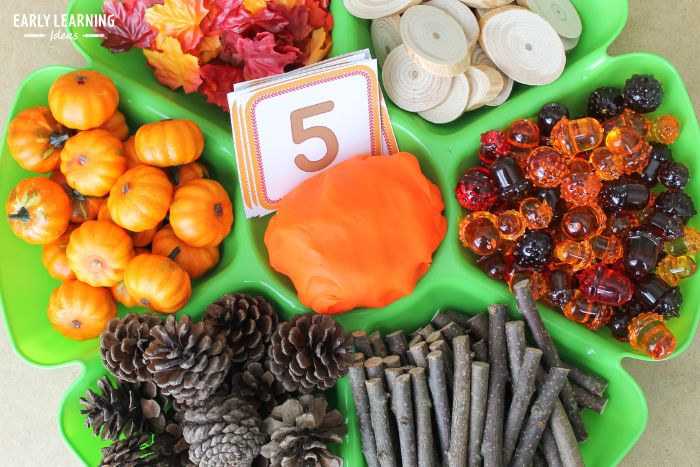 Spider Theme
A spider theme playdough tray is perfect for Halloween.
Monster Theme
Here is another Halloween idea. A monster theme invitation to play will be sooo much fun.
Turkey Theme
November is the perfect time to bring out a turkey playdough tray. You can easily use this for a farm theme too.
Winter Themed Playdough Trays
Christmas Tree Theme
Mix up a batch of Christmas tree playdough and put together a Christmas tree invitation to play with a few fun materials.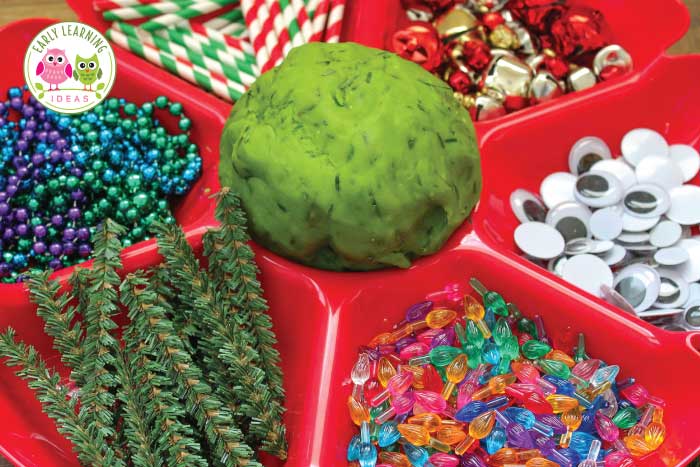 Gingerbread Theme
Gingerbread playdough will make your whole room will smell amazing. Here are material ideas to help you put together a gingerbread playdough tray.
Winter Theme
Gather some icy materials and some bright white playdough to create a beautiful snow themed playdough tray.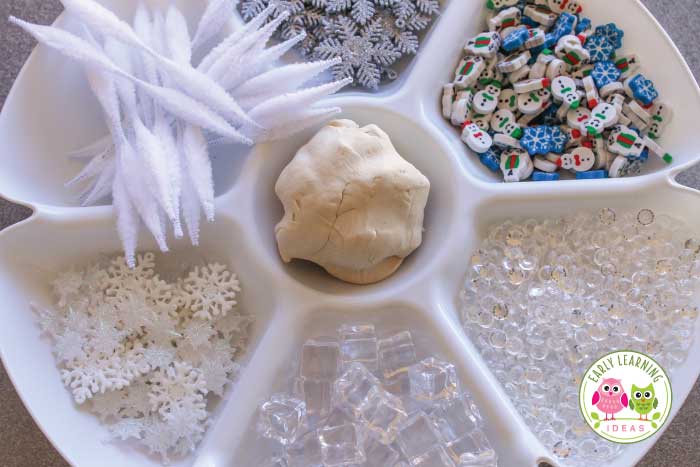 Snowman Theme
Switch up the materials a bit and you will have a snowman playdough tray.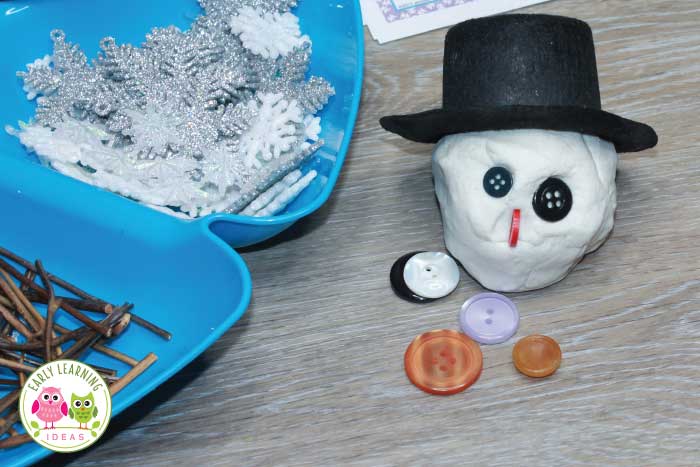 Valentine Theme
Red hearts, red cups, and some bottlecaps will make a simple Valentine playdough tray.
Fun Playdough Trays for Any Time of Year
Construction Theme
A little construction playdough, construction vehicles, and even some tools will work as a great playdough tray for your construction theme.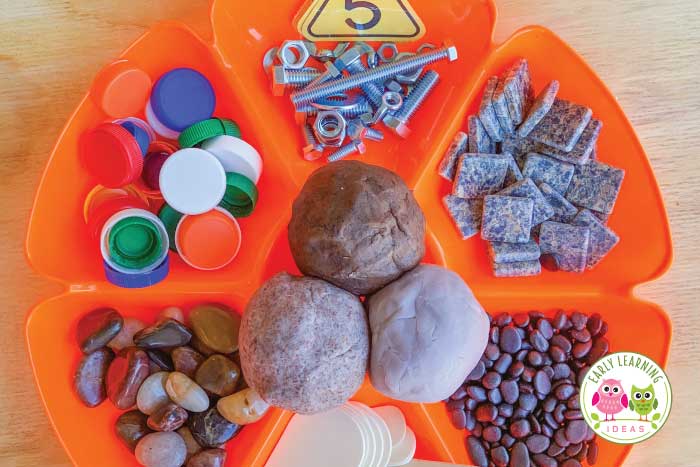 All About Me Theme
Kids can make self-portraits with the materials in this fun all about me theme playdough tray. This is perfect for the beginning of the school year or any time of year.
Space Theme
I had fun finding some inexpensive materials for this tray in the aisles of my home improvement store for this space theme playdough tray. This is great for a space theme or a transportation theme unit.
As I put together more thematic and seasonal play dough trays, I'll keep adding to this post. Be sure to pin this post so that you can easily find it later.
More Playdough Ideas
For more playdough activity ideas and information, check out the following posts: