How to Make a Fun Playdough tray for your All About Me Theme
Put together a playdough tray for your all about me theme. Your kids will love playing with these materials during the first week of school or any time of year.
---
Are you looking for a great playdough activity for the first week of school? This fun playdough tray is perfect for your all about me theme. Your kids will love this fine motor activity. Kids can make portraits (faces or full-bodies) they can just have fun, making open-ended creations with their playdough.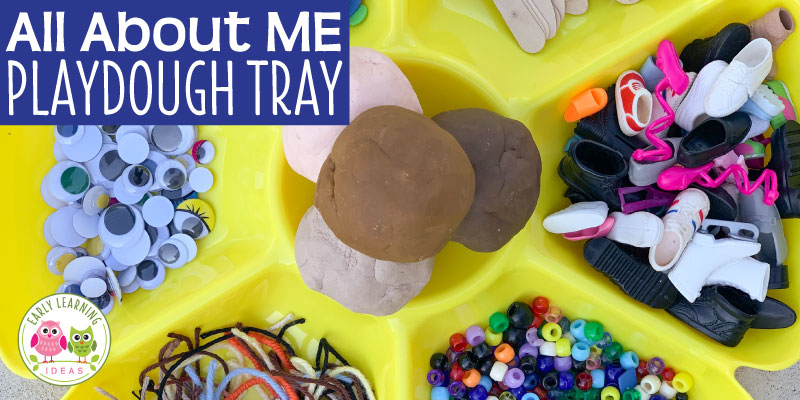 Every Playdough Tray Needs Playdough
It was fun to make playdough for this tray and try to make some colors to represent several different skin tones. I used my quick playdough recipe to make all of the colors.
The rich dark brown playdough is a favorite that I have made for several different playdough trays. I made the light brown by adding a bit less blue and red food coloring in the brown recipe. To get the peachy color I used a little yellow and red food coloring as well as some white tempera paint. The beige color on the left is a mixture of the peachy dough and a brown dough.
Don't stress yourself out too much with this. One of my combinations of paint and food coloring produced a dough that looked like something that would only be found on a corpse. My husband and I got a good laugh about that one.
Normally, I cringe a little bit when kids mix playdough colors, but I think it's pretty cool to mix these colors. After all, there are LOTS more than 4 colors of skin in the world.
Playdough Tray Supplies
I think that it is always fun to look through the supply closet to find some goodies to add to a playdough tray. For this tray, I tried to find some things that would help kids make a self-portrait.
I know that COVID has thrown a wrench into a lot of things. If your kids can't share supplies, don't worry. You can use the ideas below to create individual playdough kits for your kids.
I found some yarn in a bunch of natural colors. I cut them into strips that can be used for hair or for other details. It's fun to add some unnatural colors as well. It's not uncommon to see someone with bright pink, blue or purple hair when we are out and about. Let them experiment.
Beads can be used as eyes, can form mouths or any kind of details that kids what to add to their creation.
Dig through your toy box and you might be able to find some cool pieces and parts to add to the tray. I was excited when I found this great selection of plastic doll shoes. They are a perfect addition to an all about me theme activity. You might be able to find little plastic phones, bags, blowdryers from kids' playsets.
I also added a variety of googly eyes, foam shapes, and some wooden ice cream spoons.
You can really add anything to your tray. Here are some additional items that you can add.
fabric scraps
doll hair
ribbon
sequins and baubles
toothpicks
spools
Let Them Create
Now that you have filled up a tray, you can stand back and let kids create.
They might make faces, they might make entire bodies….
…or they might just have fun playing.
I hope that have fun creating a playdough tray for your all about me theme.
[one-third-first]
[/one-third-first] [one-third]
[/one-third] [one-third]
[/one-third] [one-third-first]
[/one-third-first] [one-third]
[/one-third] [one-third]
[/one-third]